courtesy of on.cc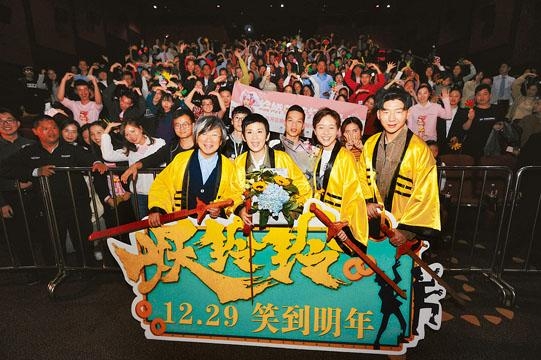 courtesy of singtao.com
Sandra Ng Kwan Yu's directing debut GOLDBUSTER (YIU LING LING) will open on the 29th. To promote her first film as a director, Director Ng tried a cinema promotion tour. She in 15 days went to 24 Mainland cities, as much as 18 cinemas a day and as few as 10. She estimated that she attended over 250 shows of audience appreciations and events.
Running all over 24 cities in one breath to Kwan Yu was a physical challenge, but she experienced the most that being a director actually was tougher than an actor. She had to take more time to promote. Even she joked, "I finally understand why (Peter) Chan Ho Sun is hardly ever home!"
Kwan Yu this time ran the entire trip with her producer and other half Chan Ho Sun. Earlier they both put on priest robes and carried peach wood swords to meet the audience at the movies. From the first stop in Foshan, each show and each circuit's audience was surprised to see this star priest couple.
Yesterday Kwan Yu promoted in Shenzhen. After two days Kwan Yu said with disbelief, "Luckily I have been working out, on the first day in Foshan I ran to 17 cinemas. I really can't top that! I have always thought being a Mommy was the most difficult, actually being a director is. It really is an endurance race. In the past as an actress I would promote with one or two premieres or events, but this time this time I really am incredible. Actually this promotional trip truly has been a new attempt, but I have to sacrifice the chance to spend Christmas with my daughter. This year I have to celebrate with the audience at the movies. However I am happy that I personally went to the movies, interacted and shared with the audience over these few days. The response has been great. I hope everyone would like this movie."