Donnie Yen and wife Cissy Wang
courtesy of on.cc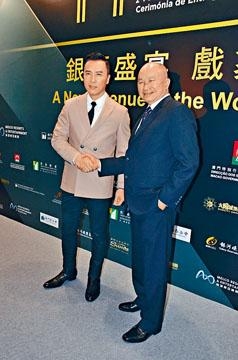 courtesy of singtao.com
Donnie Yen, John Woo, Alvin Chau
courtesy of mingpao.com
Opening on December 8th, the 2nd Macau International Film Festival yesterday held a press conference. One of the four "star ambassadors" Donnie Yen Chi Tan and "Master Class" guest lecturer John Woo (Ng Yu Sum) appeared. Director Woo called Chi Tan "professional". Chi Tan humbly said that good actors were all around, the most important was playing the part well.
The film festival art director Mike Goodridge yesterday at the press conference introduced this year's content.
In full control in action films or behind a piano, Chi Tan humbly said that because of his hard work, he was able to speak fluent Chaozhou dialect while making CHASING THE DRAGON (JUI LUNG). He only did his part. He also hoped to be able to make his movie in Macau. This film festival with the industry and government support would have a chance to surpass Hong Kong's.
Chi Tan said that being the film festival ambassador was not as busy as behind the scene work, but no matter what he would want to draw outside attention with his minor influence to support this event. Speaking of John Woo (Ng Yu Sum) said that he and Chi Tan had a chance to work together, Chi Tan said that it was years ago in the U.S. "John is my elder, if I have the chance I would like to learn from him." As for him praising him for being as professional and involved as an American actor, Chi Tan also humbly said, "Actually good actors have no national differentiation, as long as you do your part well something good would come out."
The Alibaba chair Ma Yun starred online short film had strong promotion recently. Chi Tan was a part of the film. He said that because he was familiar with Ma Yun and another performer Jet Li (Lee Nin Kit) they called him to invite him to perform. He of course would support them. "Because this film's theme is promoting Chinese culture and martial art, it's fine! The day of the shoot was my 14th wedding anniversary. Originally I turned down all jobs. Yet since I already made the promise, I brought my wife along to the shoot. In the end they gave us a surprise party."
Chi Tan spent two days on the video and took "zero salary". He even revealed that he "sparred" with Ma Yun. Actually Ma Yun was a martial art fan and studied kung fu for a long time. He had no problem with his on screen appearance. Would he accidentally injure him? Chi Tan said, "I am so professional, of course I would accommodate him!"
John Woo worked with a Japanese team on his new film MANHUNT. He said that he liked to have exchanges with international filmmakers, which was like making new friends. Everyone from both sides of the Strait and Japan were familiar with his film style, so he did not need to explain too much on the set. Speaking of his plans, aside from promoting MANHUNT Director Woo's next film will be an American film. At the same time he would prepare for an epic production in Beijing.