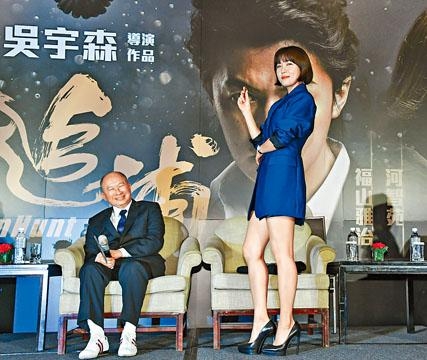 courtesy of singtao.com
Already released in Hong Kong, the Media Asia new film MANHUNT (JUI BO)'s director John Woo (Ng Yu Sum) recently along with Korea's Ha Ji-Won, China's Angeles Woo Fei Ha and Japan's Nanami Sakuraba promoted the film in Taiwan. Koreans have always been strong drinkers, Taiwan reporters asked the director if he had a few when dining with Ha Ji-Won? Because Ha Ji-Won at the premiere publicly said that she missed Taiwan's wine very much, the director said that drinking did not faze her at all. No matter how much she had, she seemed like she did not have any. Ha Ji-Won said hat actually she did not drink much, but the director said that he already saw her drinking all along, reporters seemingly would have to determine the truth for themselves.
At an evening even, fans surprised Ha Ji-Won with a purple rain cake. Ji-Won was very happy. Director Woo, Woo Fei Ha, Nanami Sakuraba also happily greeted fans. The director smiled happily when he saw how passionate the audience response was.