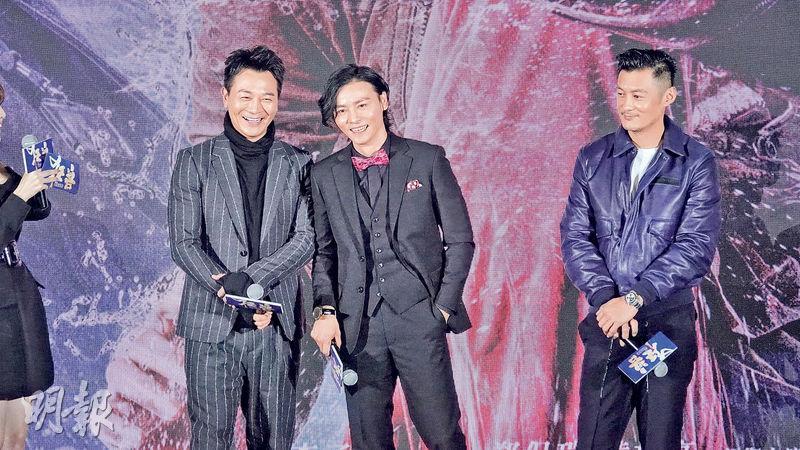 Wu Yue, Max Zhang, Shawn Yue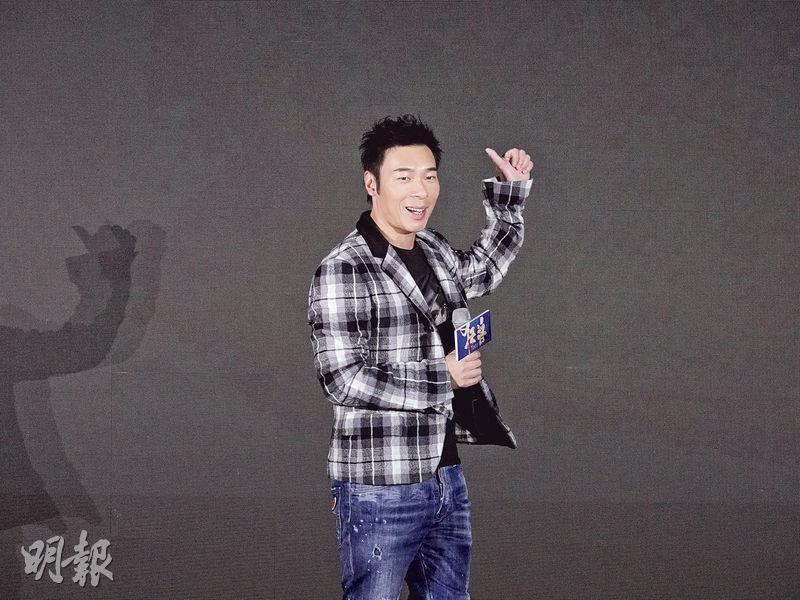 Andy Hui performs the film theme song
courtesy of mingpao.com
The film THE BRINK (KONG SAU) two nights ago held its Beijing premiere. Producer Paco Wong, director Jonathan Li Chi Chun and stars Max Zhang Jin, Shawn Yue Man Lok, Wu Yue appeared. Andy Hui Chi ON also performed the film theme song; when the director said that THE BRINK's designs of on the boat and underwater fight scenes were challenges to himself so the actors were wet everyday during the shoot, Yue Man Lok said, "The director either has a grudge against us or hatred for us. Zhang Jin and I felt the director was crazy the longer we got into the shoot!"
THE BRINK's story began with director Li Chi Chun and producer Soi Cheang Po Shui's wish of making an on the boat and underwater fight scenes during a number 10 storm signal typhoon. Thus with his fear of water Zhang Jin first turned it down. Later the director did a lot of homework to further persuade him. Zhang Jin said, "At first I really was worried about having to fight 10 meters below in the deep sea, I was afraid that I wouldn't be able to handle it; underwater I had a very hard time with seeing. Sometimes I even had to fight with oxygen. On the first day in the water the first thing I said to Yue Man Lok was, I will take care of you when we fight on land, underwater you will take care of me."
Already certificated in diving, Yue Man Lok stated that Zhang Jin's debut in the water dragged on for a very long time. "Zhang Jin was afraid of water and only learned to dive for this shoot. On the first day he was scared of the water. He sat by the pool, looking and looking. He kept going back and forth, kept asking the crew underwater, are you ready?" Although Yue Man Lok was an avid swimmer, he had reservation about the fighting as he felt that he could not possibly be as mighty as Zhang Jin and Wu Yue. Thus he suggested to the director for them to fight. He would only spar a little then appear; the visuals could have Zhang Jin and Wu Yue in a blood bath, then he could get into the shot.
The more he talked the more hesitation he had. Would he make a sequel? Yue Man Lok said, "That's enough! I won't make a sequel. Everyday at most we would get only three shots of the fight scenes but wait all day in the water; aside from the fighting, I had special effect make up on my chest. The make up took 4 hours to put on and a hour to take off. I was dead on my feet." Zhang Jin agreed that the director was deranged, because aside from the action every shot had coordination like wind, wave, and boat; after spending a long time in the water, his, Yue Man Lok and Wu Yue's skin became pale and swollen. He even revealed that thsu everyday after work he, Yue Man Lok and Wu Yue would rush to the on the set shower then return to the hotel to rest. "Wu Yue and I started as athletes so we were fine, I don't know if Yue Man Lok was used to that." Yue Man Lok replied, "Great, I rather enjoyed it."