courtesy of on.cc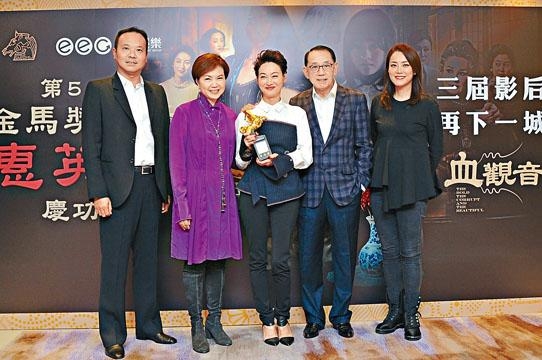 courtesy of singtao.com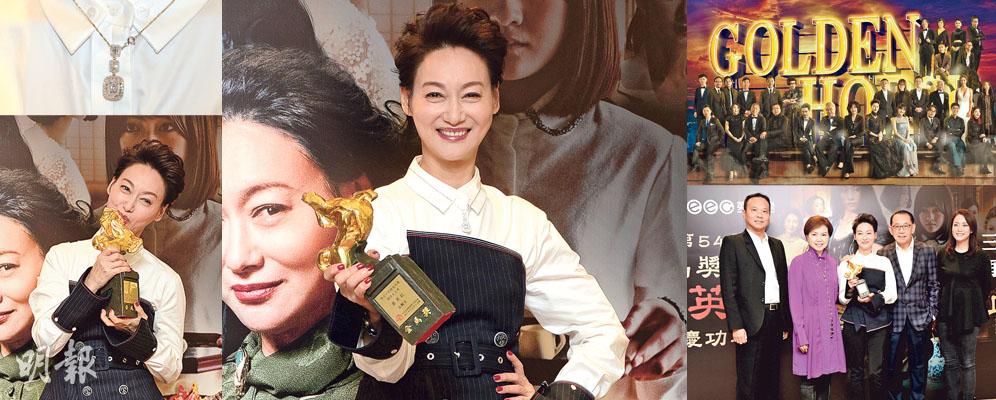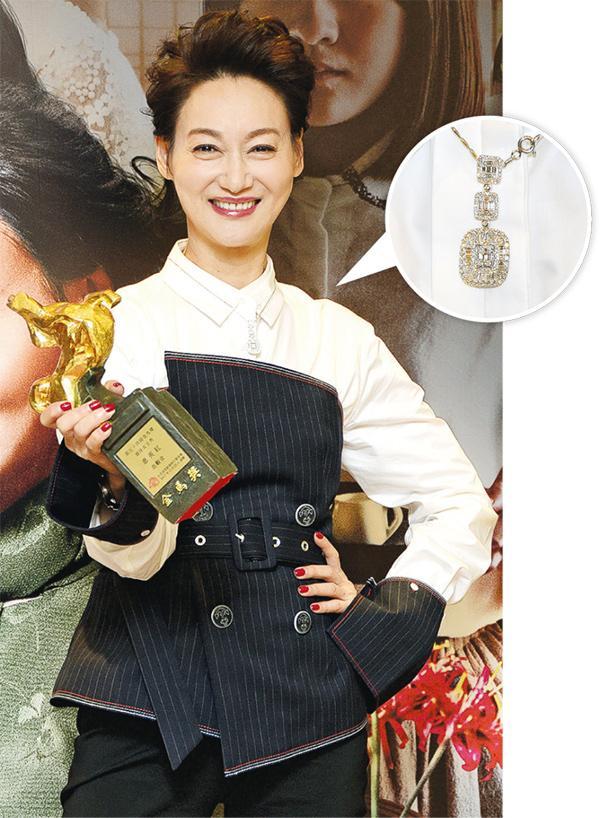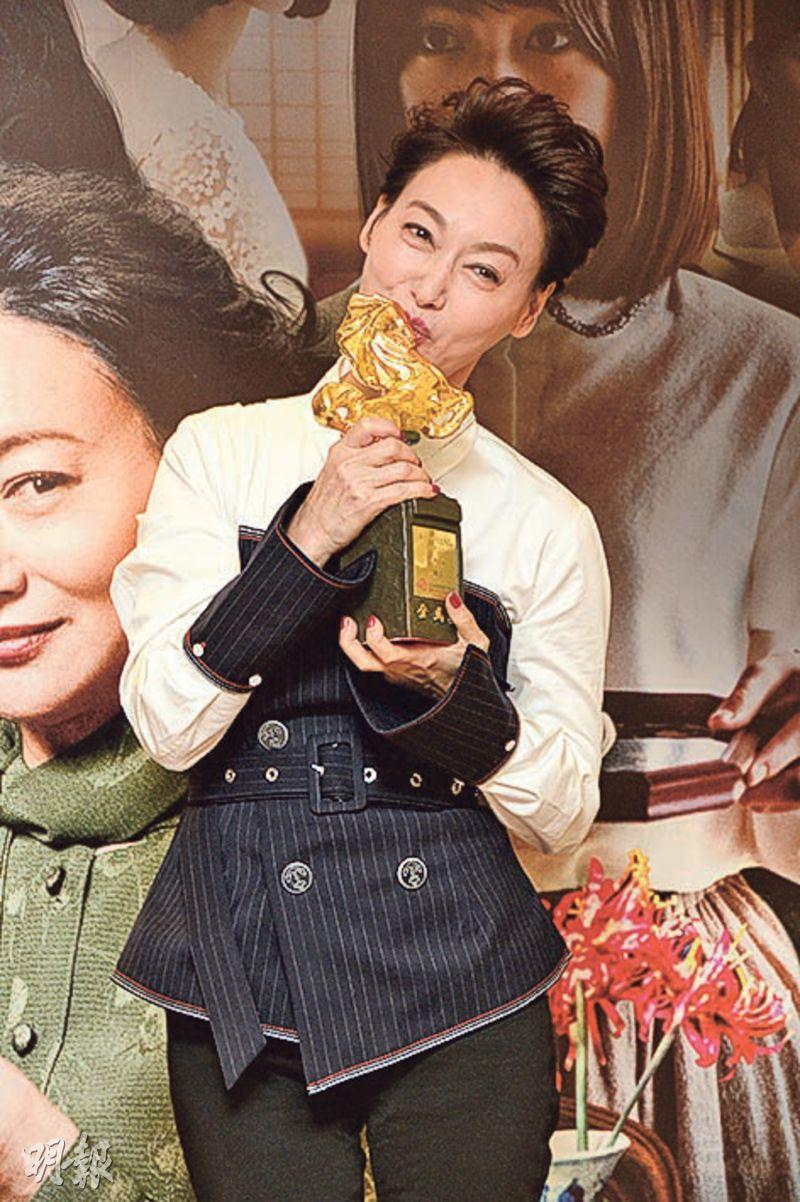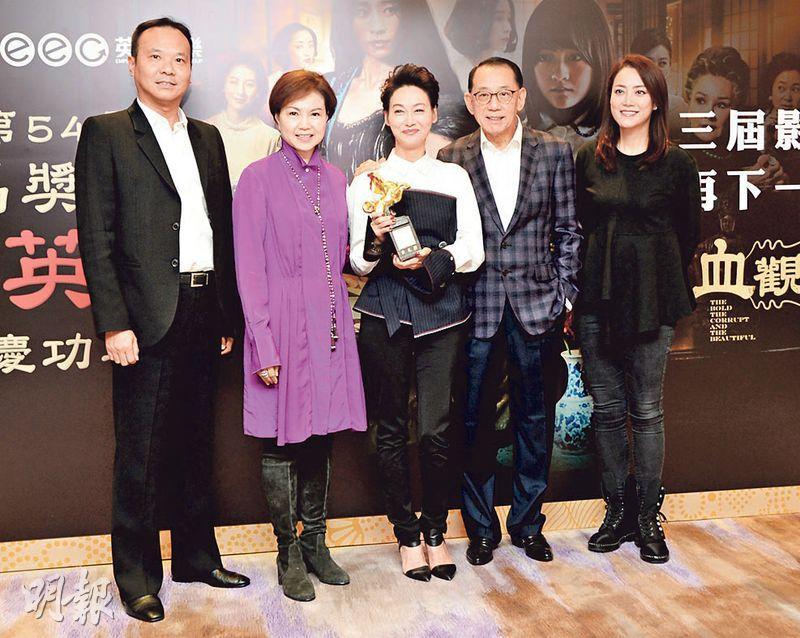 Emperor executives Jason Siu, Hui Pui Sze, Kara Wai, Albert Yeung and Mani Fok
courtesy of mingpao.com
The fresh out of the oven Golden Horse Best Actress Kara Wai Ying Hung yesterday returned from Taiwan. Emperor boss Albert Yeung Sau Sing held a celebration for Sister Siu Hung at night and personally bough a six figure diamond necklace as a gift for Sister Siu Hung. Sister Siu Hung considered her Best Actress award for her THE BOLD, THE CORRUPT, AND THE BEAUTIFUL's scheming villain role a feat and next time she hoped to be able to win an award with comedy.
Sister Siu Hung appeared to the congratulatory applause of the entire venue. Also on hand were executive Mani Fok Man Hei. Sister Siu Hung said, "I am very happy. Mr. Yeung really takes good care of me. Mr. Yeung and Emperor has been very lucky for me. Since I joined this company I have won many awards. Each time I have to dress up for the award shows, I have Mr. Yeung' support so I can relax and fulfill my wishes."
Sister Siu Hung this year has already own her sixth Best Actress. Mr. Yeung invited everyone to enthusiastically congratulate Sister Siu Hung and happily said, "(Alex) Fong Chung Shun says that after joining this company he made a lot of money. Hacken Lee says that he is very happy. Sister Siu Hung's awards aren't by chance or by lucky. She truly deserves the congratulations." At this time, Mr. Yeung prepared a six figure diamond necklace as a gift for Sister Siu Hung. Mr. Yeung said, "I pay for this gift myself, not Emperor." Sister Siu Hung was surprised and covered her mouth to hide her smile. Mr. Yeung while personally putting the necklace on her was a little sluggish. He joked, "It's too much." Sister Siu Hung humorously replied, "No regret, haha." Then they embraced and posed for a group photo.
Sister Siu Hung said that she was both nervous and excited still. "After 40 years of acting I won with my first Golden Horse Award nomination. In the past I have won several Hong Kong Film Awards, so I really wanted to win the Golden Horse award. After the award someone congratulated me on the grand slam, actually I have never won the 'Best New Actor' award and would have no chance to. Thus it's not really a grand slam. (Would you get a raise?) That's not up to me, the company negotiates that. I wouldn't bother with it. (Have you changed your thinking about people keeping asking you to make movies as favors?) I really have a lot of friends, that doesn't mater. Actually I have to fight for some movies in order to be able to make them. Sometimes we need to help each other."
Reportedly she charged HK$ 3 million per film but for THE BOLD she only charged HK$ 500,000. Sister Siu Hung explained, "This film was an over HK$ 10 million production. I fought for the performance myself. The money all went to the production, so the salary didn't mater. I was able to run into a good script that provides me with even more festival chances." Sister Siu Hung said, "I made a living too, I charge the normal rate for many movies. However I would give new directors my full support. (Would you have any more challenge to take?) That's very hard to say. (How about comedy like INSPECTORS WEAR SKIRTS?) That's good, I rarely have a chance to make comedy or play a villain. This time a villain getting an award is probably a record. (Would you win with a comedy next time?) That's good too, my first Hong Kong Film Award for Bes Actress was with an action film. This time the character was quite a villain and very negative and still were able to win an award. It was a feat." Sister Siu Hung just returned to Hong Kong and has not have the time to think about how to celebrate. Then she will make two movies and will not rest.