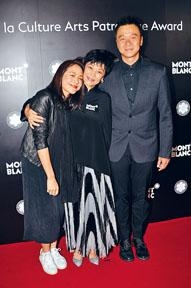 Sylvia Chang asks for Karena Lam and her husband to attend
courtesy of singtao.com
Sylvia Chang (Cheung Ngai Ga) two nights ago received the 2017 Montblanc de la Culture Arts Patronage Award. On display was her film LOVE EDUCATION's script; guests included her son Oscar, Karena Lam Ka Yun and her director husband, Derek Tsang Kwok Cheung and Yonfan. Cheung Ngai Ga admitted that she felt honored. Over the years she wrote her scripts by hand and was able to find the joy and passion from it. Lam Ka Yun has never had the chance to work with Sister Chang and thus really hoped to.
Cheung Ngai Ga said that she felt honored and happy to receive this award. She was able to have a chance to consider the joy of writing anew. She said, "Over the years I kept writing my scripts by hand, was able to find joy and passion from it. So I kept writing by hand to write out different emotions!" How would she find inspiration for her writing? Sister Chang said that her subject came from concern, for now she has not had any new inspiration. Because her new film LOVE EDUCATION will soon open and she would have to keep promoting. In the future she will have to rehearse for her play and attend the Golden Horse Award. She said that actually this year she edited three scripts for friends and new directors. She truly did not even have any time off.
Lam Ka Yun found out that Cheung Ngai Ga won and Sister Ga wanted her husband to come with her, so Ka Yun returned from Taiwan earlier. As soon as she got off the plane she went to congratulate her. She said that she happened to run into Dior Cheng Yi Kin and he even sat next to her. Ka Yun said that she has never had the chance to work with Sister Chang, of course she would like to once. She said, "Yet that's more easily said than done. She has always written her own scripts. Let's see if she would have any suitable characters when she writes!" Ka Yun revealed that she took two film roles next year. Her husband would also make a movie. They would encourage each other despite having their own careers. She would not participate in her husband's new film. Ka Yun said, "I would encourage him to work with different types of actors, then he can have a wider range. It's too easy for him to shoot me, we already have great chemistry!"