courtesy of on.cc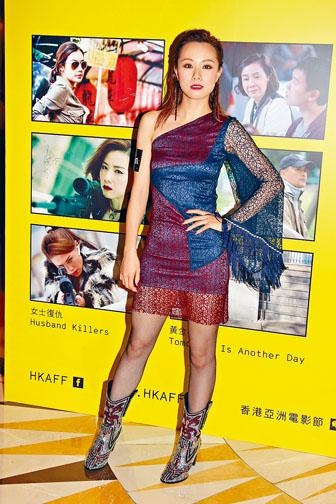 courtesy of singtao.com
courtesy of mingpao.com
The Stephy Tang Lai Yan, Gaile Lok starred new film HUSBAND KILLERS (NUI SI FOOK SAU) two nights ago held its Hong Kong Asian Film Festival 2017 premiere. Lily Ho Ngo Yee, Renee Dai Mung Mung and boss Lam King Ming attended.
Stephy went to many film festival, this would be the last of her three film releases and would probably open in early December. She even competed in the Osaka Film Festival. Currently her other film THE EMPTY HANDS (HUNG SAU DOH) was in release. Stephy said that the promotion was a little awkward. HUSBAND's director waned her to upload some information to promote, but at the same time she had another film in release. Some said that THE EMPTY HANDS admission rate has not been ideal. Stephy felt that the most important would be word of mouth.
After breaking up with Alex Fong Lik Sun, Stephy still remained single. Has she met any new friends when she frequented film festivals? "All I met are producers, directors and workers, I haven't had any chance to meet new friends. Actually to meet people in this business the range is very narrow. While at work you are dining with the workers on the set. After work you leave, rarely do you meet new friends. (Do you have to work harder at it?) Next time. (Are you asking for too much?) I don't mind meeting friends at all, it has been purely a lack of opportunity." The 34 year old said, "I am in no hurry, I am still young. I am only 20 something."
Gaile Lok also saw the movie for the first time. Earlier she only saw parts. Later she would watch it with husband and friends. As for the intimate scenes, Gaile said, "My husband would understand my performance in the films is professional necessity. He would watch all kinds of movies."