courtesy of on.cc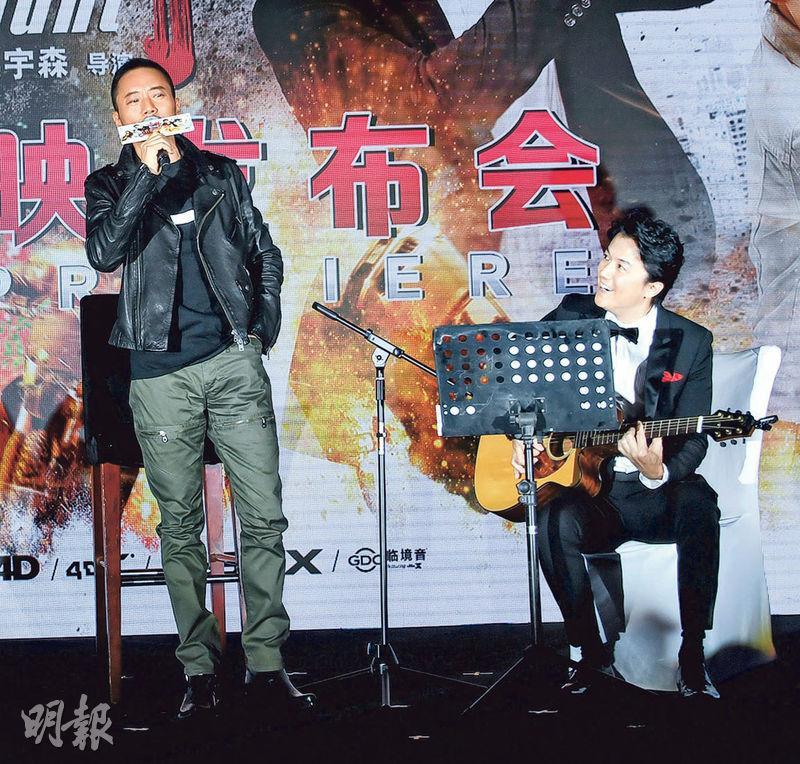 Zhang Hanyu performs SONG OF DU QIU with Masaharu Fukuyama on the guitar
Stephy Qi, Zhang Hanyu, John Woo, Masaharu Fukuyama and Nanami Sakuraba
courtesy of mingpao.com
MANHUNT (JUI BO) two days ago held its Beijing premiere. Director John Woo (Ng Yu Sum) led actors Zhang Hanyu, Masaharu Fukuyama, Stephy Qi Wei and Nanami Sakuraba in attendance. At the premiere, two Best Actors Zhang Hanyu and Masaharu Fukuyama even jammed the film theme song SONG OF DU QIU. This was not Zhang Hanyu's first performance with the song at a premiere, but this time he no longer needed to hum it a cappella because Fukuyama was playing the guitar on the stage for him!
All the actors said one thing the most, "Working with director Ng Yu Sum is quite a pleasure." Fukuyama and Nanami Sakuraba even performed in their first Chinese film, of course their experience was especially memorable. Fukuyama admitted, "I am a Ng Yu Sum fan. Whether he was working on a scene with thick smoke or explosive, he would always stand with the actors. No matter how hot or how cold it was, he would stand next to us every time and very gently help us and explain the scene to us. This film was very charming because of that unity and teamwork, the charm of making something impossible possible and to resolve difficult matters. For example a motorcycle scene in Japan required a license, so we truly went to get one. It was the first I worked on a jet ski and it was also the first time I did while speaking English. Finally, this was my first action film! So this film took three of my first times."
Nanami Sakuraba admitted that she liked Chinese and introduced herself in Putonghua, which won the applause of the audience. Zhang Hanyu could not help but add, "When she and I worked on the first scene, I held her captive and grabbed the gun, but I didn't know she knew Chinese. Suddenly she asked the director in very fluent Chinese, 'Director do I stand here?' At the time I was shocked, I said, 'What? Can you say it again?'" Actually Nanami studied in Taiwan for several months. She still had a Chinese teacher to teach her Chinese in Japan.
The director's production special was also shown. The 71 year old Director Ng would run to every corner on the set without a single complain. Fukuyama recalled Director Ng in order to accurate get a shot knelt on the ground to demonstrate a stunt for him. At that moment he turned his master class director's impression upside down for him. He would never think that such a highly positioned director would not mind at all. Qi Wei said that she once worked for 70 hours in a row, but no one on the team complained because the director would always be on the set as well. He definitely worked overnight the most so no one dared to say anything.