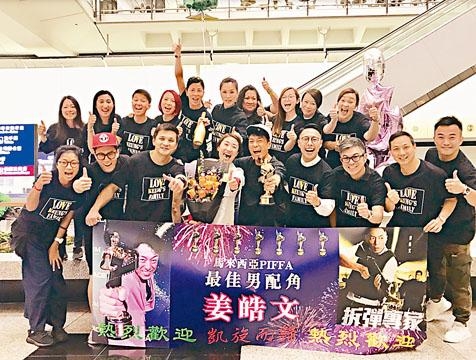 courtesy of singtao.com
Philip Keung Ho Man two nights ago returned to Hong Kong after winning his first film award in 32 years in Malaysia with his wife. His friends and neighbors surprised them at the airport with a celebration to congratulate Hak Jai. Hak Jai could not be more moved and finally shed tears at the airport.
Winning the 1st Proforma International Film Festival Best Supporting Actor with SHOCK WAVE (CHAK DAN JUEN GA), Hak Jai's management company colleagues and indusry friends along with his Tai Po neighbors two nights ago wore home made black tees with the words "LOVE KEUNG FAMILY" and raised a banner to welcome Hak Jai back. They also prepared a small celebration. When Hak Jai came out of hte gate and saw this "big gift" he was surprised. He said, "I can't be quiet about this even if I want to, whose idea is this?" Then his manager again presented the award to Hak Jai. Hak Jai opened champagne bottles and shared the joy with everyone.
The secret mission even moved Hak Jai to tears. "I really am grateful for this group of friend's support and encouragement for me. This award is a good start, I am happy that everyone like SHOCK WAVE. I also want to thank Mr. Lau (Andy Lau Tak Wa), the director and the film company."