Tu Men apparently takes a nap in the audience
Vicky Chen
Bamboo Chen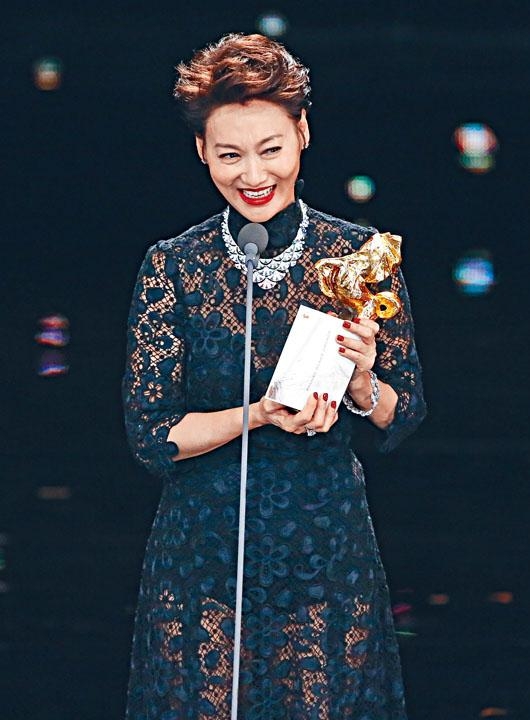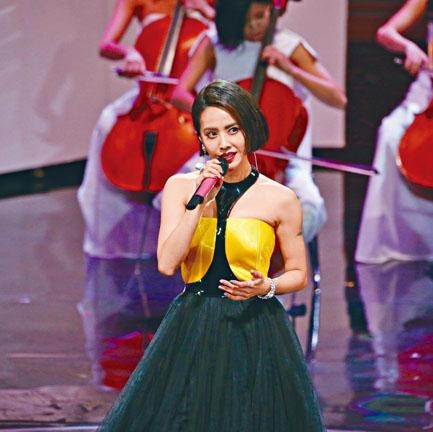 courtesy of singtao.com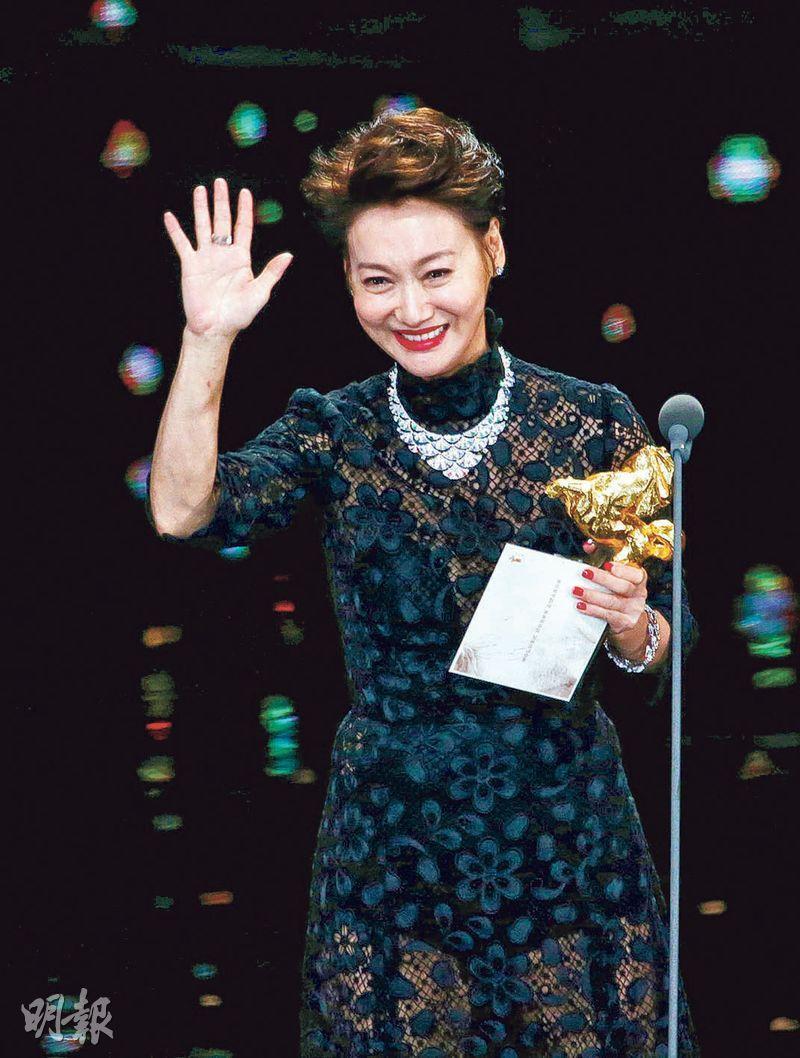 Frequent guest Kara Wai finally wins her first Best Actress Golden Horse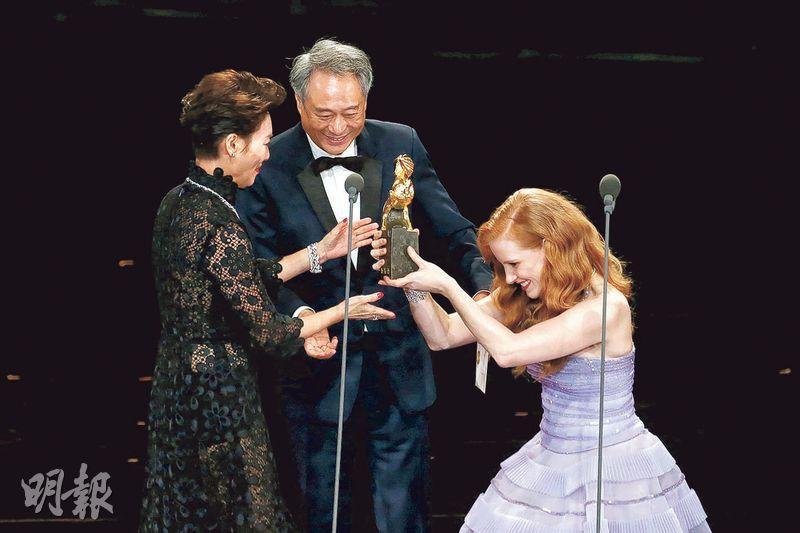 Ang Lee and Jessica Chastain present Best Actress to Kara Wai
Best Actress Kara Wai gets emotional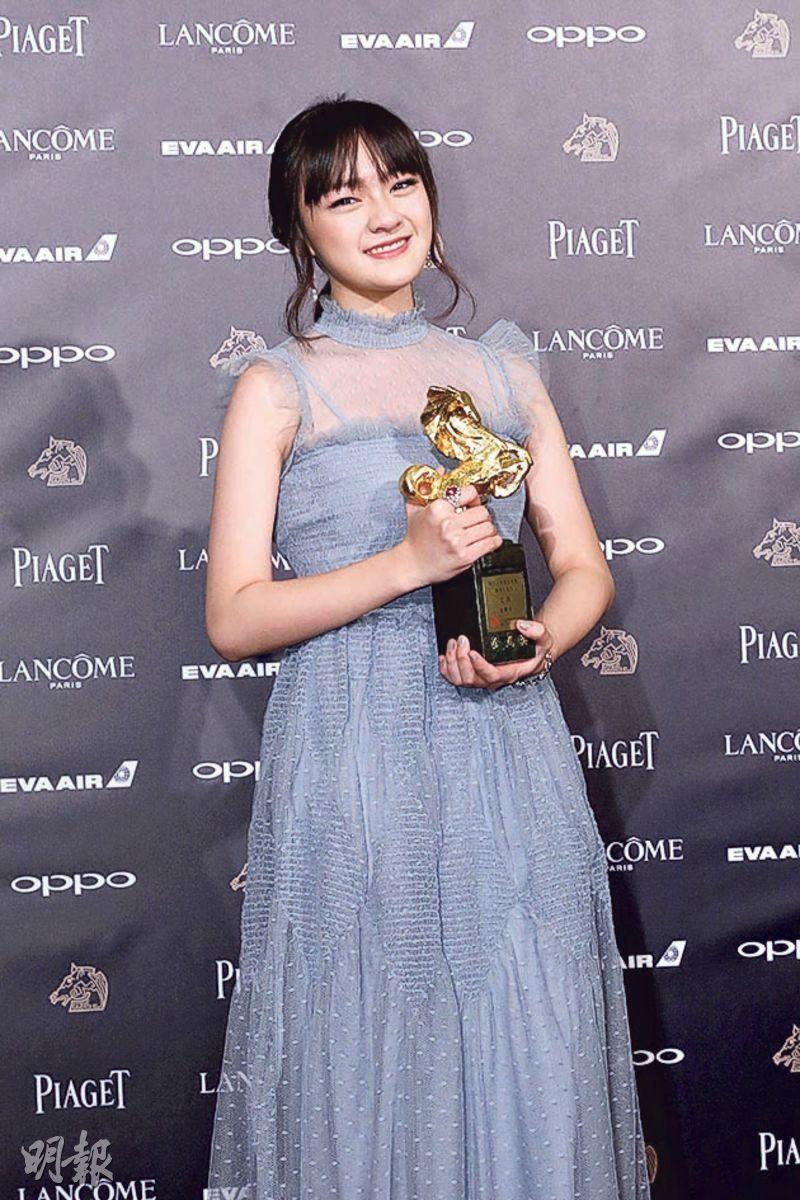 14 year old Vicky Chen is not only nominated for the Golden Horse Award but also becomes the youngest Best Supporting Actress as the dark horse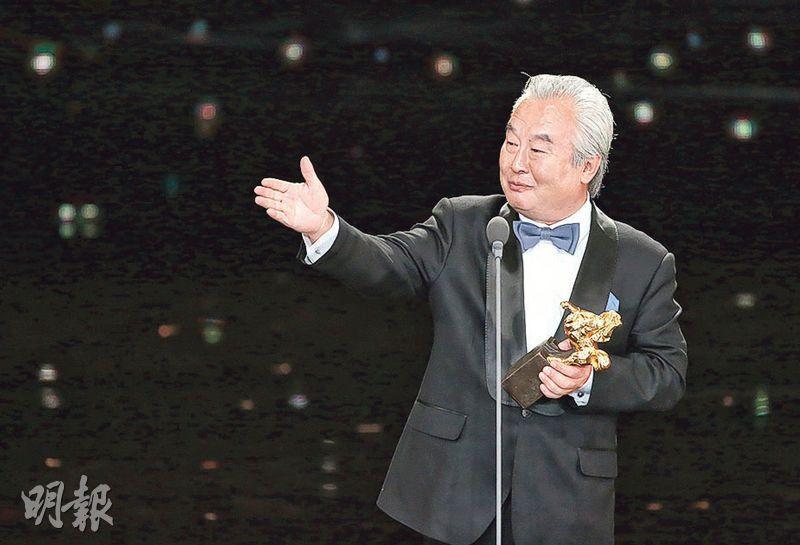 Mainland actor Tu Men wins Best Actor
THE BOLD, THE CORRUPT AND THE BEAUTIFUL wins Best Feature Film. The director invites the cast to the stage to share the joy.
The 67 year old two time Golden Horse Best Actress Hsu Feng receives the Lifetime Achievement Award
Jolin Tsai was off key on her first verse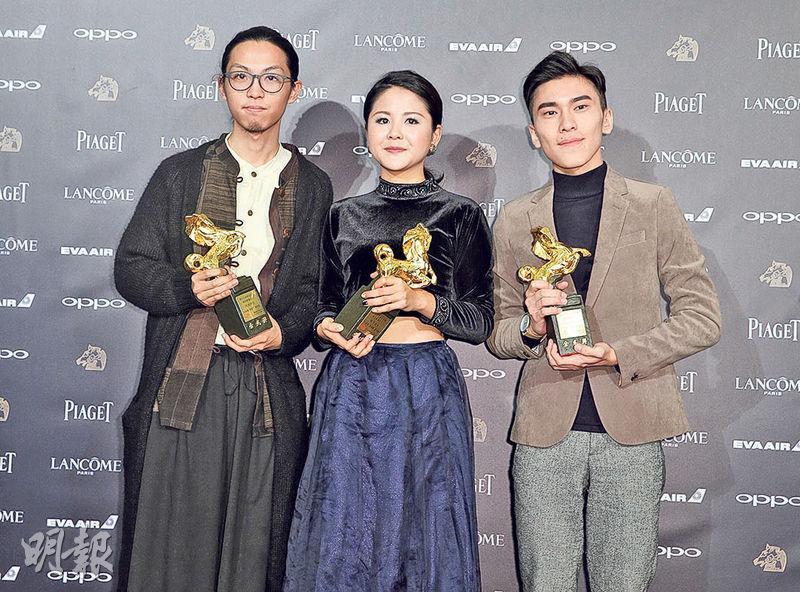 Hong Kong students Ricky Wong,

Jess Wong

and

Shek Ka Chun won Best Animated Shorts with LOSING SIGHT OF A LONGED PLACE


courtesy of mingpao.com
The 54th Golden Horse Award last night took place at the Sun Yat-sen Memorial Hall in Taipei. This year the Golden Horse Award presented awards in 27 category. The film THE BOLD, THE CORRUPT, AND THE BEAUTIFUL won Best Feature Film, Best Actor went to OLD BEAST's Tu Men and Best Actress to THE BOLD, THE CORRUPT, THE BEAUTIFUL's Kara Wai Ying Hung. Wai Ying Hung even won her first Golden Horse Best Actress. Mainland female director Vivian Qu with ANGELS WEAR WHITE won Best Director. Best Supporting Actor and Actress were ALIFU, THE PRINCE/SS' Bamboo Chen and THE BOLD, THE CORRUPT, AND THE BEAUTIFUL's Vicky Chen. Taiwan film THE GREAT BUDDHA+ with five awards became the big winner. THE BOLD, THE CORRUPT, AND THE BEAUTIFUL followed with four. Mainland film OLD BEAST and the Wong Kar Wai produced and written SEE YOU TOMORROW both won three.
Already a three time Hong Kong Film Award Best Actress, Wai Ying Hung revealed that she really liked this character as soon as she read the script and well worth her fighting for this performance opportunity.
With his ALIFU, THE PRINCE/SS performance, Bamboo Chen defeated Tony Leung Ka Fai, Ang Lee's son Mason Lee and others for Best Supporting Actor. Even Ang Lee, who just returned from Hungary to Taiwan, said that his son deserved not to win since he was still young and at his first try. The 14 year old THE BOLD, THE CORRUPT, AND THE BEAUTIFUL Taiwan star Vicky Chen knocked out Deanie Ip Tak Han to become the Golden Horse's youngest Best Supporting Actress. As soon as she got to the stage she was already in tears.
This year's Golden Horse Award guest presenters were star studded, including this year's jury president Wu Nien-jen who presented Best Feature Film, Director Ang Lee and Golden Globe Best Actress Jessica Chastain who presented Best Actress, the Golden Horse committee president Sylvia Chang invited "Cinema City Seven"'s Tsui Hark, Eric Tsang Chi Wai, Raymond Wong Pak Ming, Teddy Robin Kwan, Shi Nansun who presented Best Director, Golden Horse Best Actor and Director Feng Xiaogang who presented Best Original and Adapted Screenplay, Kevin Tsai and Dee Hsu who reunited to present the Best New Director and the Best New Performer. Golden Horse Best Actor Huang Bo presented the Best Supporting Actress, the Golden Bell Best television Actress Ariel Lin presented Best Documentary, last year's Golden Horse Best Actor Fan Wei and Best Actresses Zhou Dongyu and Ma Sichen presented Best Actor. Golden Horse Best Actress Yang Kwai-Mei presented the Outstanding Taiwanese Filmmaker of the Year to veteran sound effect technician Wu Ting-yi, Sylvia Chang presented the Lifetime Achievement Award to her LEGEND OF THE MOUNTAIN co-star, silver screen "heroine" and veteran filmmaker Hsu Feng. She praised her for her great contribution to Chinese film. Hsu Feng also joked that this award could only be received once in a lifetime.
The award guest performers included Golden Melody song queen Jolin Tsai's Golden Horse stage debut in the "Era Diva, Happy Memory" performance segment that saluted music elders and divas Teresa Teng, Fong Fei Fei, Jenny Tseng and Tsai Chin. Singers JJ Lin, Lin Sheng-xiang and Tan Weiwei also performed. When Jolin performed SWEET she was off key. The event also showed videos to salute performing art workers who passed away this year. They included Yu So Chau, Mona Fong Yat Wa, Willie Chan Chi Keung, Chan Man Fai, Kinson Tsang King Cheung, Chin Ping, Chu Ke-liang, Li Lihua, Phillp Ko Fei, Raymond Tsang Sau Ming, Chi Po-lin, Chan Pui Wah and Lo Fun.
THE 54TH GOLDEN HORSE AWARDS
http://www.goldenhorse.org.tw/awards/nw/?serach_type=award&sc=8&search_regist_year=2017&ins=46
BEST FEATURE FILM
THE BOLD, THE CORRUPT, AND THE BEAUTIFUL
BEST DOCUMENTARY
INMATES
BEST ANIMATION FEATURE
HAVE A NICE DAY
BEST LIVE ACTION SHORT FILM
BABES' NOT ALONE
BEST ANIMATED SHORT FILM
LOSING SIGHT OF A LONGED PLACE
BEST DIRECTOR
Vivian QU (ANGELS WEAR WHITE)
BEST LEADING ACTOR
TU Men (OLD BEAST)
BEST LEADING ACTRESS
Kara WAI (THE BOLD, THE CORRUPT< AND THE BEAUTIFUL)
BEST SUPPORTING ACTOR
Bamboo CHEN (ALIFU, THE PRINCE/SS)
BEST SUPPORTING ACTRESS
Vicky CHEN (THE BOLD, THE CORRUPT, AND THE BEAUTIFUL)
BEST NEW DIRECTOR
HUANG Hsin-yao (THE GREAT BUDDHA+)
BEST NEW PERFORMER
Rima Zeidan (MISSING JOHNNY)
BEST ORIGINAL SCREENPLAY
ZHOU Ziyang (OLD BEAST)
BEST ADAPTED SCREENPLAY
HUANG Hsin-yao (THE GREAT BUDDHA+)
BEST CINEMATOGRAPHY
NAKASHIMA Nagao (THE GREAT BUDDHA+)
BEST VISUAL EFFECTS
Johnny LIN, Perry KAIN, Thomas REPEEN (SEE YOU TOMORROW)
BEST ART DIRECTION
Alfred YAU (SEE YOU TOMORROW)
BEST MAKEUP AND COSTUME DESIGN
William CHANG, CHEUNG Siu Hong (SEE YOU TOMORROW)
BEST ACTION CHOREOGRAPHY
SANG Lin (BROTHER OF THE BLADES II: THE INFERNAL BATTLEFIELD)
BEST ORIGINAL FILM SCORE
LIN Sheng-xiang (THE GREAT BUDDHA+)
BEST ORIGINAL FILM SONG
TO HAVE, OR NOT TO HAVE (THE GREAT BUDDHA+) Lyrics: ONG Chiau-hao Composer: LIN Sheng-xiang Performer: LIN Sheng-xiang
BEST FILM EDITING
Jean TSIEN, Bob LEE (PLASTIC CHINA)
BEST SOUND EFFECTS
TU Duu-chih, WU Shu-yao, TU Chun-tang (MON MON MON MONSTERS!)
OUTSTANDING TAIWANESE FILMMAKER OF THE YEAR
HU Ding-yi
AUDIENCE CHOICE AWARD
THE BOLD, THE CORRUPT, AND THE BEAUTIFUL
FIPRSECI PRIZE
OLD BEAST
LIFETIME ACHIEVEMENT AWARD
HSU Feng