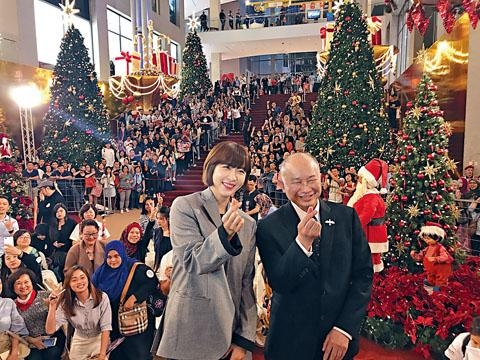 courtesy of singtao.com
Ha Ji-Won makes a killer pose
Ha Ji-Won and John Woo make the heart gesture
courtesy of on.cc
Director John Woo (Ng Yu Sum)'s MANHUNT (JUI BO) two days ago held its Malaysian premiere. Ng Yu Sum and Korean star Ha Ji-Won attended. They spoke from their hearts through a translator on the stage. Director Ng admitted that before working together he has never seen Ha Ji-Won's work and apologized to her; Ha Ji-Won expressed her admiration for the director and admitted that she was jealous of Director Ng's exchange with his daughter on the set.
Two days ago Ha Ji-Won often made the "heart giving" gesture and made the audience scream. Director Ng despite his age followed suit. Then when he met the audience and posed for photos with them he would automatically make the gesture, much to Ha Ji-Won's surprise. Then the director pointed at Ha Ji-Won and told reporters, "She taught me this gesture! I just learned it!"
Director Ng was asked if he spoke any Korean with Ha Ji-Won? He demonstrated his usual greeting. Ha Ji-Won was asked to greet everyone in Chinese and luckily she complied. Then the host asked Ha Ji-Won to make a killer pose and she also did it, but she cracked up as she did. Before the pose she even performed a serious of gun pulling gestures, just like in the director's A BETTER TOMORROW. The audience applauded.
The director at the same time praised Ha Ji-Won for her charm during the shoot and her great agility. She almost did not need any stunt double assistance at all as she did all of her own stunts. Did Ha Ji-Won get hurt on the set? She said no because the Japanese team was rather protective. Before every shoot they would be fully prepared so she was able to complete all the stunts successfully. MANHUNT will hold a premiere in Hong Kong Saturday. Zhang Hanyu, Ha Ji-Won and Stephy Qi Wei will appear.