Joe Odagiri and Angela Yuen
Sylvia Chang and Christopher Doyle exchange compliments
courtesy of on.cc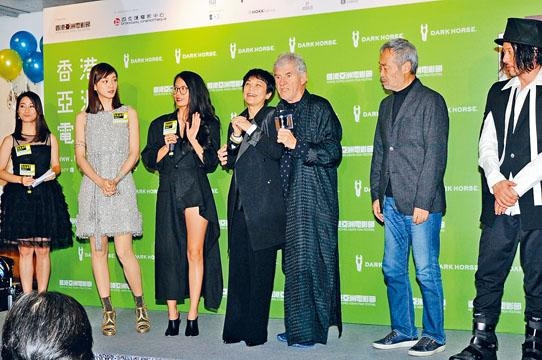 Christopher Doyle holds Sylvia Chang tightly as Tian Zhuangzhuang and Joe Odagiri look on
courtesy of singtao.com
Joe Odagiri promotes THE WHITE GIRL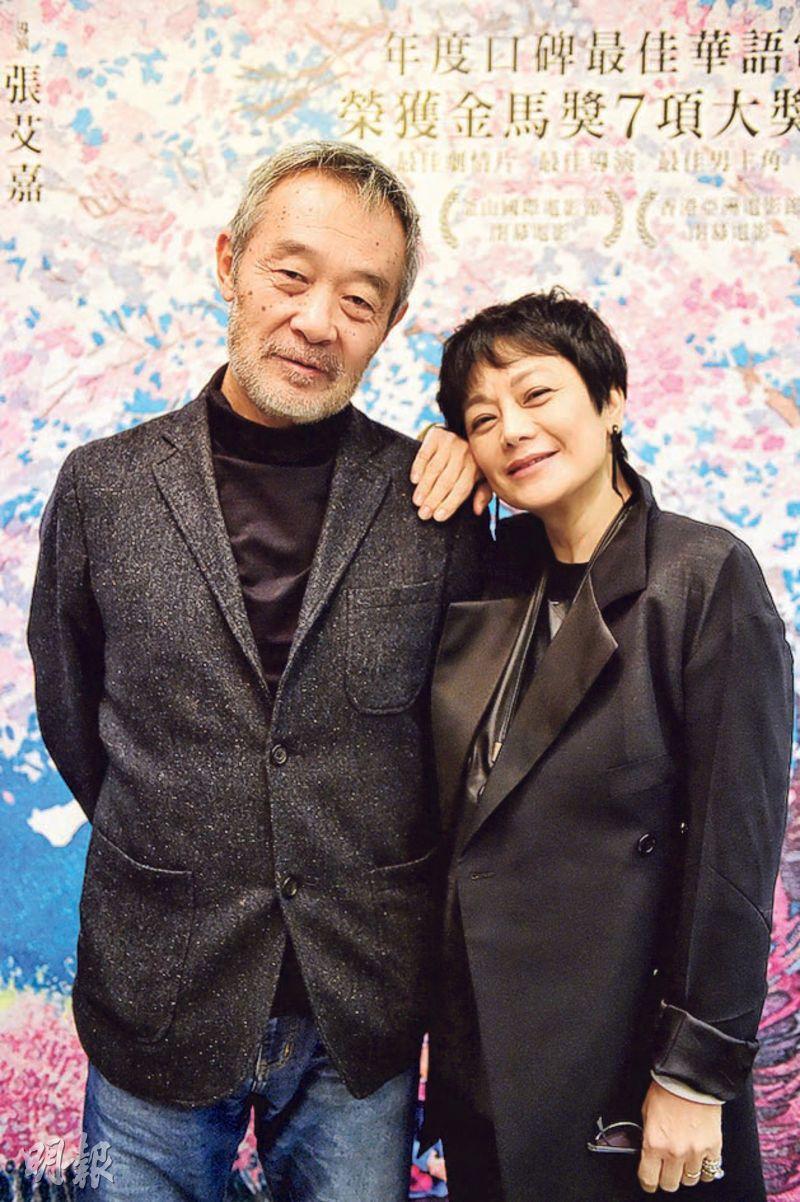 Tian Zhuangzhuang and Sylvia Chang promote their Hong Kong Asian Film Festival closing film LOVE EDUCATION
courtesy of mingpao.com
The "Hong Kong Asian Film Festival 2017" two nights ago held its closing ceremony. This year the two closing films were the Sylvia Chang (Cheung Ngai Ga) directed, Chinese director Tian Zhuangzhuang starred LOVE EDUCATION (SEUNG OI SEUNG CHUN) and the Christopher Doyle (To Ho Fung) and Jenny Suen directed, Joe Odagiri, Angela Yuen Lai Lam, Yiu Hok Chi, Tony Wu Tsz Tung, Leung Kin Ping and Cheng Kwok Pong starred THE WHITE GIRL (BAK SIK NUI HAI). They all attended the closing ceremony.
Cheung Ngai Ga was asked about LOVE's seven Golden Horse Award nominations as the film was called one of the best Chinese films this year. She thanked everyone for their support. "Lately I am also dazed from promoting this film. I just went to Japan for a film festival opening ceremony, after returning I am at a closing ceremony." Tian Zhuangzhuang said, "This film was made for film festivals, it kept opening and closing them. We hope the most for the audience to go to the movie!" Why did Tian Zhuangzhuang give up directing for acting this time? He said, "I don't know, I thank the director very much for giving me this opportunity. I felt the benefits of making this film were pretty good, I especially liked the team's cooking. It was delicious." The audience cracked up.
Cheung Ngai Ga said that drama was very hard to make because many viewers liked to flock to a crowd more than watch a movie, but they would continue to persist and hoped to share the good movie with the audience and communicate with them. Even when the weather was cold they could feel the warmth.
When To Ho Fung was on stage he also invited Cheung Ngai Ga. He said, "Without Cheung Ngai Ga I wouldn't have had my first movie and I wouldn't be here today. I am also a Tian Zhuangzhuang fan. He represented the spirit of Chinese film." Joe Odagiri said, "I have always hoped to work with world class filmmakers, in addition I stayed in Hong Kong for almost a month for the production. I thought it would be fun so I agreed to participate."