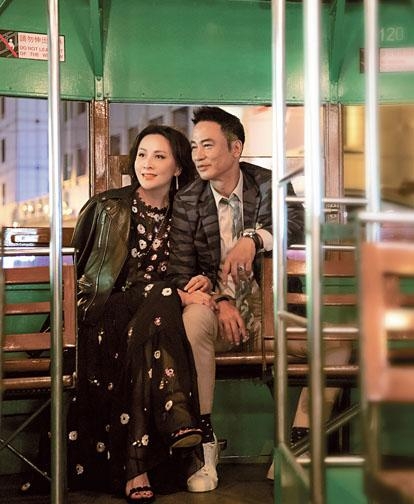 courtesy of singtao.com
The Carina Lau Ka Ling, Simon Yam Tat Wa and Michelle Wai Sze Nga starred Emperor Motion Picture A BEAUTIFUL MOMENT (NGOR DIK CHING DIK NUI SAI) will open for the Lunar New Year. Best Actor Brother Wa and Best Actress Sister Ling reunited after 25 years for the Lunar New Year romantic comedy. Not only were they full of chemistry but they also made sparks flew with their acting. Brother Wa in the film was lucky as he romanced both Sister Ka Ling and Wai Sze Nga. In the film Brother Wa and Sister Ling played first love and had many emotional scenes. In a tram scene, they were under the spell of an old flame reunion after a long time apart. Brother Wa said that it indeed was sweet!
The latest film poster was filled with the star studded cast. Director Patrick Kong (Yip Lim Sum) said that in the film many friends would guest star, like Patrick Tse Yin, Joey Yung Cho Yi, Sister Nancy Sit Ka Yin, Ivana Wong Yuen Chi and others. 80 actors would celebrate a cheerful and rich Lunar New Year together!