courtesy of on.cc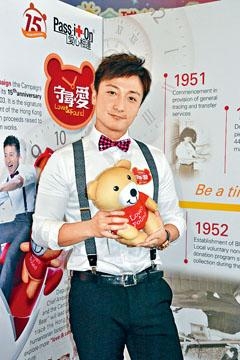 courtesy of singtao.com
courtesy of mingpao.com
Alex Fong Lik Sun yesterday attended a charity event. Siu Fong said that earlier he injured his pinky during a film shoot. When he saw blood he felt dizzy.
Speaking of his old flame Stephy Tang Lai Yun's new film release, would he show his support? Siu Fong asked why would no one ask her if she would see his new film? "I just got back from Beijing. If I have time would support Hong Kong film and I would support Stephy. (After the break up Stephy's career is improving?) With or without me, I hope she gets better and better; I am not doing too badly myself. I hope to have a breakthrough role. Actors are passive though and have to wait for opportunity and fate. Stephy has always been of the substance school, I am the commercial school and more connected locally. In other words she is Michelin and I am street stall."
Would he have any chance to work with Stephy and director Patrick Kong (Yip Lim Sum) again? Siu Fong said, "Both together? Maybe one each."