Sean Lau says that the chance of him acting with Amy Kwok would be very slim
Kay Tse wraps her arm wrapped around her husband Louis Cheung
Tsang Lok Tung, Michelle Wai
MIRROR's Tiger Yau, Frankie Chan, Lokman Yeung, Jer Lau want to catch directors' attention
courtesy of on.cc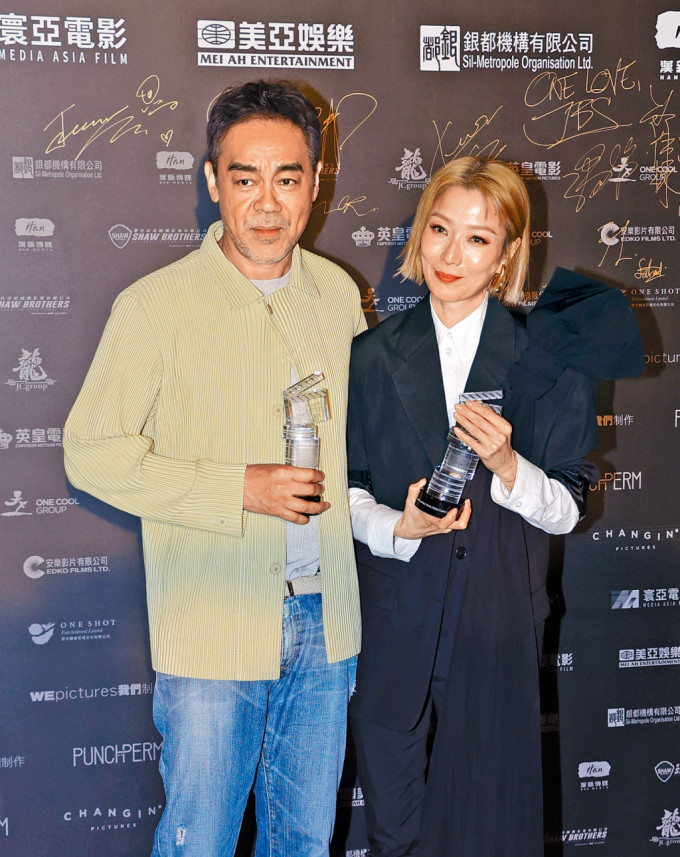 Directors' Guild Best Actor Sean Lau and Best Actress Sammi Cheng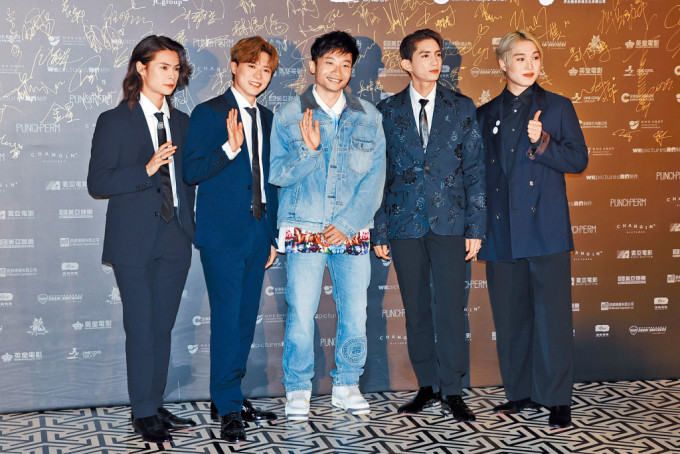 Dee Ho complains about being shown up by the well dressed MIRROR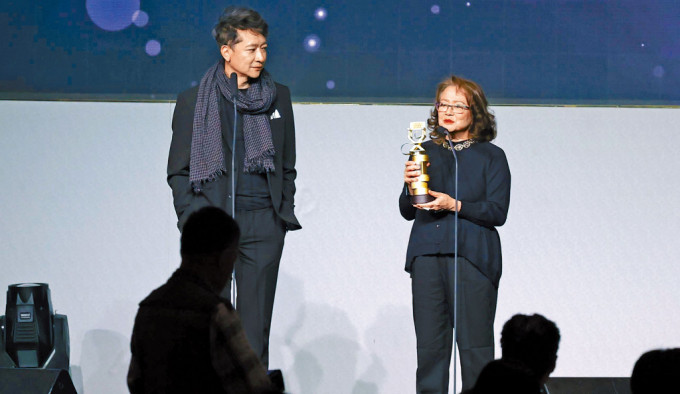 One of the TO MY NINETEEN-YEAR-OLD SELF directors Kwok Wai Lun and producer Wong Wai accept the Best Film award
courtesy of singtao.com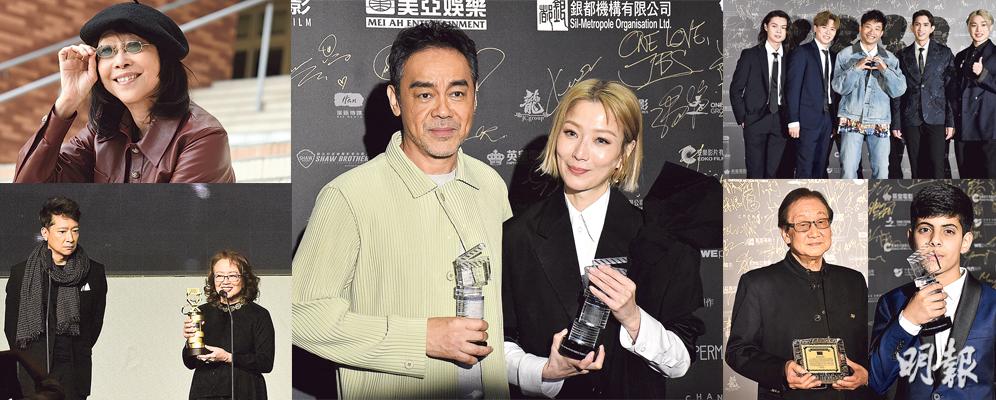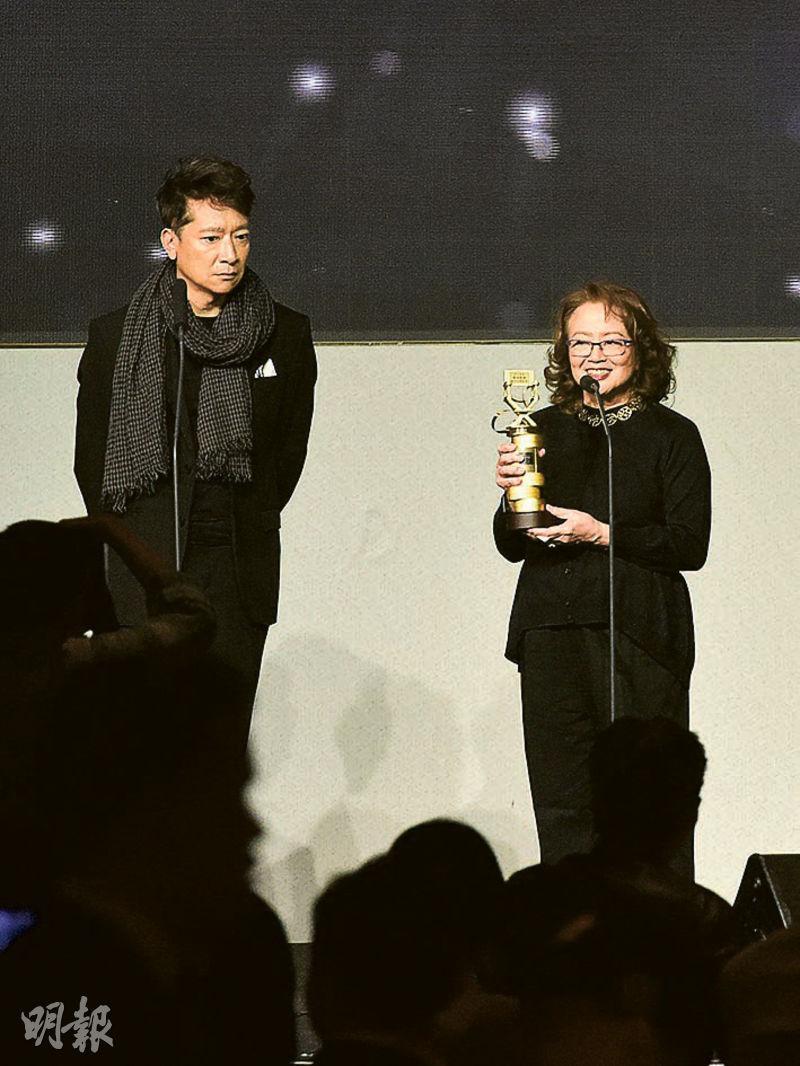 Kwok Wai Lun and Wong Wai accept the Best Film Award on behalf of director Mabel Cheung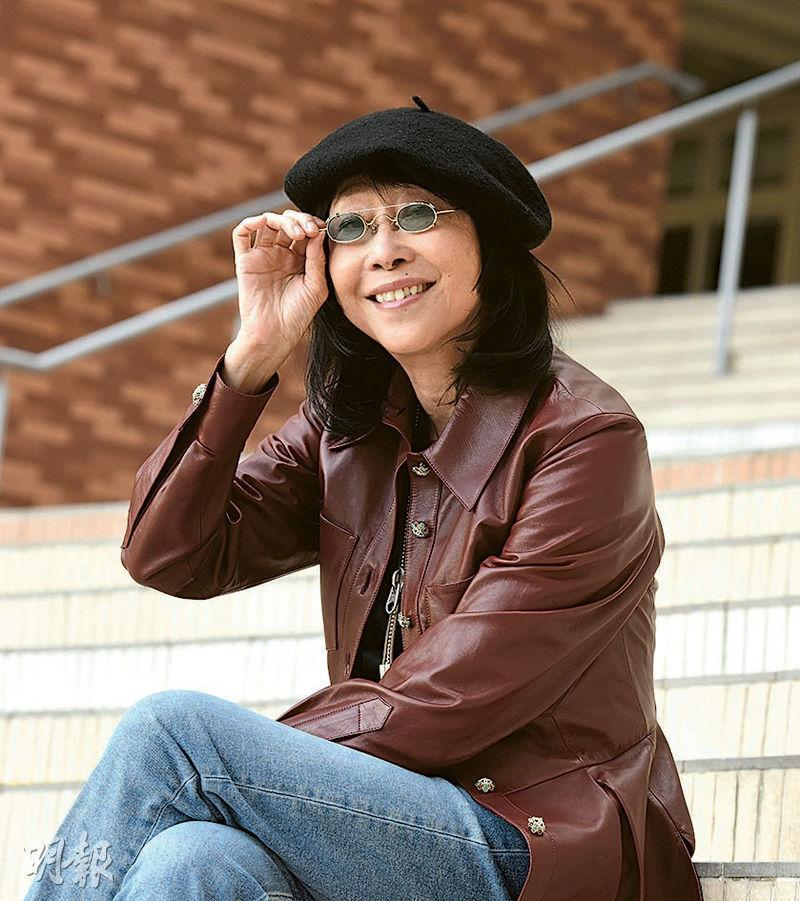 Mabel Cheung says that if she would go back in time, she would still promise the headmaster to make TO MY NINETEEN-YEAR-OLD SELF without any regret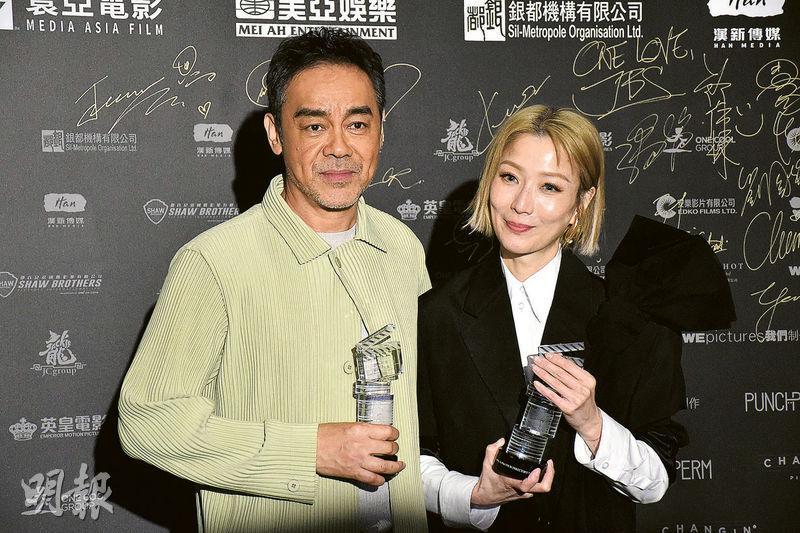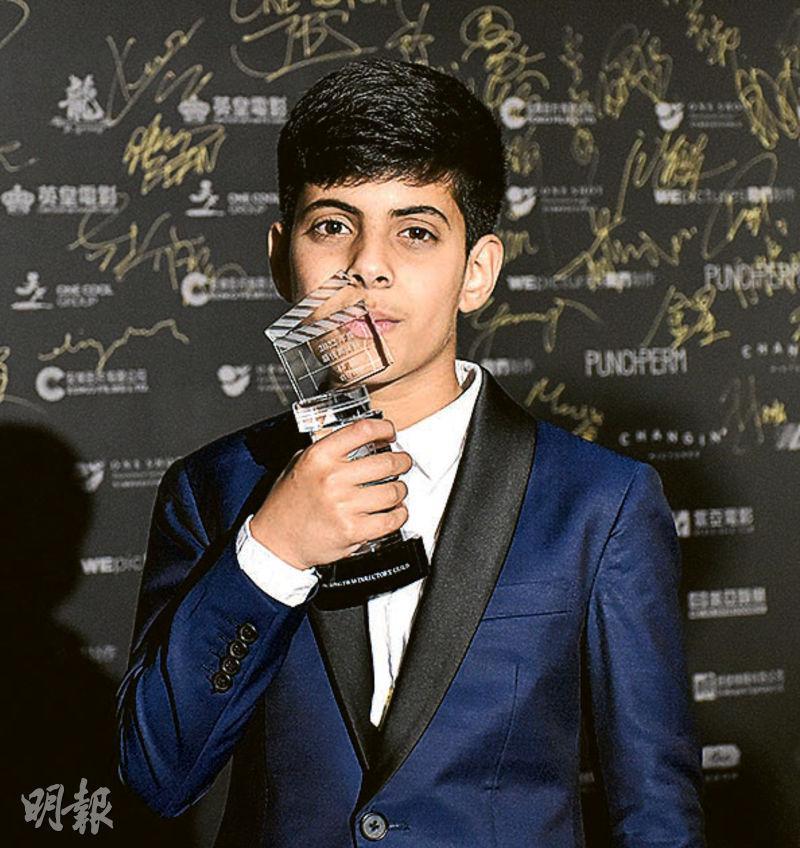 Sahal Zaman (Lam Lok) wins Best New Actor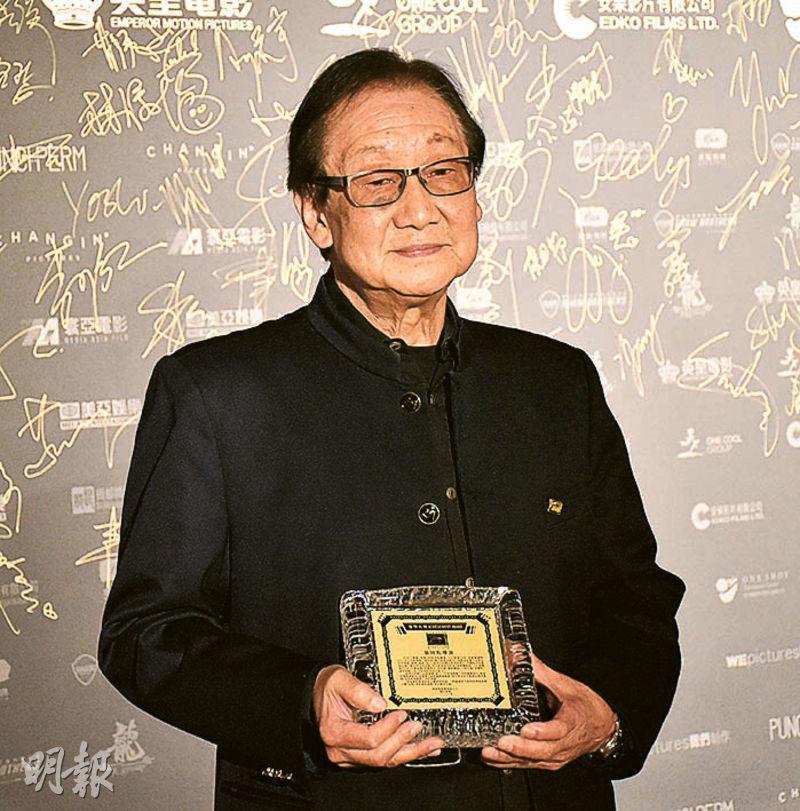 Joe Cheung receives the Directors' Guild honorary award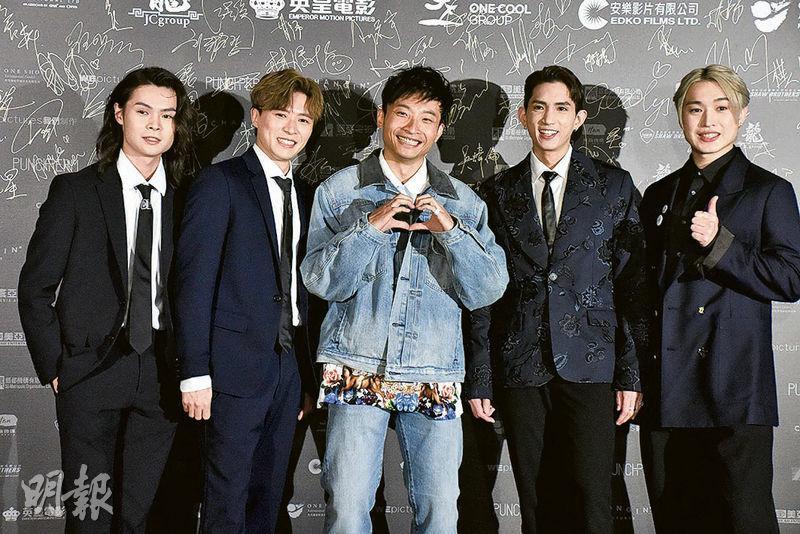 Tiger, Frankie, Dee, Lokman and Jer want to take advantage and meet directors
courtesy of mingpao.com
"The Hong Kong Film Directors' Guild anniversary banquet and award ceremony" two nights ago took place in Tsim Sha Tsui. Derek Yee Tung Sing, Louis Koo Tin Lok, Ann Hui On Wa, Sammo Hung Kam Bo and his wife Joyce Godenzi (Go Lai Hung), Simon Yam Tat Wa, Irene Wan Bik Ha, Sean Lau Ching Wan, Louis Cheung Kai Chung, Kay Tse On Kay, Cya Liu, Chrissie Chau Sau Na, DaDa Chan Jing, Lin Minchen, Fish Liew Chi Yu, Tsang Lok Tung, Michelle Wai Nga Sze and others attended. 10 year old Pakistani amateur actor Sahal Zaman (Lam Lok) won "Best New Actor". Joe Cheung Tung Cho received the "honorary award". Sammi Cheng Sau Man with LOST LOVE (LAU SHUI LOK FA) won "Best Actress". The film DETECTIVE VS. SLEUTHS (SUN TAM DAI JIN) brought Lau Ching Wan the "Best Actor" and Wai Ka Fai the "Best Director" Awards. "Best Film" went to TO MY NINETEEN-YEAR-OLD.
Kay was asked what birthday gift she got from her husband. Ah Chung interrupted. "Everyone always set me up, actually I wrote a love song for the old lady but our position in music is very far apart. I mean well, let's see she accepts it." Kay praised her husband as thoughtful, the song was entertaining and the melody was touching.
MIRROR's captain Lokman two nights ago with members Jer, Tiger and Frankie, along with ERROR member Dee Ho Kai Wa attended the event in Tsim Sha Tsui. The MIRROR four joked that they drew straws to attend. Lokman said, "Of course we can't be without Jer, he is a Hong Kong Film Award Best New Performer nominee. Frankie has good acting skills. Tiger also has a dream to direct. Dee has HK$ 100 million box office."
With so many directors at the event, would they take the opportunity to offer their services? They said that they have already prepared for their tricks. Lokman said that he would quietly stand next to the director to strike up a conversation. Tiger, who was made fun of for dressing like a waiter, would not mind serving drinks. Jer said that he would sing on stage to get attention. Dee joked that he would pretend to be their "manager". "If 4 aren't enough we can do 8 or 12, if you need anything call me!"
Dee said that he did not know MIRROR members would attend. "I thought it was just a dinner, A GUILTY CONSCIENCE would have a table. In the end they cannot be anymore pretty in formal, while I am Wa Jai."
Ching Wan won the Directors' Guild Best Actor. When he accepted the award he joked that some said Lam Lok was his son. Then later backstage they even posed for a "father and son" photo. Said to have an enormous opportunity to win the Hong Kong Film Award Best Actor, he said, "Really? (Are you confident?) Winning an award doesn't need confidence, only making movies would need confidence. What needed to be done is already done. Everyone knows my record. (A lot of strong competition?) That's good, the film industry needs different actors. This year has more new faces, I don't mind playing with everyone." As for how he would celebrate, Ching Wan said that he would not have the time yet because today he would work on the Philip Yung Tsz Kwong directed new film BA BA (PAPA). Rarely playing a father before, he has not had much difficulty from working with children. "The story is pretty special, I would have a son who as a teenager killed the entire family. Several child actors would play this role. (Why didn't you bring your wife Amy Kwok Oi Ming?) We are used to going out alone, Mrs. Lau is used to rarely coming out, rarely entertains, and leaves me with all the work. (Doesn't she have the acting bug?) Probably not, she really enjoys her life now. I am not the one who keeps her from working. I feel a woman needs to have her own life too." Ching Wan also said that they would rarely be invited as a couple. As for his buddy Dayo Wong Tze Wa, his new film broke the HK$ 100 million mark at the box office. Ching Wan said that privately he would not frequently congratulate people, he would wish good health for them more.
Sammi won this Best Actress award for the first time. Before guest presenter Koo Tin Lok revealed the name on the stage, he already hinted that his pick would be Sammi. He joked, "If not would I be in a big heap of trouble?" When he opened the envelope, he screamed, "It really is a big heap, a big heap of victory!" The crowd cracked up. Winning her first Directors' Guild Best Actress, Sammi said that it was her first Directors' Guild banquet and she was impressed. "This award is very meaningful, because I received the recognition of professional directors' evaluation; I feel truly no one should give up at any age. Even if you question yourself in the middle, don't know what the road ahead will hold, you should hold on tight to your original intention to act. Now my mind keeps on thinking about how to improve, how to play different roles well, and no longer question myself." Sammi also thanked the director, all of the cast, and her faith, from which no matter how highs or lows in life, disheartened and disillusioned she was, she would always have the strength to support herself. Whether she would win awards or not she would be grateful. Has her Hong Kong Film Awards Best Actress confidence been increased? She admitted that she did not dare to think about that. Although occasionally this idea would pop up, she has already won the Hong Kong Film Critic Society and the Directors' Guild awards and already had a lot of recognition; in addition many directors and actors were present on this night, she would take the chance to discuss whether they would have any opportunity to work together. Anyone I haven't worked with I would want to."
TO MY NINETEEN-YEAR-OLD SELF (CUP SUP GAU SHUI DIK NGOR) caused a series of trouble. Director Mabel Cheung Yuen Ting was absent, producer Wong Wai and joint director Kwok Wai Lun accepted the award. Wong Wai said, "She (Cheung Yuen Ting) said to ask the former headmaster who started the project to forgive herself; even if she traveled back in the time and the headmaster would again ask her to make this document, she still would agree right away without any regret, and be proud of the students who had the courage to share their stories of growing up. She would also be proud of the team that over these 10 years has been dedicated to the pursuit of the ideal, without any regard for salary. She is even proud to be able to chronicle the changes of Hong Kong in these 10 years."
"During these stormy days, this award from the Directors' Guild was such a great surprise. We sensed that the film industry has people who make right choices." Wong Wai had many people she would like to thank, the most grateful that the school evaluated laws, reasons, emotions and different factors to bring this film to the world; for even more people to understand all the pain and the joy young people experienced on the journey of growing up, and for most people of Hong Kong to be able to relive the transformation Hong Kong experienced over these 10 years.
Kwok Wai Lun said that this document got into a lot of trouble and understood that how cruel reality was. The incident also brought some impact to the industry's ecology, which would hope to ]avoid this type of incident from happening again, learn how to protect the participants and performers' psychological changes, and the creators' freedom of speech and creativity. He continued and said that innocent people would not have to prove their innocence, no one has been swindled or forced into the production. He also said that for now she would not express any public comment. "In order to protect some people, inevitably some people may be emotionally upset after finding out the truth. The only one who can fix the problem is the one who created it, I wish for the school, the team, and the students to peacefully settle the matter."
Veteran filmmaker Cheung To Cho received the honorary award. He said that the director was the hardest to grasp, as they always would have their heads in the clouds. Since everyone has given him the rare recognition, he would treat directing as his lifelong work.
HONG KONG DIRECTORS GUILD AWARDS
BEST FILM:
TO MY NINETEEN-YEAR-OLD SELF
BEST DIRECTOR:
Wai Ka Fai (DETECTIVE VS. SLEUTHS)
NEW DIRECTOR:
Ho Cheuk Tin (THE SPARRING PARTNER)
BEST ACTOR:
Sean Lau Ching Wan (DETECTIVE VS.SLEUTHS)
BEST ACTRESS:
Sammi Cheng Sau Man (LOST LOVE)
BEST NEW ACTOR:
Sahal Zaman (Lam Lok) (THE SUNNY SIDE OF THE STREET)
HONORARY AWARD:
Joe Cheung Tung Cho