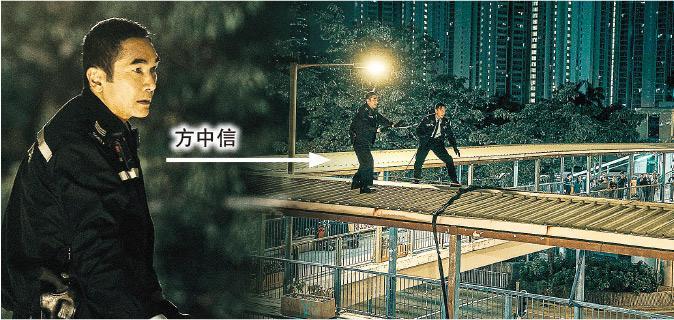 CHUNG FUNG just wrapped up production. Playing a cop in the film, Alex Fong Chung Shun in pursuit of armed criminals personally performs bridge jump and other stunts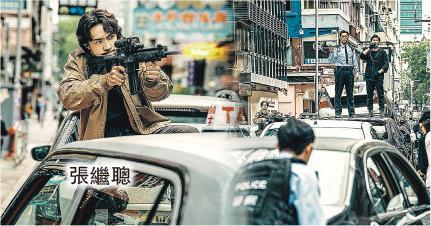 Louis Cheung plays an armed robbery gang leader
courtesy of mingpao.com
The Emperor Motion Pictures release, the Ng Ka Wai directed, Alex Fong Chung Shun, Ray Lui Leung Wai, Andy Tien (On Chi Kit), Chin Kar Lok, Louis Cheung Kai Chung, Carlos Chan Ka Lok, Chan Kwok Bong, Sammy Sum Chun Hin, German Cheung Man Kit, Macy Ma Sihui and other substance actors starred action crime film ULTIMATE REVENGE (CHUNG FUNG) today released its "never retreat" production special and a series of on set photos. The film officially announced its production wrap and unveiled to the audience a lot of behind the scene story from the film production process.
The film CHUNG FUNG would be a very intense story. Emergency Unit captain Cheng Chi Bun led his team in a full investigation of a series of jewelry store armed robberies that rocked the entire city. They discovered the robber leader Yuen Cheuk Lung and Yuen Cheuk Mo were wanted fugitives in another major robbery many years ago! The robber brothers kept taunting the police, gradually forcing the EU team member Cheung Ka Wor to lose control. The four kept confronting each other like nemeses and uncovered a secret that has been covered in dust for a long time......
In order to show the most realistic series of robberies that the robbers taunt the police with in the film, the fatal conflict between good and evil, and the extreme confrontation between the two sides, director Ng Ka Wai daringly shot the large scene gun fight and explosion scenes on actual locations in Tsim Sha Tsui. In the long and narrow alley, the CHUNG FUNG team with high efficiency and quality completed over 20 action shots and blew up 20 cars at the actual location. Fong Chung Shun, On Chi Kit, Cheung Kai Chung and other stars during the shoot even personally performed. To bring about the most valuable realism to the action film, Fong Chung Shun insisted against using a double to completely a high aerial bridge jump. Lui Leung Wai, On Chi Kit, Chan Ka Lok and others gave their all in the high powered, highly intense continuous shoot. The entire CHUNG FUNG team's professionalism and passion to spare no effort guaranteed the film to appear in the best quality and the best result in front of the audience.