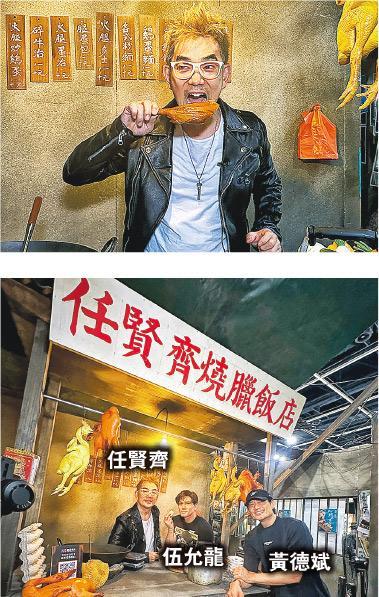 As soon as Richie Jen arrives in Hong Kong, he rushes over to survey "his" barbecue shop and even treats Philp Ng and Kenny Wong to roast goose legs.
courtesy of mingpao.com
Media Asia films used its heavyweight film TWILIGHT OF THE WARRIORS: WALLED IN (GAU LUNG SING JAI: WAI SING) as the blueprint for this year's Hong Kong International Film and Television Market (FILMART) 2023 exhibit. The star store front signs have become a hot spot for photos. One of the leads Richie Jen (Yam Yin Chai) two days ago arrived in Hong Kong and rushed to the Convention Center to check out the business at the "Richie Jen barbecue restaurant" on the set. He played manager for a day and brought hot and fresh roast goose legs for his two co-stars Kenny Wong Tak Bun and Philip Ng Won Lung. The trio traversed in the narrow alleys of the set and even posed for photos at the prop mahjong tables. They also posed for photos with film producer John Chong Ching on the set.
Siu Chai praised the exhibit as very interesting. He said, "Media Asia films brought back the 70s and 80s Kowloon Walled City's environment, structures, ways of life with authenticity. The film TWILIGHT OF THE WARRIORS: WALLED IN would have a lot of exciting action scenes, as well as brotherhood and many stories connecting it. I look forward to its release very much."
Siu Chai saw the barbecue shop with his name, which brought back the delicious memories of when he first came to make movies in Hong Kong. He said, "My first knowledge of the Hong Kong cuisine culture wasn't the push cart dim sum but Hong Kong's barbecue, roast pork, roast goose, roast duck and sausages. For me they are memorable Hong Kong flavors."
Siu Chai even compared cuisine cooking to the effort of film industry cast and crew. He said, "An entertaining movie is just like cooking, a good director is the chef, actors are the ingredients, workers are like seasoning and cooking temperature. Everyone worked hard to cook a rich film feast." He also joked, "When I first went from singing to making movies they were all romance, my image was great. Yet since joining Media Asia Films, I made an 180 degree turn. I played robbers, villains and serious subject characters. From BREAKING NEWS (DAI SI GEIN) to THE SNIPER (SUN CHEUNG SAU), there were very, very many. There was also TRIVISA (SHU DAI JIU FUNG). The most recent is TWILIGHT OF THE WARRIORS: WALLED IN. Thank you to the company for giving me the destiny to come in contact with many good directors, good actors and persistent teams, so I would have even more understanding of film and growth."
Yesterday Siu Chai was already in Macau for two show concert series.