In the film promotional photo, popularity kings Anson Lo and Keung To are in the center
Anson Lo waves as he walks, letting the fans take their time with photos
Edan Lui
Over 100 MIRROR fans see them off at the airport in an orderly fashion
courtesy of on.cc

courtesy of singtao.com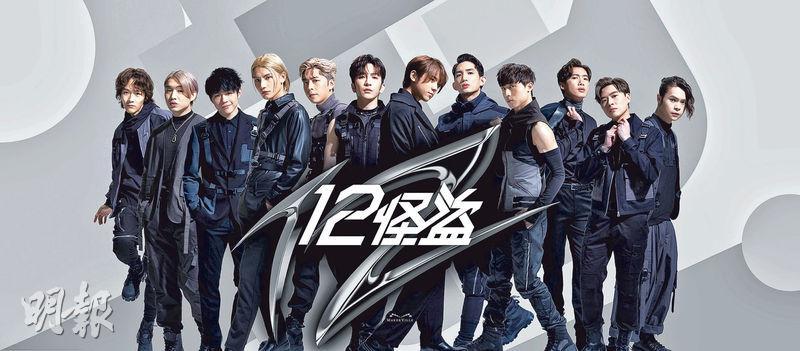 MIRROR's first film is announced and the company even sets up a new social media account to post the guys' solo photos

All of the popular guy group MIRROR would step foot into the film industry, as their first film's costume look was unveiled. The 12 stood in a row, with the two "popularity king" Anson Lo and Keung To in the center. However in term of "Likes" Anson Kong led! In the battle of the 12, the biggest winner must be its company as yesterday the MIRROR effect brought its stock price up.
Yesterday MIRROR's official company site posted their new film WE 12 (12 GWAI DOH) photos. The 12 appeared in black and gray, but no film genre or story content was revealed. Keung To and Anson Lo stood in the center, with Edan, Lokman, Jeremy, Anson Kong and the rest around them. Anson Lo and AK both showed off their Kirin arms. Although Keung To covered up in a big coast, he appeared to have returned to his handsome form.
Solo photos of the 12 attracted MIRROR fans to give hearts like mad. As of last night Anson Kong had over 17,000 hearts to become the "Like King". Ian followed with 11,000. Keung To and Edan also had over 10,000. Anson Lo instead in a slight surprise came in fifth. However no matter how many "likes" they got, the 12 have already brought the company stock price higher. As for closing yesterday it rose 2.8% at HK$ 4 per share.
In order to promote the new film, aside from Anson Lo and Edan who will be shooting on location in Japan, the other 10 members tomorrow would attend the Filmart press conference. MakerVille at the Filmart yesterday drew in fans with beautiful photos of MIRROR, ERROR and the girl ground COLLAR. The company promoted the film and the ViuTV drama like GANGSTER GOOD MAN, WARRIORS WITHIN 2 and SPARK as wellas variety programs like KING MAKER V and BE ON GAME Season 3. In the video for SPARK, Ian as an ice hockey player gave an explosive performance as his face was all twisted up as he cried. At the Filmart opening ceremony, the Hong Kong Film Awards vice president John Chong Ching announced that ViuTV would broadcast the Hong Kong Film Awards live from the Cultural Center on April 16th.
In addition, Anson Lo and Edan yesterday morning headed for Japan in "black and white". Over 100 fans filled the airport departure lobby. The duo kept waving as they walked and slowed down for fans to take photos.