Peter Chan Charm Man and Gordon Lam
Aaron Kwok is the Hong Kong International Film Festival ambassador for the fifth year.
Aaron Kwok, Sean Lau and Louis Koo in their new film
courtesy of on.cc
Lokman Yeung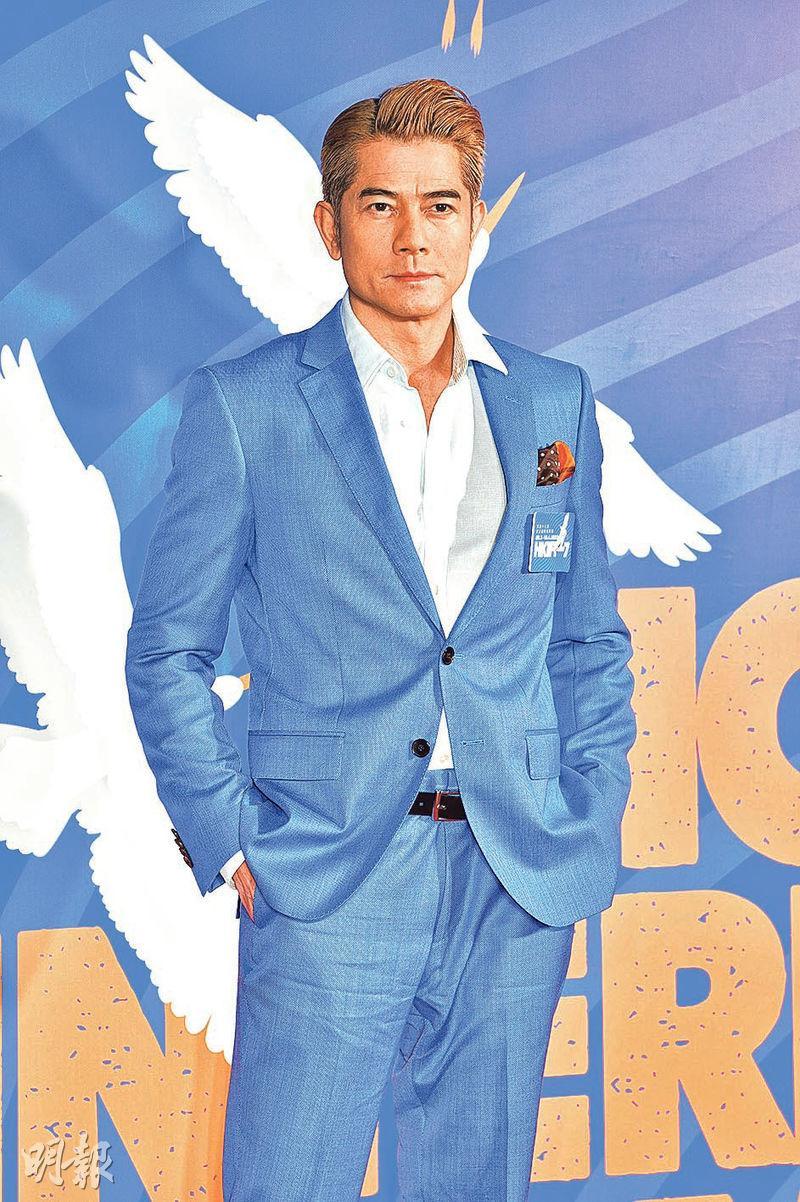 Aaron Kwok plans to celebrate his daughter's birthday with the family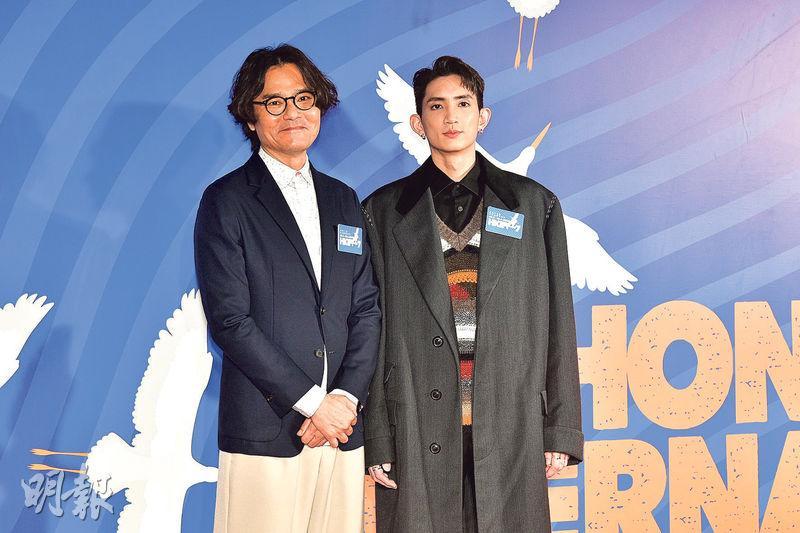 Lokman Yeung thanks Gordon Lam for his advice, from which he benefit tremendously
courtesy of mingpao.com
The 47th Hong Kong International Film Festival last night opened at the Hong Kong Cultural Center. The Soi Cheang Pou Soi directed MAD FATE (MING ONG)'s Asian premiere and the Ann Hui On Wa directed ELEGIES world premiere were the opening films.
The opening ceremony guests included MAD FATE director Cheang Pou Soi, producer Elaine Chu Suk Yee, producer and screenwriter Yau Nai Hoi, screenwriter Li Chun Fai, stars Gordon Lam Ka Tung, Lokman Yeung, Ng Wing Sze, Berg Ng Ting Yip, Peter Chan Charm Man, Bonnie Wong Man Wai, Birdy Wong Ching Yan and Pancy Chan Pui Si. ELEGY director Hui On Wa also attended the forum with the two poets in the film Wong Chan Yin and Liu Wai Tong.
Already the international film festival ambassador for a fifth year, Kwok Fu Sing said that he had many memorable experience. He felt that after this year he could retire on top, but earlier due to the pandemic the event was halted for a year and streamed online for another. With the return to a physical film festival this year, he felt that the team put in a lot of effort and was very professional. He said, "Because earlier it had no way of taking place, the team held a state of mind of doing as much as they could instead of being disillusioned. This spirit is worth commending, like being used on my own life and work concepts. Doing as much as you can, it is very close to this year's event slogan 'Never Stop'. I wish this year's film festival a successful completion!"
Sing Sing just finished a part of his world tour and returned to Hong Kong to attend the film festival opening ceremony. He said that he was very happy, because over the pandemic in the past three years, aside from the charity concert he has not performed on the stage. This year as the pandemic passed, he returned to normal and launched his world concert tour again. Earlier he went to Atlantic City, Las Vegas, Chicago and Toronto and performed four shows. Because he has not seen fans for too long, everyone was very passionate. He also revealed that later he would perform in Singapore, Malaysia and Macau. Later he would work on another film, now he has several scripts in discussion. His Hong Kong concert series will take place next year, and it will be an all new concert.
He also said that because of school, his daughters did not follow him on tour. However while performing in North America, he video chatted with his wife and daughters everyday. When he would perform in Macau in July he probably would be able to bring them. How would he celebrate Easter? He said that Easter happens to be his second daughter's birthday, "but I would have a party. Mainly it would be family fun, Papa and Mama want to give their children a happy birthday."
Sing Sing said that he would remain very busy after returning to Hong Kong, he would have to work on movie post productions, record songs, and provide his voice to a film. This time the director asked him to provide his voice personally, because Putonghua was not his strong suit and in the film his character had to speak it very fluent and colloquially, he needed to find a Putonghua instructor to instruct him. In the past he had a voice actor whose voice was very similar to his, but he did not feel well recently. Thus he agreed to the director's request. Sing Sing joked that he has become addicting to voice acting, because when he listened to his Putonghua it sounded very different. He believed that the audience would hear it and feel even more realism. Thus in the future he hoped to try to provide his own voice, which he felt was pretty fun and was a type of learning for him. Has he asked his wife Moka Fang to correct his Putonghua. He joked that his daughters' Putonghua was better than his. "My daughter even teaches me back, 'Papa, that's not how you say that.' Now after learning, I even communicate better with my daughters."
In addition, Sing Sing, Louis Koo Tin Lok and Sean Lau Ching Wan starred in THE WHITE STORM 3: HEAVEN OR HELL (SO DUK 3: YUN JOI TIN NGAI) yesterday released its 36 second teaser. The trio in the film chatted on a yacht, behind their smiles each had his own ideas.
Lam Ka Tung was asked about MAD FATE's producer Chu Suk Yee's claim that he did not consider the salary when he took the role. Ka Tung joked that it was a long time ago, so there was not much to talk about. In addition he has not participated in a Milky Way Image movie in a very long time, a good script was hard to find and after running Cheang Pou Soi, he could talk about the money later. Did he invest his salary in the film too? Ka Tung said, "I invested my heart and energy, as for whether I took a salary I would leave that for later. (Would you share in the fruit of the labor later?) It's like bicycle sharing, the most important is good word of mouth. Because the movie has many new actors and the subject is murder, and since To Sir (Johnnie To Kei Fung) asked, I couldn't refuse." However, he admitted that this production has been very tough. One of the scenes took over 30 takes. He had to scream with all his might for the performance. He screamed too much that even his voice was hoarse. In addition this character was silly and crazy, which made it even harder to play. The film would be released in April. Would he have any confidence in the box office performance? He said, "I hope viewers would like it, I really haven't worked with Milky Way Image in many years. This time can be considered a reunion, like going to Wudang Mountain to absorb the magical energy. I would work harder in my performance." He also said that not every movie could get him not to discuss money, if the production resources were poor but the script was good then he would support the film a little. With ample production resources he would take his normal rate. He has always supported film and felt that he had the responsibility to take care of newcomers.
MIRROR captain Lokman Yeung said that the film was shot in 2019 and participated in many film festival. To be able to work with Milky Way Image, Cheang Pou Soi and Lam Tung on a movie, he was very happy and took the opportunity to learn from everyone. He admitted that at first he was a little afraid of Ka Tung out of respect, as his presence was like a mountain. By the middle of the production he finally dared to ask him for advice. Lam was very willing to share with others and would correct his shortcomings.
Recently rumored to be slipping in popularity, MIRROR appeared to have a fan resignation fever. As the captain he said, "Sometimes it's because you love too deeply. I really thank fans for their love, but love has many different types. Some are love that you hold on tightly to, some you let go, sometimes you should distance yourself a little farther to see, coming out and going in sometimes are pretty fun too. (Have you been upset?) Maybe I feel fans love too much, which gets me very frustrated. This has a lot of factors, some fans love one, some love many. They also want us to have more opportunities to develop, when we have less jobs they feel bad for us. So they should let go a little. MIRROR wants to bring positive energy to everyone." As for the official fan club being accused of making poor arrangements and grabbing money, Lokman Yeung pointed out that he would see everyone's reaction. If the fan response data would be large, he would feel that they would need to make a little adjustment. However where he has been working late he had no phone reception, thus he has not paid attention to fan reaction. He also said, "If it is too money grabbing, we would reflect that to the company."