Tony Leung Chiu Wai not only receives the Asian Film Contribution Award but also Best Actor
Tang Wei wins Best Actress but is absent from the award show
Fish Liew attends with her boyfriend
Louise Wong
Lin Minchen
MIRROR's Lokman Yeung, Anson Lo, Edan Lui and Stanley Yau
Hiroshi Abe says that Hong Kong comedy is fast paced, so he is afraid that he would not be able to keep up

Lucas Bravo
courtesy of on.cc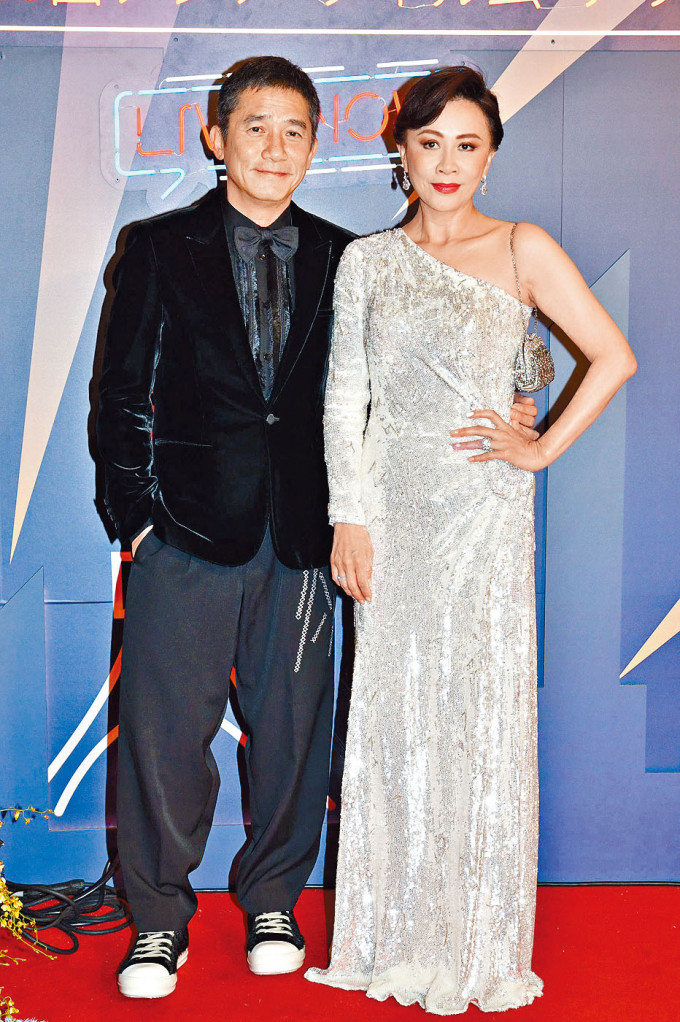 Tony Leung Chiu Wai and Carina Lau walk the red carpet together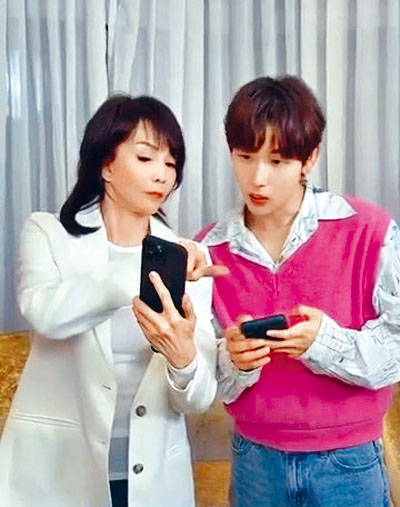 Carol Cheng and Yim Si-wan follow each other on social media on the spot
courtesy of singtao.com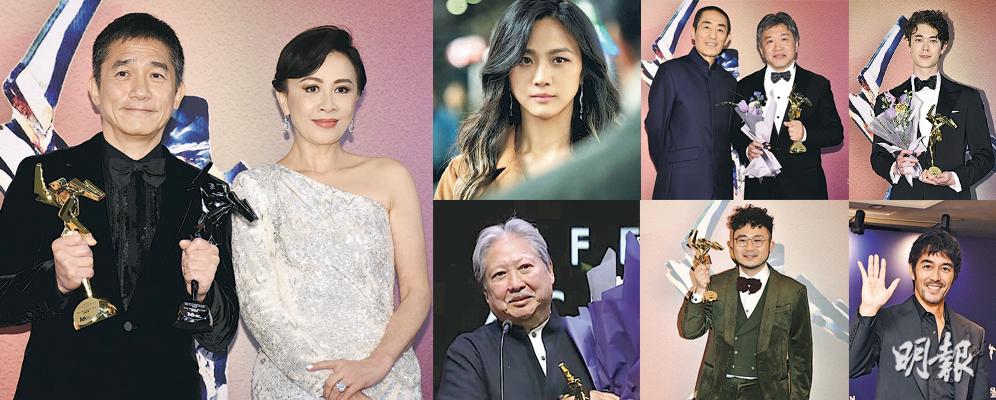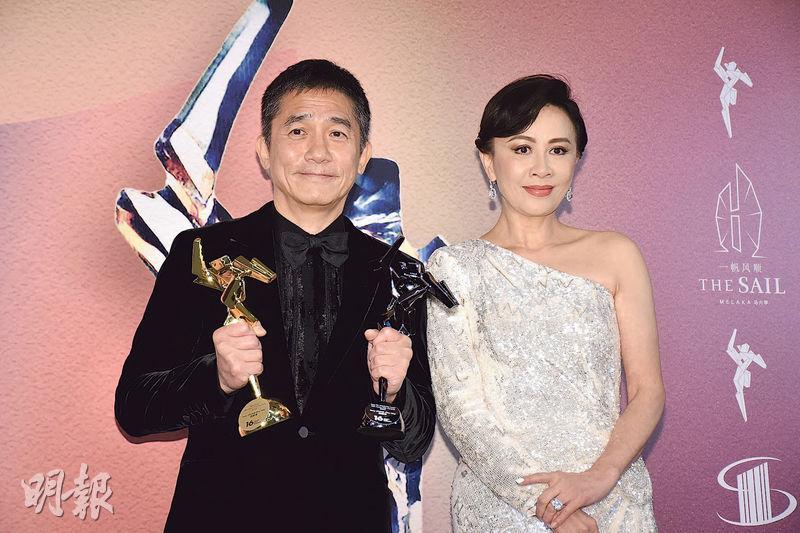 Tony Leung Chiu Wai share the joy with his wife Carina Lau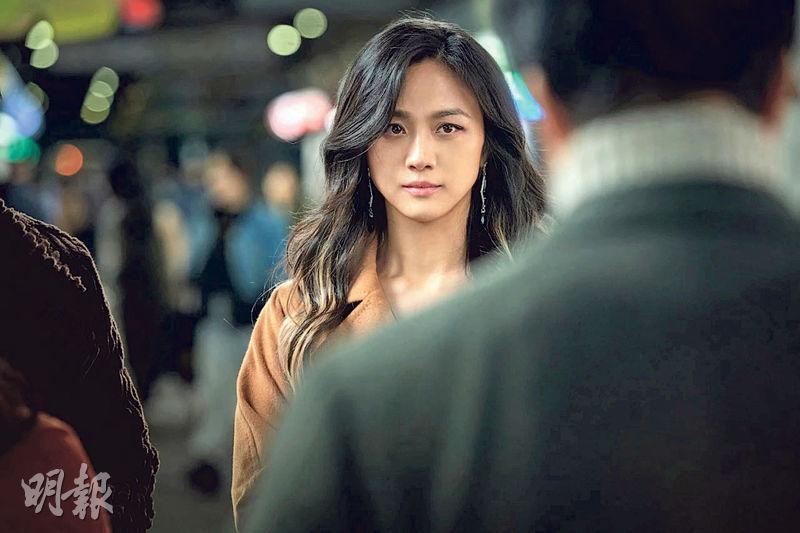 Tang Wei wins her first Asian Film Award Best Actress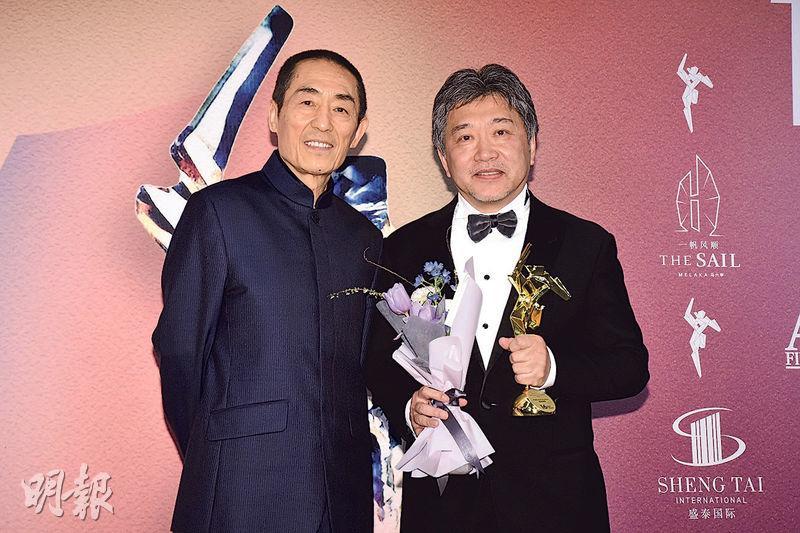 Zhang Yimou and Best Director Hirokazu Kore-eda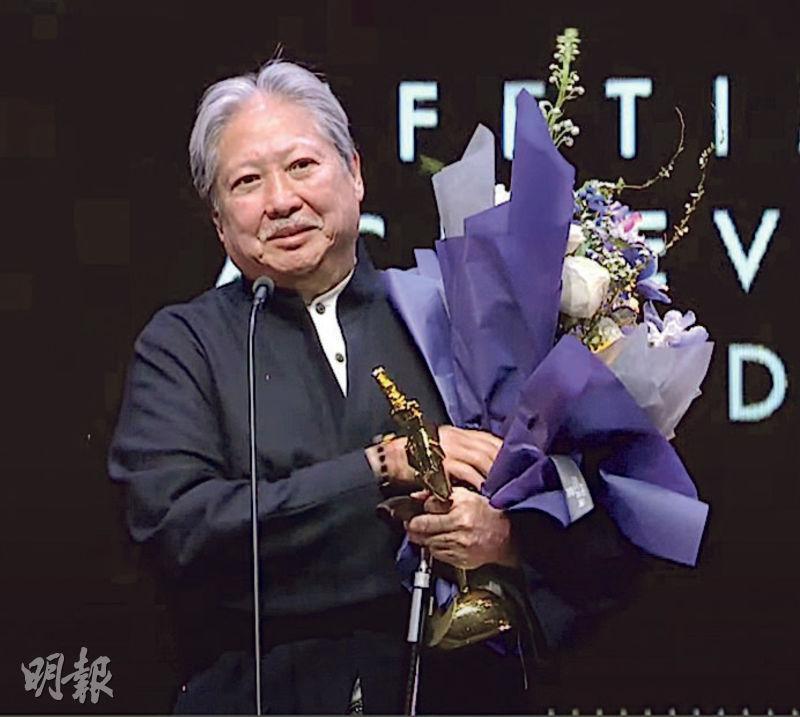 Sammo Hung dresses up for his Lifetime Achievement Award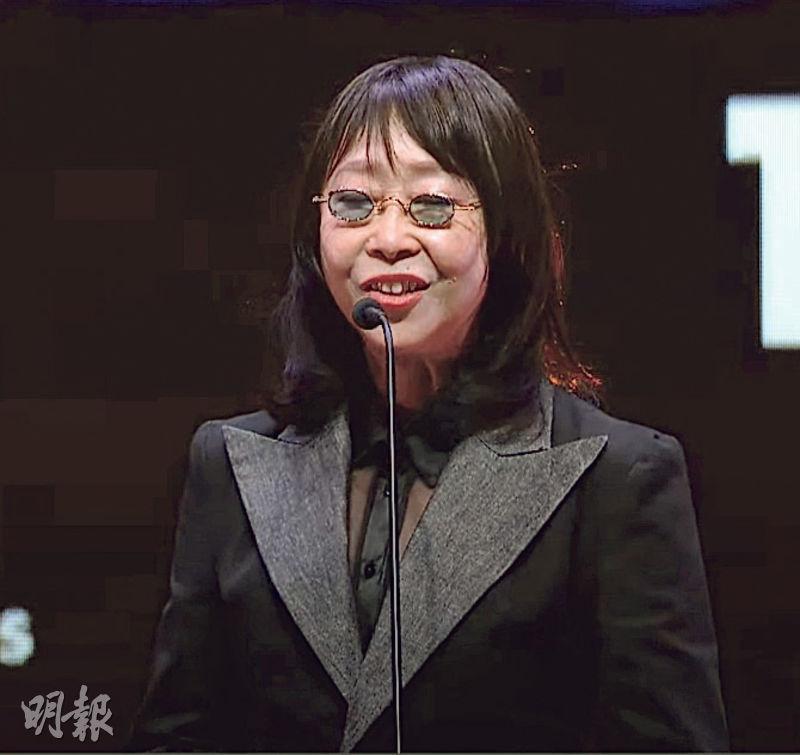 Guest presenter Mabel Cheung temporarily set aside the TO MY NINETEEN-OLD-YEAR SELF troubles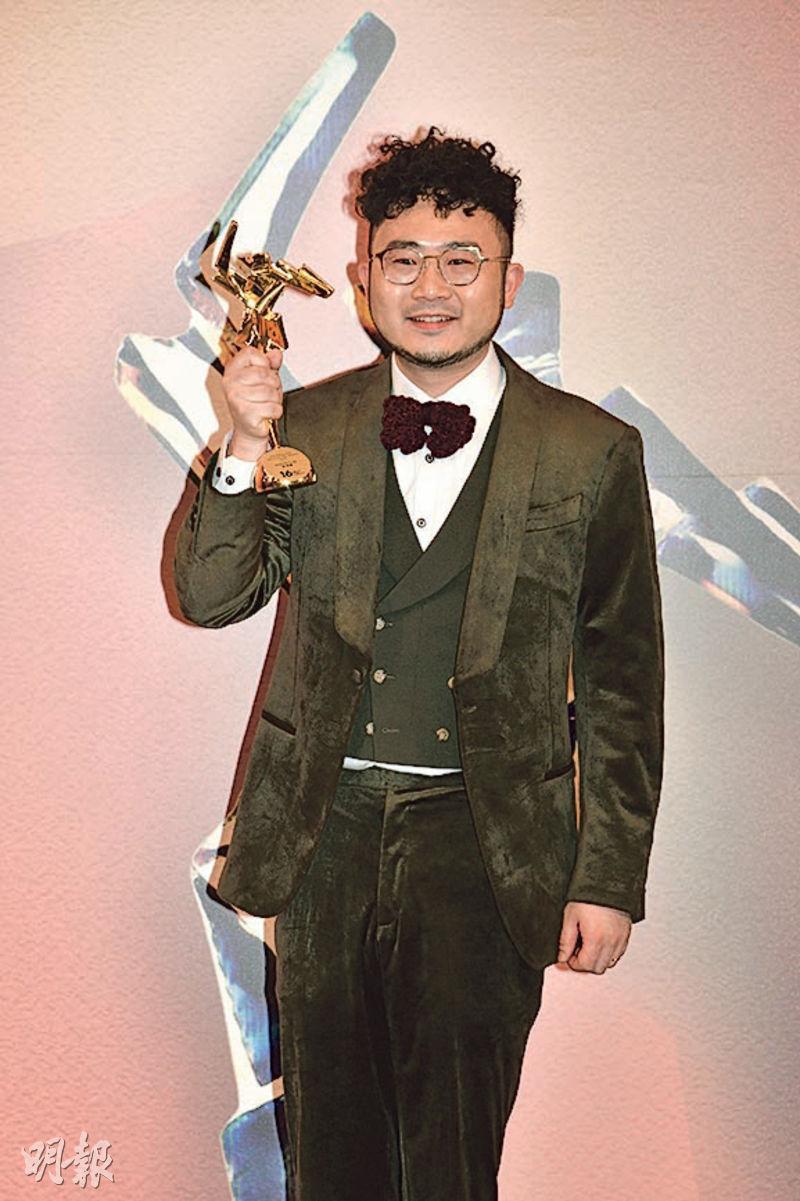 Best Newcomer Mak Pui Tung (THE SPARRING PARTNER)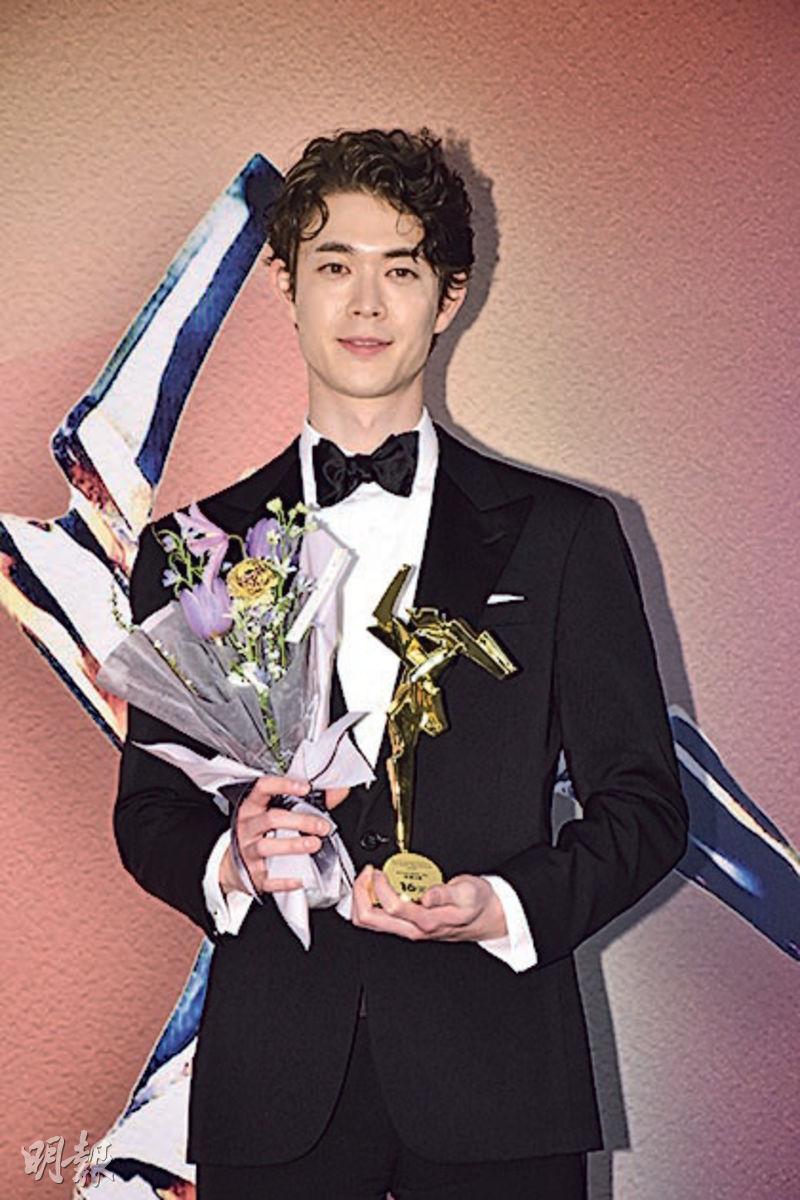 EGOIST's Hio Miyazawa is happy to win the Best Supporting Actor Award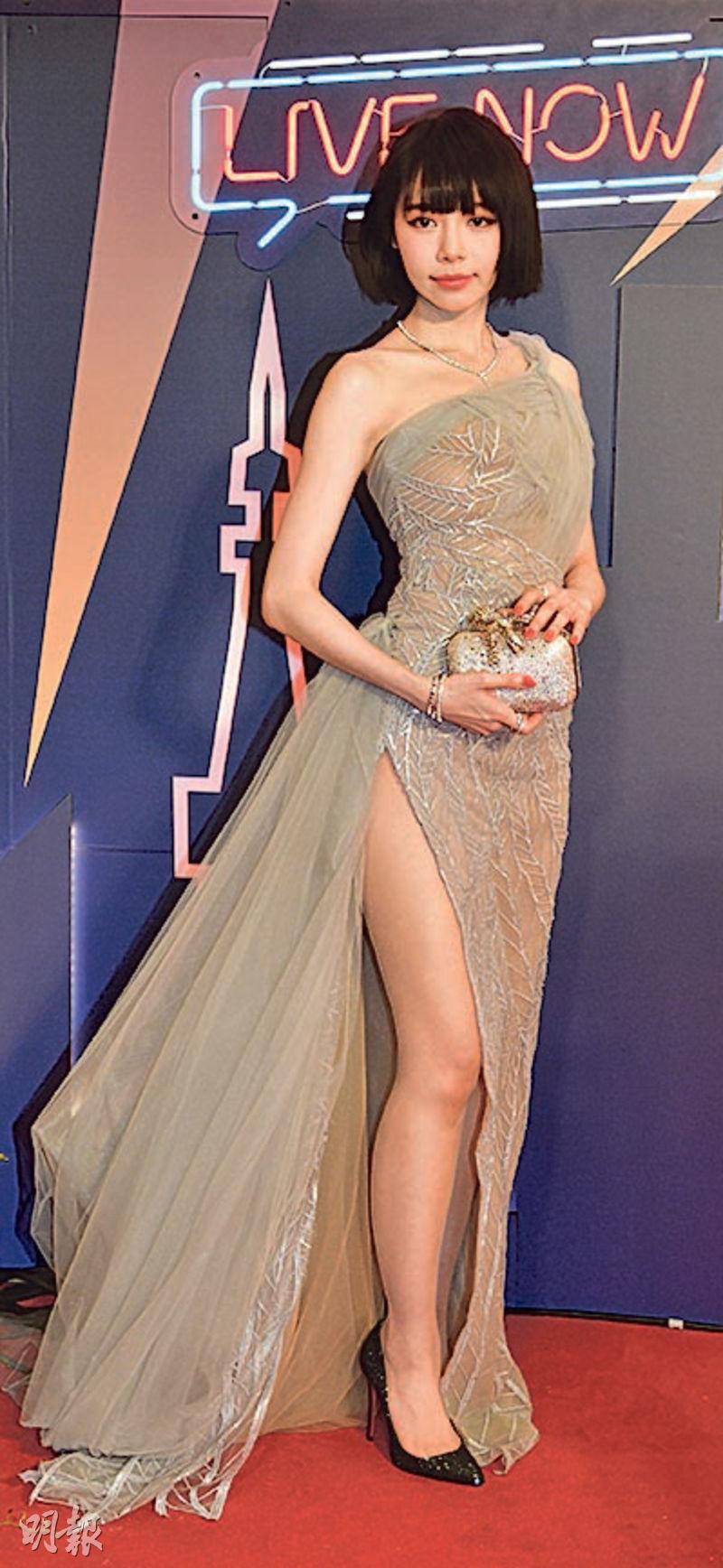 Lin Minchen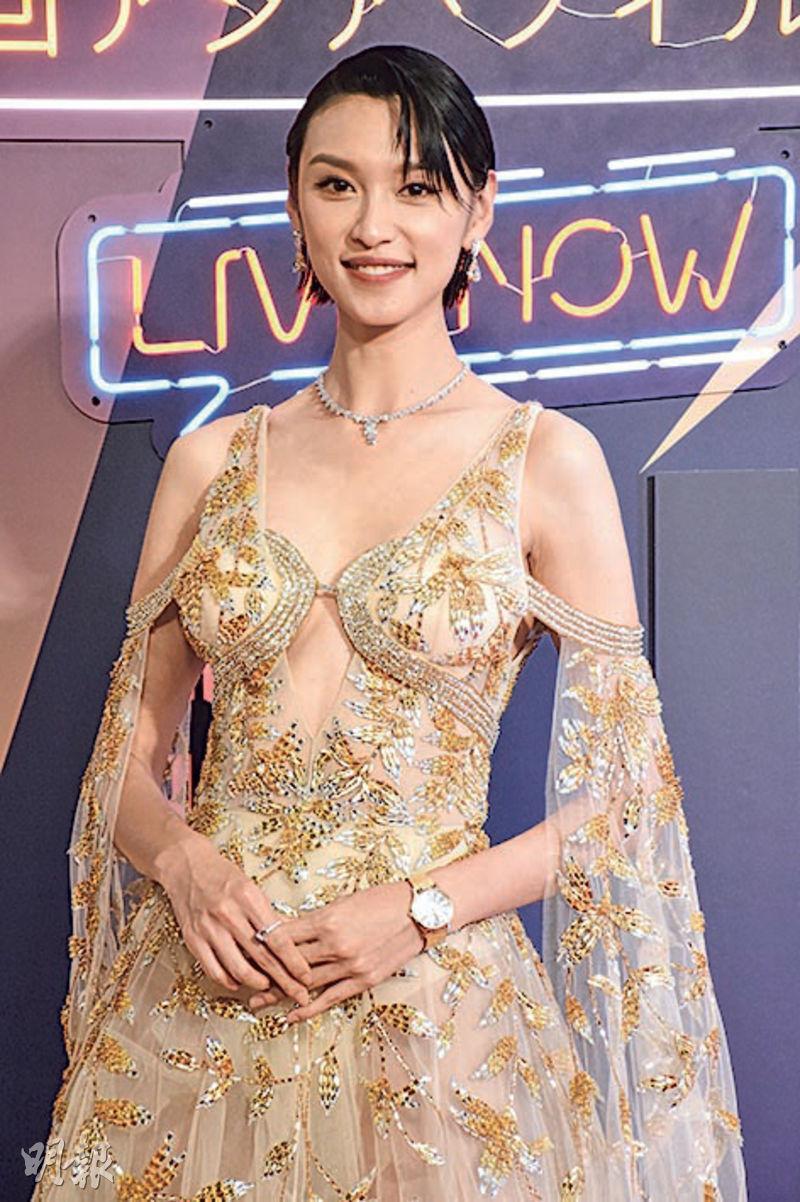 Louise Wong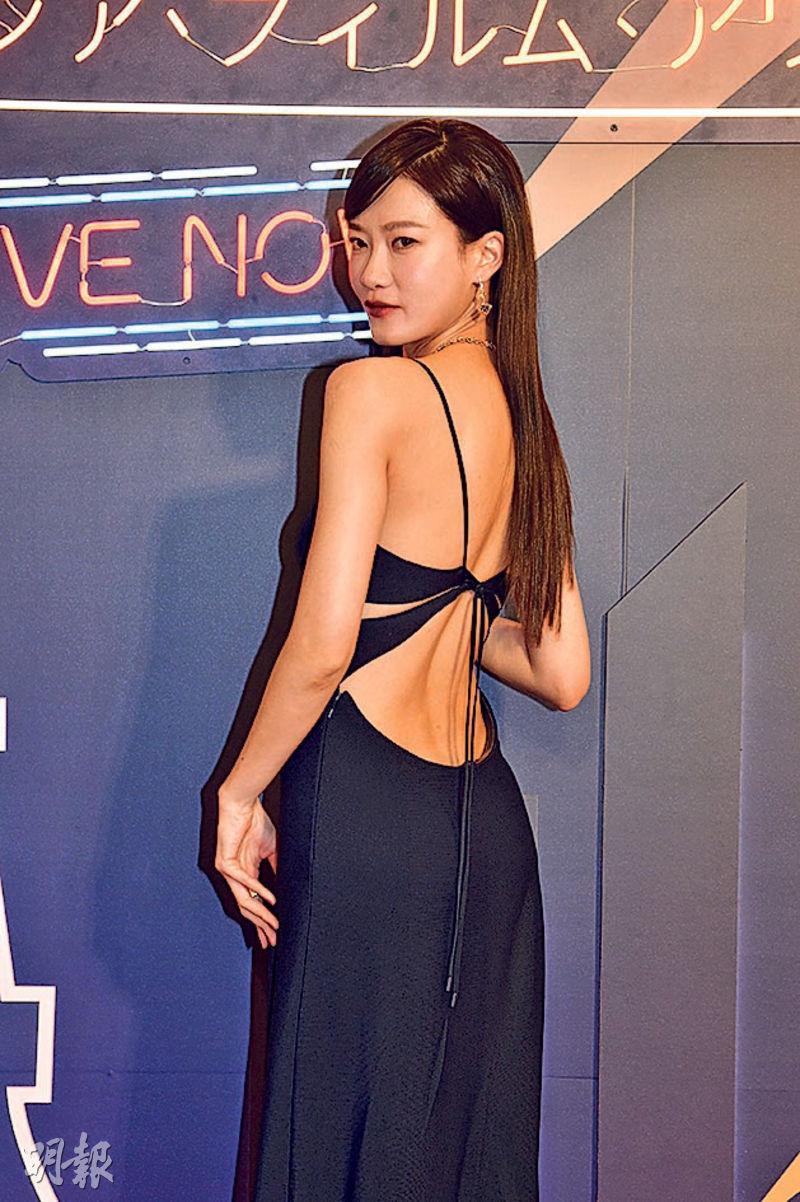 Fish Liew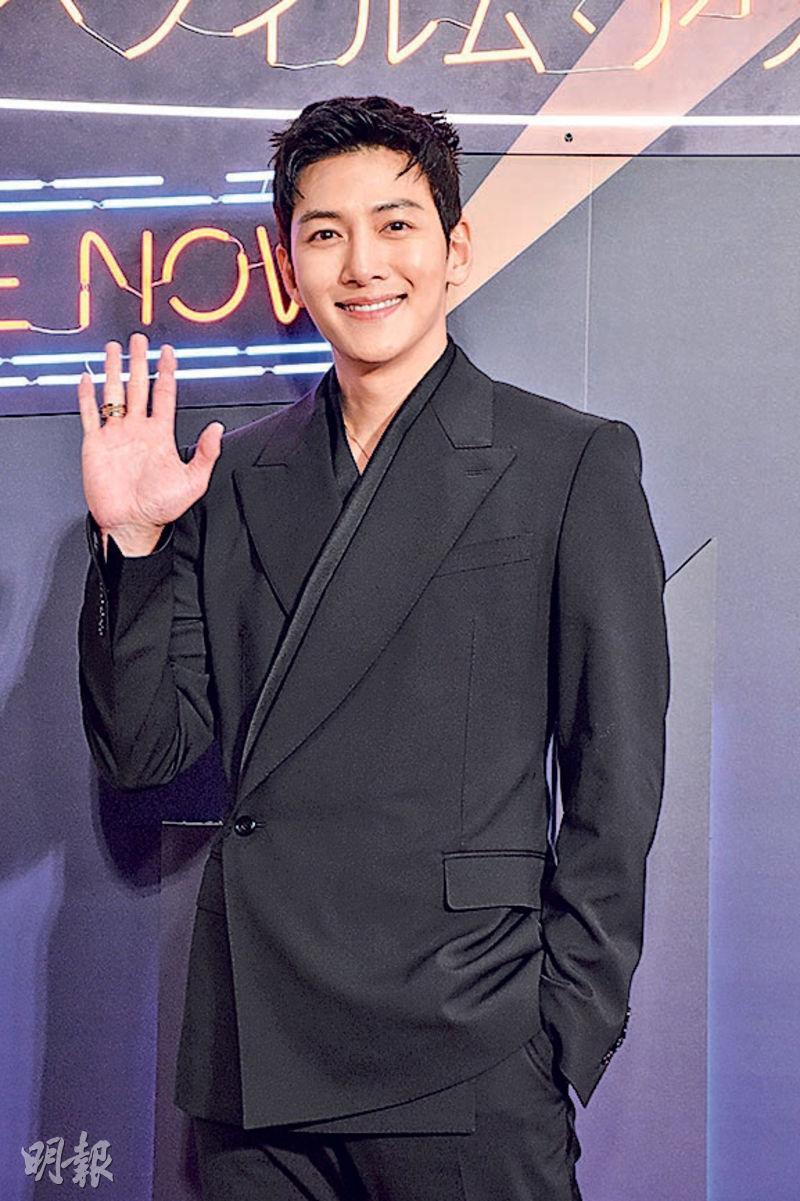 AFA Next Generation Award winner Ji Chang-wook smiles and waves to fans on the red carpet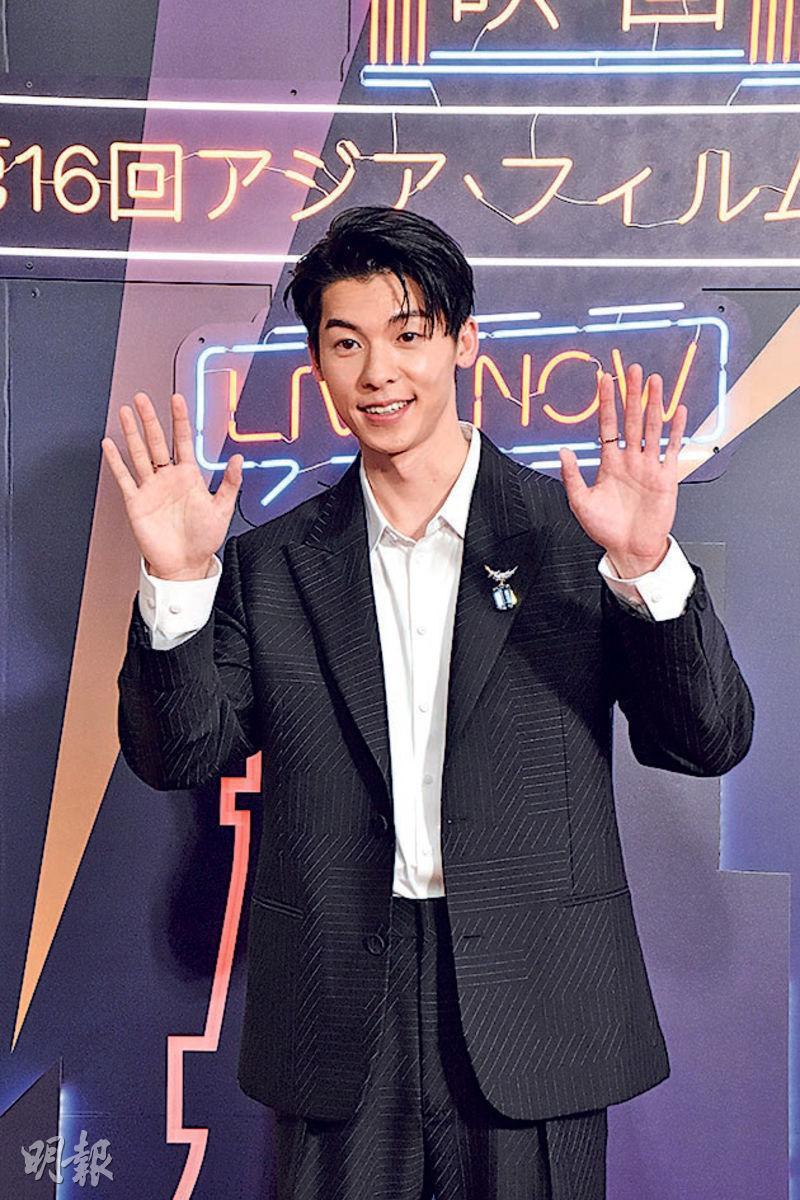 Greg Hsu has a lot of fan support on the red carpet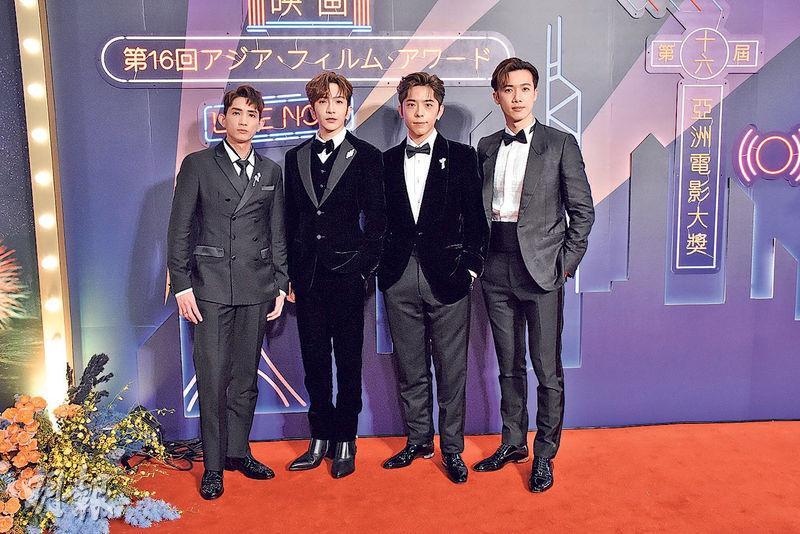 MIRROR's Lokman Yeung, Anson Lo, Edan Lui and Stanely Yau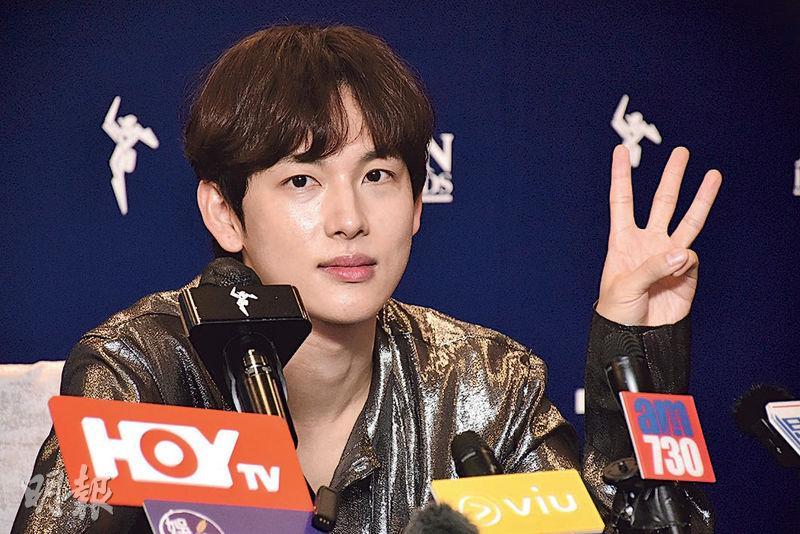 Yim Si-wan raises three fingers and jokes, "I am number 3."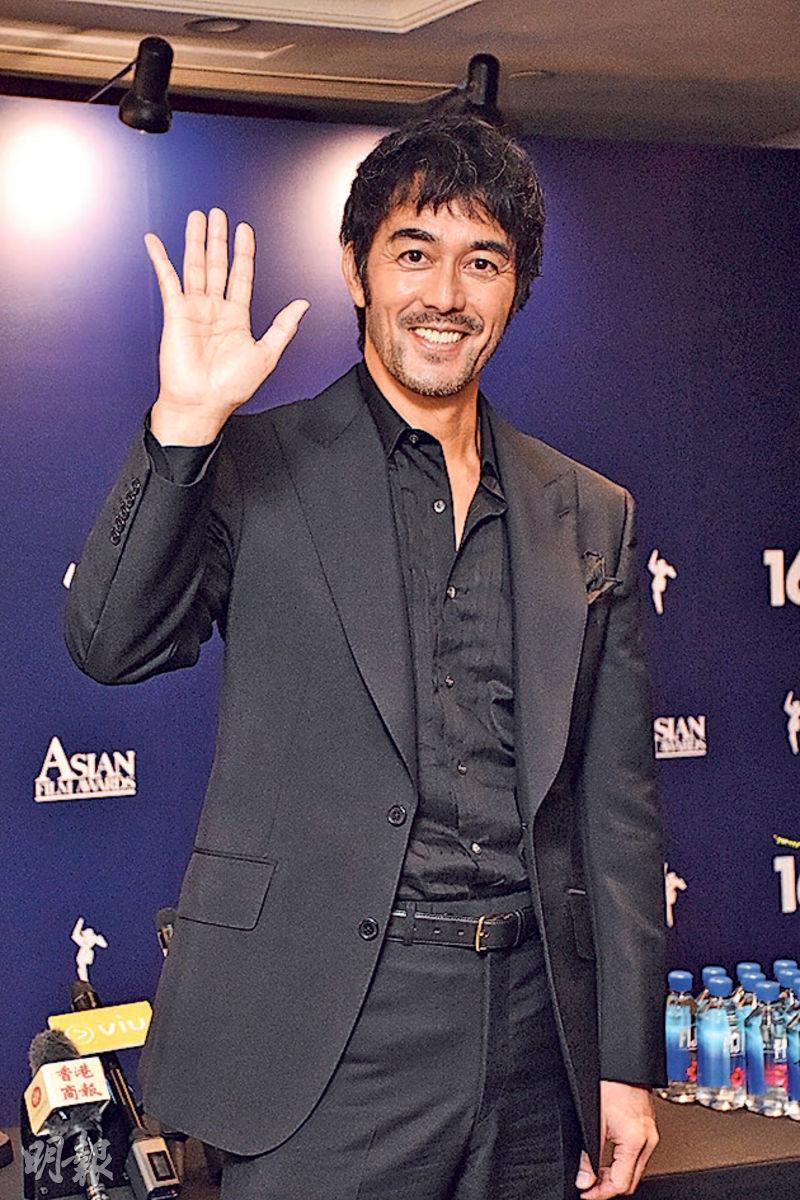 Hiroshi Abe took place in TOKYO RAIDERS and hopes to have a chance to work on another Hong Kong film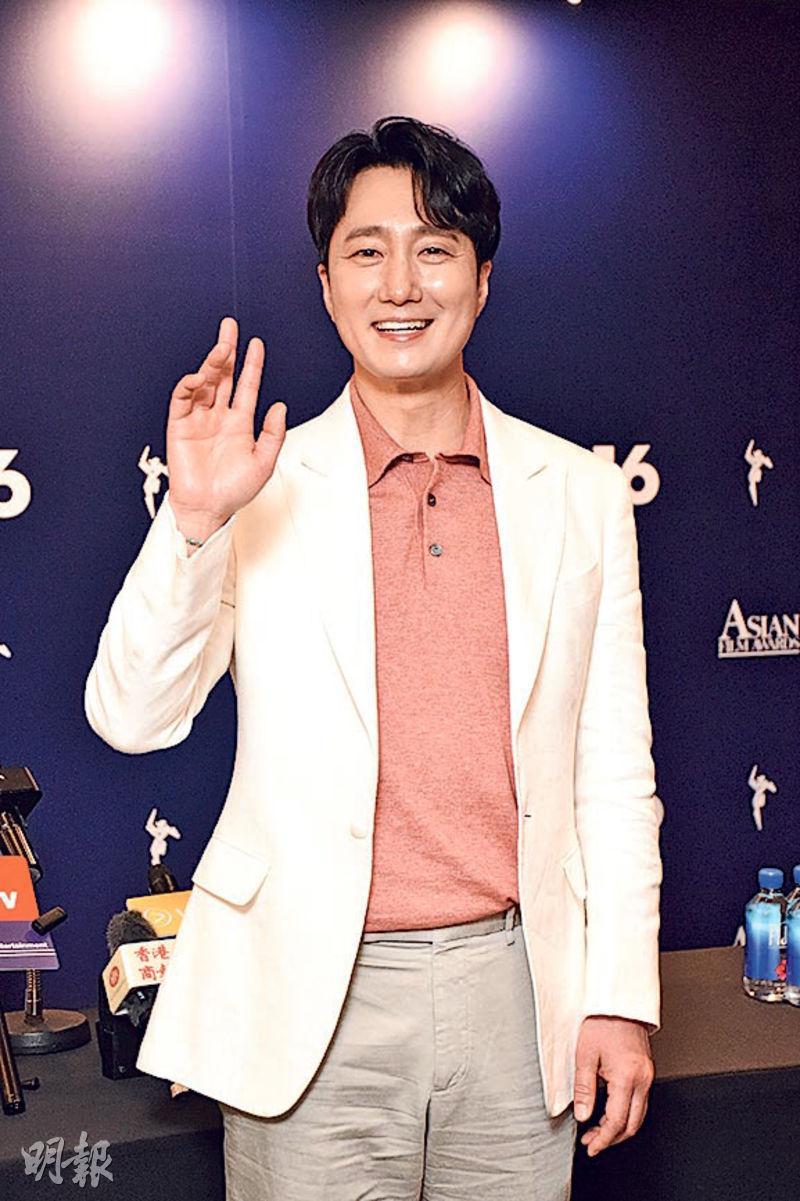 Park Hae-il wants to personally present the Lifetime Achievement Award to Sammo Hung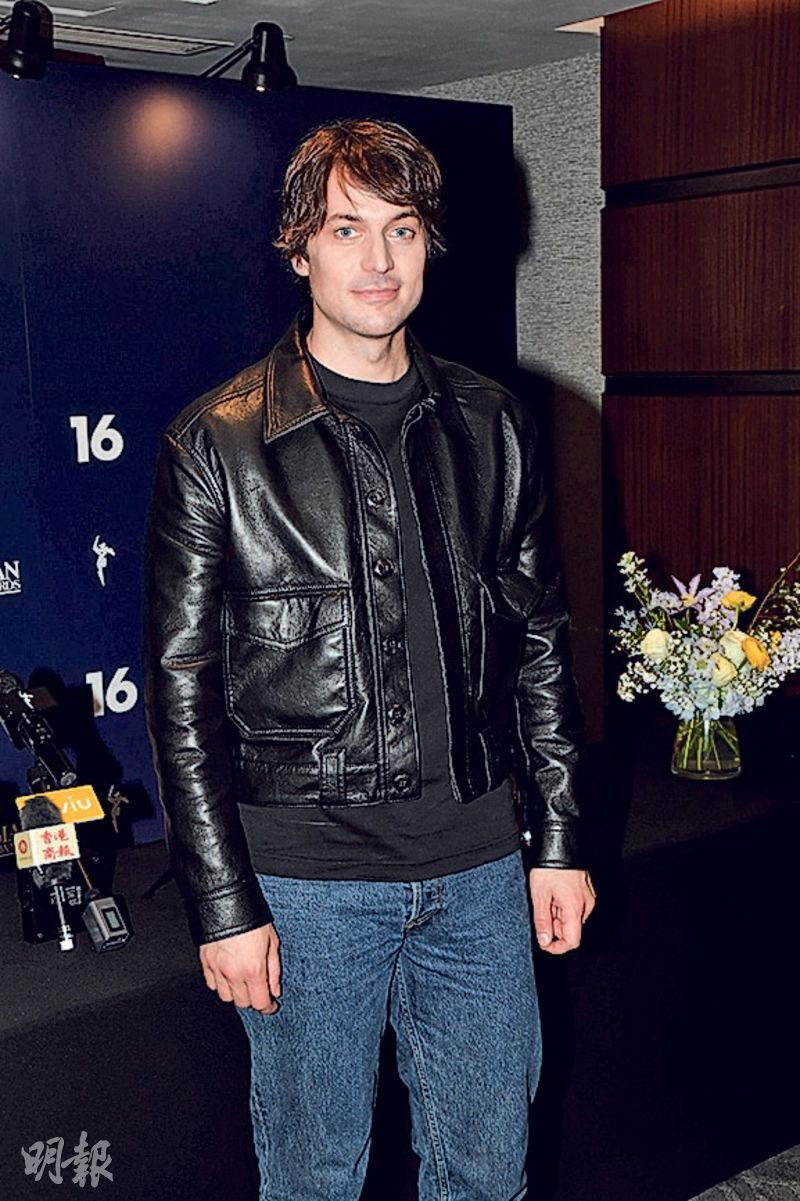 Lucas Bravo grew up watching IN THE MOOD FOR LOVE's Tony Leung Chiu Wai and Maggie Cheung
courtesy of mingpao.com
Film star Tony Leung Chiu Wai won Best Actor at this year's Asian Film Awards. On the eve of the award ceremony the event announced that he would receive the "Asian Film Contribution Award" as well. With double the happiness, no wonder last night when he appeared on the red walk he looked sassy. As for becoming the target of all artists' photos, he even humorously asked if it was true or not. Obviously he was in great spirits. Personally presenting the award to Wai Jai, his wife Carina Lau Ka Ling was emotional and even said that in her heart she has already given him the award long ago.
The 16th Asian Film Awards took place last night at the Hong Kong Palace Museum, attracted stars from the Mainland, Hong Kong, Taiwan, Japan, South and overseas to attend. They included Korean Best Actor Park Hae-Il, Yim Si-wan, Japanese Best Actor Hiroshi Abe, famous director Hirokazu Kore-eda, Ryusuke Hamaguchi, Taiwan star Gingle Wang, Vivian Sung, Austin Lin, Tseng Jing-hua, Hong Kong Best Actor Tony Leung Chiu Wai, Sammo Hung Kam Bo, Louise Wong Dan Nei and members of the guy group MIRROR.
Guest performers for the awards included Japan's traditional performance art group ORIENTARHYTHM, and famous pianist Niu Niu who create a medley of 8 Chinese, Japanese and Korean classic and film songs that included PAST YEAR LOVE and FIRST LOVE.
Best Actor nominee Leung Chiu Wai finally defeated Park Hae-il, Hidetoshi Nishijima, Ryohei Suzuki, Zhang Yi, and Mohsen Tanabandeh to win Best Actor. When guest presenter Lau Ka Ling opened the envelope she could not help but laugh, then said that the winner's name was very hard to say. It's Tony Leung. He appeared to be surprised and said, "Really?" Then when he accepted the award on the stage he said in Cantonese, "I never even thought about winning this award. Because I really admire the actors in the nominated films, I didn't prepare a speech. I can only say thank you, everyone." Best Actress went to DECISION TO LEAVE's Tang Wei. The film also won Best Production Design and Best Screenplay.
Leung Chiu Wai spoke to the press back stage with Ka Ling. Wai Jai admitted that he never even thought about winning Best Actor and was very surprised. As for the 6 Best Actor nominees, Wai Jai said that he has not yet have the chance to speak with other nominees and hoped to be able to meet them at the after party. Did the award feel extra heavy from Ka Ling? Ka Ling said, "When I opened the envelope I was emotional. Although I wanted Wai Jai to win, I also wanted to give the chance to others. Of course Wai Jai is the best in my heart." Wai Jai said that when the result was announced his mind went blank and he felt very emotional. Would he make more movies in the future? He said, "I want to work with teams from different places, only this way would there be new excitement, new inspiration and new spark." Wai Jai said that he was very happy to represent WHERE THE WIND BLOWS, and would call Yung Tsz Kwong with the good news. Presenting the award for the first time in person to Wai Jai, Ka Ling even said that in her heart she already gave him the award long ago.
Wai Jai also received the "Asian Film Contribution Award". A video of director Johnnie To Kei Fung was shown. To Kei Fung said, "Many people say Wai Jai ignores people, actually he is trying to understand and brew the role. From working with him, I learned what an actor is. With his 40 years of experience, he is the No. 1 actor in Hong Kong."
Wai Jai appeared on the red carpet in a black suit and sneakers. Many artists have said that they would like a photo with him. He humorously said, "Really? I am very happy!" Then when he stepped onto the award stage he received cheer from the entire crowd. Wai Jai even joked, "Luckily I get to be on stage." He even said that the credit of the award belonged to all the cast and the crew he has worked with in 40 year acting career.
Best Actor nominee Park Hae-il revealed before the show that each time he attended an award show he would like to pay attention of the surrounding of his hotel and take walks nearby. This time was not exception. He especially wanted to send his well wishes to the Lifetime Achievement Award recipient Hung Kam Bo. "His movies have been a tremendous influence on me. I remember before I became an actor, I already watched many Hung Kam Bo movies. The LUCKY STARS series was particularly memorable, I thought he was very energetic." Speaking of his opponents, Park Hae-il said that he has seen Wai Jai's IN THE MOOD FOR LOVE (FA YEUNG NIN WA) and admitted that the film's mood moved him. Maggie Cheung man Yuk was also very charming. Japanese Best Actor Hidetoshi Nishijima also left a deep impression with him, as he praised his performance to be very sincere and convincing. He even recommended his film CUT.
DRIVE MY CAR's director Ryusuke Hamaguchi said that since completing the film he has not seen lead actor Hidetoshi Nishijima. Seeing him again at the award show brought back memories from the shoot. He praised the actor as friendly and very gentle. Would the director adapt more Haruki Murakmai's work to the silver screen? He said that for now he had no plan, and thought that whether literary work could be made into a movie would mainly depend on whether the director was able to relate and feel the work. It would also depend on whether the subject would be suitable for a film adaptation. Ryusuke Hamaguchi also said that in high school he has already noticed Hong Kong director Wong Kar Wai. This time he was happy to see Hidetoshi Nishijima and Leung Chiu Wai in competition for Best Actor, which was quite an experience for him.
The award jury president, director Zhang Yimou presented Best Director to Hirokazu Kore-eda for the Korean film BROKER. Hirokazu Kore-eda was very popular with the actors on hand and even became their top photo target. For that he said thank you repeatedly. Which Asian actor would he like to work with? He said, "There are so many, earlier at the Golden Horse Award I presented an award with Kwai Lun-Mei, I thought she was very pretty, very charming, but for now we still don't have any plan to work together." As for a Japanese director being able to direct a Korean film, Hirokazu Kore-eda explained that the Korean film company did not approach him with BROKER, but Korean star Song Kang-ho wanted to work with him and made it happen. In addition he also had a connection with Taiwan, because his father was born there. Thus in the future he would like to work with Taiwan filmmakers. When asked about working with Korean actors, Hirokazu Kore-eda praised every actor in BROKER was very professional. He stated that the production format in Korea is even better than in Japan; without long period shoots, the cast and the crew would have ample time to rest. Hirokazu Kore-eda was also happy to see more and more Asian films to be able to take part in the Oscars. Previously nominated, he was fortunate to be one of the members. He felt that the era is different now. The Oscars aside from American films would also have films from different places to give the film industry even more variety and make it international.
Best Supporting Actor and Best Supporting Actress went to EGOIST' Hio Miyazawa and EMERGENCY DECLARATION's Kim So-jin. Although Yim Si-Wan did not win Supporting Actor, he was not disappointed. During his interview he even shared his production experience. Speaking of his recent interview with Carol Cheng Yui Ling, her social media account only followed three accounts. Yim Si-wan was one. He said, "In Korea I watched many of her comedy, I was surprised that she knew my work like the back of her hand. She has followed me on social media, for which I feel very proud. (Would you like to work with her?) If I can, it would be a great honor for me."
Yim Si-wan was happy to be able to participate in the award show, which gave him the chance to meet and have exchanges with elder actors and directors he respected. When asked what secret he had about playing a villain, Yim Si-wan said that he would do more homework before hand, get an in-depth understanding of the role's motives. Lately he played mostly dark characters. He joked that actually he dd not like playing this type of characters. Instead he liked to play kind heroes. However if the film or the director felt that he was suitable to play the villain, he would not resist.
Korean star Ji Chang-wook received the AFA Next Generation Award. He said that he was very honored to receive this award. What did he feel being a Next Generation actor would take? He said, "This award represents continuing persistence and challenges. I would hold this state of mind to continue acting. (Would you meet with Hong Kong directors and work on Hong Kong films on this trip?) With a good role and work they can talk to me at anytime. Because I have always made movies in Korea, I too want to accept overseas film challenges." He had many Hong Kong actors he would like to work with. He would like to work with elder Leung Chu Wai the most. Earlier in the waiting room they ran into each other and took a photo. He felt very happy. If he would have a chance to work with him he would feel very lucky.
The 71 year old Hung Kam Bo received the Lifetime Achievement Award for his 62 years in film. The event before presenting the award showed a video of his past work. Yuen Woo Ping and director Mabel Cheung Yuen Ting presented the award. Then when he reached the stage with a cane, the audience gave a standing ovation. He stated, "Originally I was very peaceful, but now I suddenly wanted to cry. Over these 3 years of the pandemic, our film industry, action films have been very quiet. We couldn't do anything. Everyday I shop for food, cook, eat, all movies seem to have nothing to do with me. However suddenly the event said that it would present this award to me, I was very surprised, very happy." He got choked up through his speech, as his wife Joyce Godenzi (Go Lai Hung) also got teary in the audience. He joked that he dressed up for the occasion, which he wanted to save for when he would win Best Actor. "My wife says I was being silly, I would need several decades before I would have a chance at the Lifetime Achievement Award. It's even more important than Best Actor." He congratulated A GUILTY CONSCIENCE (DUK SIT DAI JONG) for being the highest grossing Hong Kong film and joked that his next goal would be making A GUILTY BODYGUARD (DUK SIT DUT GUNG YEH YEH).
Hung Kam Bo walked the red carpet earlier with his wife Go Lai Hung, and Lord Eight Yuen Woo Ping. Hung Kam Bo was asked about the quality of current action actors. He humbly said that now he made less movies and watched less movies, only Lord Eight was still working hard. Lord Eight said, "Being an action actor now is very difficult. Because there are too many, they are always the same few. So we have to start cultivating newcomers." How would he help actors without an action background? Hung Kam Bo said that he would first see how much background he would have, then decide on how to use the cameras to accommodate during the shoot. He even praised PARADOX (SAT POR LONG TAM LONG)'s Louis Koo Tin Lok. Originally the team prepared many stunt doubles for him, but in the end Goo Jai insisted on performing personally. Thus actors' effort was just as important.
As for Best Newcomer Mak Pui Tung knocked off favorites Wong Dan Nei and IU. He got choked up as he said, "Actually I never thought about winning, because all the opponents have performed very well. Thank you producer (Philip) Yung Tsz Kwong. This role originally didn't belong to me. Thanks to him and the director, they have never seen any of my work but chose me to play this character with a very complicated background. They are very brave. I also thank my co-star Yeung Wai Lun who recommended me for this role, proving that he has a great eye." Then he thanked his wife and parents, saying that while unemployed during the pandemic his wife said to him, "You don't have a job, I have a full time one. I will take the load." He hoped that from now on he would be able to carry the load by himself.
Stars Fish Liew Chi Yu, Chrissie Chau Sau Na, Lin Minchen, Louise Wong Dan Nei, Grace Wong Kwan Hing, Grace Chan Hoi Lam and others last night walked the red carpet. With her boyfriend Lo Chun Yip, Liew Chi Yu easily stole the spotlight. Having made a category III film early in her career, she joked, "I started as a sex symbol, so I have to show off a little." She even said that she worked out for a few days to get into shape for the dress.
Instead earlier declaring that she would be "ultimate sexy", Lin Minchen appeared in a high cut dress. Many online were disappointed and jeered. Often surprising, Chrissie Chau also misfired this time. She stated that she deliberately "fasted" for a day for her dress, but the result was mixed.
Wong Dan Nei said that due to the Oscars, getting a loan from designers has been very difficult. "Mine is by a Lebanese designer. The dress was shipped to Hong Kong after just finishing the Paris fashion week. It makes me look so pretty." She also talked about her diamond accessories, just her diamond earrings were already a dozen carat or so.
Event hosts Grace Chan Hoi Lam and Sammy walked the red carpet together. She said that she would be responsible for the English portion, so she would have less opportunity to make a mistake. She was also very at ease that her partner Sammy would cover her back.
Male group MIRROR's Edan Lui Cheuk On, Anson Lo, Lokman Yeung and Stanley Yau yesterday were guest presenters. Many fans held up signs to support their idols. Edan's fans showed up in droves. Red carpet host Eric Cheng Kai Tai even said that their fans were already there several days ago to stake their claim to a spot. Perhaps Anson had too much make up on, some online said that he was as pale as a wax figure.
The quartet said that they were very honored to be able to attend. Edan said that he might look peaceful but have butterflies inside. He also said that he would like to see Taiwan star Greg Hsu and work with him, because his manager Sister Fa really likes him. Later even he joked that he looked a little like Patrick Hsu and his group mates jeered. Stanley hoped famous director Zhang Yimou would be able to see himself. Anson Lo was very nervous, whenever he spoke he stuttered. Reportedly he and Edan would shoot on location in Japan, but they did not know when they would go. Edan said, "In early April I have to come back for a show, so we can't stay too long."
The Excellence in Asian Cinema Award and the AFA X SIT Best Dressed Award recipient, Japanese Best Actor Hiroshi Abe, famous Japanese director Hirokazu Kore-eda and Korean star Ji Chang-Wook came to Hong Kong to attend the event. Hiroshi Abe praised his TOKYO RAIDERS (DONG GAING GUNG LEUK) co-star Leung Chu Wai as very excellent, and enjoyed many of his films. Would he like to participate in another Hong Kong film? Hiroshi Abe said, "I would, I want to have different experiences. However I don't know what genre of movies would be right for me. Comedy is good, but Hong Kong film is very fast paced. I don't know if I would be able to keep up." Hiroshi Abe also said that he really liked costume films. In the past Akira Kurosawa directed many costume films, but now they are fewer and fewer. He worried that costume films would be eliminated. He said, "I am 59 this year. I really hope to be able to make more costume films." Currently busy with the drama VIVANT with Japanese star Masato Sakai, Hiroshi Abe was said to have zero exchange with him at work. Hiroshi Abe joked, "Someone wrote that? Actually the shoot took place in an alley, and we had to act and deliver our lines. I would try to be a little more focused. Actually we have a lot to talk about on the set."
Hiroshi Abe revealed that he never thought about receiving two awards, so he was still dawdling in the audience. When he was called to accept the awards he was very surprised and happy.
Best Supporting Actor Hio Miyazawa won his first prize. Speaking of his film EGOIST and its share of daring scenes, he said that when he got the script he just took the role without even considering it. However he did a lot of preparation and research. He also had a lot of exchanges with co-star Ryohei Suzuki. Because he was playing a homosexual and had a lot of daring scenes, it was a huge challenge for him. The even greater challenge was a very long scene in the film that took at least 20 takes. As a new actor he felt fortunate and happy. Best Supporting Actress Kim So-jin was unable to attend.
Hit U.S. series EMILY IN PARIS' star Lucas Bravo yesterday was a guest presenter for the Asian Film Awards with Gingle Wang, Tseng Jing-hua and Vivian Sung. Lucas was happy that Asian films have continued to grow, unfortunately he only arrived two days ago and has not have the chance to come in contact with Asian filmmakers. He hoped to have even more opportunities to communicate and have exchanges during the award show. Lucas said that he grew up watching Leung Chiu Wai's IN THE MOOD FOR LOVE. Although it is already 20 years old, Wai Jai and his co-star Maggie Cheung Man Yuk have always been his idols. "I know Leung Chiu Wai has been nominated, so I look forward to meeting him at the award show. (Would you like to work on a Hong Kong film?) Earlier I have always focused on European and American films. The world is so big, I look forward to be able to have new excitement and experience in Asia. Hong Kong can be the starting point in Asia."
Recently revealing her romance, Gingle Wang sweetly said that her love life has been decent. As for online criticism of her boyfriend Tsao Yu-ning's photography skills, she joked, "Then he has to learn from the photographer big brothers here. (Are you pleased with it?) Whether I am pleased or not it's unimportant, the most important is making me look very beautiful today!"
THE 16TH ASIAN FILM AWARDS
https://www.afa-academy.com/

BEST FILM:
DRIVE MY CAR
BEST DIRECTOR:
Hirokazu Kore-eda (BROKER)
BEST ACTOR:
Tony Leung Chiu Wai (WHERE THE WIND BLOWS)
BES ACTRESS:
Tang Wei (DECISION TO LEAVE)
BEST SUPPORTING ACTOR:
Hio Miyazawa (EGOIST)
BEST SUPPORTING ACTRESS:
Kim So-jin (EMERGENCY DECLARATION)
BEST NEW DIRECTOR:
Jigme Trinley (ONE AND FOUR)
BEST NEWCOMER:
Mak Pui Tung (THE SPARRING PARTNER)
BEST SCREENPLAY:
Chung Seo-kyung, Park Chan-wook (DECISION TO LEAVE)
BEST EDITING:
Azusa Yamazaki (DRIVE MY CAR)
BEST CINEMATOGRAPHY:
LV Songye (ONE AND FOUR)
BEST ORIGINAL MUSIC:
Eiko Ishibashi (DRIVE MY CAR)
BEST COSTUEM DESIGN:
Dora Ng, Karen Yip (ANITA)
BEST PRODUCTION DESIGN:
Ryu Seong-hie (DECISION TO LEAVE)
BEST VISUAL EFFECTS:
Chas Chau, Leung Wai Kit, Kwok Tai, May Law (WARRIORS OF FUTURE)
BEST SOUND:
Tu Duu-Chih, Wu Shu-Yao (ANITA)
EXCELLENCE IN ASIAN CINEMA AWARD:
Hiroshi Abe
LIFETIME ACHIEVEMENT AWARD:
Sammo Hung Kam Bo
AFA NEXT GENERATION AWARD:
Ji Chang-Wook
ASIAN FILM CONTRIBUTION AWARD:
Tony Leung Chiu Wai