For the week ending Sunday, March 12 2023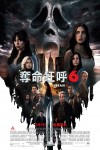 10 SCREAM 6
d. Matt Betinelli-Olpin, Tyler Gillett
Melissa Barrera, Courteney Cox, Jenna Ortega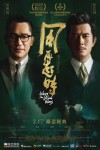 9 WHERE THE WIND BLOWS
AKA : WHEN THE WIND BLOWS
AKA : THEORY OF AMBITIONS
Can : Fung Joi Hei Si
Lit : When Storm Rises Again
AKA : Chuen Kau Tung Chup Ling
Lit : Global Wanted List
d. Philip Yung Tsz Kwong
Tony Leung Chiu Wai, Aaron Kwok Fu Sing, Patrick Tam Yiu Man,
Michael Chow Man Kin, Michael Hui Koon Man, Jessie Li (Chun Xia),
Du Juan, Lawrence Ko Yu Lun, Eddie Cheung Siu Fai, Zeng Yixuan,
Louis Cheung Kai Chung, Michael Ning (Bak Ji), Lam Yiu Sing,
Ron Ng Cheuk Hei, Tse Kwan Ho,
Maggie Cheung Ho Yi, Elaine Jin (Kam Yin Ling),
Tsui Tin Yau, Belinda Yan, Jeana Ho Pui Yu, Rose Chan Ka Wun,
Rating : IIB
Length : 143 mins.
Opening April 1 2021 at the Hong Kong International Film Festival (CANCELLED)
Opening August 15 2022 at the Hong Kong International Film Festival
Opening November 21 2022 (Preview)
Opening February 10 2022 (Preview)
Opening February 17 2023
Site:
https://www.hkiff.org.hk/film/getdetail?fid=935
fb:
https://www.facebook.com/wherethewindblows2021
[ THE FILM CATALOGUE ]
Young Lui Lok became a policeman to uphold justice. But the rampant corruption within the police force made it impossible for him to remain independent. He decides to make a name for himself within the police force by controlling organized crime.
Nam Kong looks gentleman, but operates with a dagger under his cloak. He is socially active among the police force as well as the social circles, in fact laying the groundwork for the empire of corruption he builds with Lui Lok.
Nam Kong and Lui Lok, the brains and the brawn working in perfect unison, respectively become Chief Detective Chinese of Hong Kong Island and Kowloon / New Territories in 1962. They lord over organized crime, and lead tens of thousands of policemen.
Nam Kong has long seen through Lui Lok's cynicism and naivete, and has been plotting a hostile takeover of power. Lui Lok discovers that everything is not as he had imagined, he vows to forcibly regain controlling leadership from Nam Kong.
As the two forces begin their epic power struggle, who will rise and who will fall?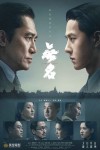 8 HIDDEN BLADE
Can : Mo Ming
Lit : Anonymous
d. Cheng Er
Tony Leung Chiu Wai, Wang Yibo, Chengpeng Dong (Dapeng),
Zhou Xun, Eric Wang Fujian, Huang Lei
Rating : IIB
Length : 131 mins.
Opening March 9 2023
Trailer :
https://youtu.be/XhWTs42DdTo
[ CINEMA CITY ]
In the 1920s, the Chinese Communist Party begins its struggle in Shanghai, leading the covert front of the Chinese Communist Party's Special Branch, the Party strive in their deadly battle against various forces. The unsung heroes march towards victory through irreplaceable and inimitable courage and contributions. After the outbreak of the War of Resistance Against Japan, the Chinese Communist Party's Special Branch in Shanghai circles between Chongqing, Wang Puppet Government and Japanese espionage agencies. Through an intricate system of intelligence behind enemy lines, they recruit the enemy, obtain information, kill traitors, and establish a broader united front line, charging towards Yan 'an on the eve of the victory of the War of Resistance...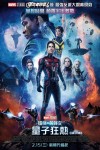 7 ANT-MAN AND THE WASP: QUANTUMANIA
d. Peyton Reed
Paul Rudd, Evangline Lilly, Jonathan Majors, Kathryn Newton,
Bill Murray, Michelle Pfeiffer, Michael Douglas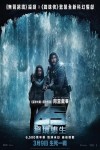 6 65
d. Scott Beck, Bryan Woods
Adam Driver, Arianna Greenblatt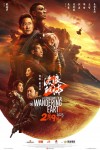 5 THE WANDERING EARTH II
AKA : THE WANDERING EARTII
d. Frant Gwo
Andy Lau Tak Wa, Wu JUing, Li Xuejian, Sha Yi, Ning Li,
Wang Zhi, Zhu Yanmanzi
Rating : IIA
Length : 173 mins.
Opening February 9 2023

[ CINEMA CITY ]
The sun is about to destroyed, and humans have built huge engines on the Earth's surface to help them find a new home. However, the road out into the universe is perilous. In order to save the Earth, a group of young people once again stepped forward to begin a life and death battle.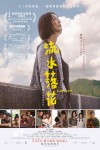 4 LOST LOVE
AKA : FOSTER LOVE
Can : Lau Shui Lok Fa
Lit : Flowing Water Fallen Flower
d. Ka Sing Fung
Sammi Cheng Sau Man, Alan Luk Chun Kwong, Hedwig Tam Sin Yin
Sean Wong Tsz Lok, Lee Yun Wai, Phoebe Ng Chi Kiu,
Matt Jiu Kai Lam, Chui Ka Him, Maya Tsang Yui Tung,
Wong Tsz Hin, Gordon Lau Chiu Kin
Rating : IIA
Length : 95 mins.
Opening November 13 2022 at the Hong Kong Asian Film Festival
Opening November 28 2022 (Preview)
Opening March 2 2023
fb:
https://www.facebook.com/LostLoveMovieOfficial/
Site :
https://www.hkaff.asia/en/film/2022/detail/130
[ BROADWAY CIRCUIT ]
Parenting means raising and nurturing children, but oftentimes children enrich and enlighten the lives of parents instead.
Chan Tin Mei and Ho Bun's son passed away abruptly at three years old due to a congenital heart disease. Still in pain over the loss, Mei resists having another child.
One day, Mei finds out that they can become a foster family. Her desolate heart finds sustenance from possibly regaining the feeling of being a mother. But when she discovers the emotional scars on the children caused by their harsh realities, she starts to adjust her expectations.
Bun's extramarital affair leads to a big fight between the couple, but it also reveals the feelings concealed in Bun's heart. Mei realizes her selfishness; she has neglected Bun's feelings and the true needs of her wards. In the end, the foster children inspire her and help the couple to redeem their relationship. Although Mei is praised for her dedication to her foster children, she knows she has been saved by the children instead.
When the couple finally settles into a simple and happy life with their foster child, Mei suffers a heart attack. In the final stage of her life, Mei's seven foster children reappear. She seems to see her son grow in these foster children.
[ HONG KONG ASIAN FILM FESTIVAL ]
For his project under the lauded First Feature Film Initiative programme, director Ka Sing- fung tells the heartrending journey of a woman whose life is forever changed by the children she takes in as a temporary foster carer. In a career-best performance, Sammi Cheng stars as Mei, a woman trying to get over the death of her young son through the children she welcomes into her home. Each ward offers Mei a different challenge and a newfound appreciation for the difficulties of motherhood, but when her dedication to the job causes her marriage to turn sour, Mei is forced to make a choice.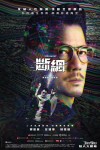 3 CYBERHEIST
AKA : DISCONNECTED
AKA : DISCONNECT'D
Can : Duen Mong
Lit : Broken Net
d. Wong Hing Fan
Aaron Kwok Fu Sing, Simon Yam Tat Wa, Gordon Lam Ka Tung,
Patrick Tam Yiu Man, Kenny Wong Tak Bun,
Megan Lai Ya-Yen, Tony Wu Tsz Tung, Kathy Yuen (Tong Yi),
Michael Ning (Bak Ji), Zeno Koo Ting Hin, Wiyona Yeung Lau Ching,
Terrence Huang (Wong Yiu Wong)
Rating : IIB
Length : 110 mins.
Opening December 1 2022 in Malaysia (POSTPONED)
Opening March 9 2023
Teaser :
https://youtu.be/E-k_F8quEWA
Trailer :
https://youtu.be/_3tDvZoQbo0
[ CINEMA ONLINE MALAYSIA ]
Hackers release a virus onto the web and unleash a large-scale cyber attack. Fortunately, cyber security engineer and IT whiz, Cheuk Ka-Chun, uses a firewall he developed to resolve the crisis. Unbeknownst to Ka-Chun, the mastermind behind this virus is his superior, Chan Ming-Chi. As the two begin to butt heads, Ka-Chun secretly develops a rival virus and Ming-Chi plots to have Ka-Chun's wife and daughter kidnapped. As Ka-Chun panics, his new virus starts to spread across every computer in Hong Kong - threatening the entire city's future.
[ SCREEN DAILY ]
A cyber security engineer develops a powerful AI program, but then has to prevent it from falling into the wrong hands.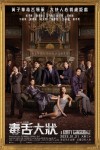 2 A GUILTY CONSCIENCE
Can : Duk Sit Dai Jong
Lit : Poison Tongued Lawyer
d. Jack Ng Wai Lun
Dayo Wong Tze Wa, Tse Kwan Ho,
Louise Wong Dan Nei, Fish Liew Chi Yu,
Michael Wong Man Tak, Dee Ho Kai Wa, Renci Yeung Sze Wing,
Adam Pak Tin Nam, Bowie Lam Bo Yi,
Vincent Kok Tak Siu, Sheldon Lo (Law Hau Yung)
Rating : IIB
Length : 135 mins.
Opening January 7, 14 2023 (Preview)
Opening January 21 2023
Teaser :
https://youtu.be/JRUKWIv59Uw
Trailer :
https://youtu.be/DYJ828h8k4M
[ BROADWAY CIRCUIT ]
A simple supermodel's child abuse case becomes the battleground of justice, power, and fame. When the apex society exercises every network and resource to save itself, how will the barristers pursue justice?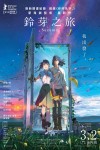 1 SUZUME
d. Makoto Shinkai
Japanese Animation
Rating : I
Length : 121 mins.
Opening March 2 2023

[ CINEMA CITY ]
Suzume, a 17-year-old girl who lives in a quiet town in Kyushu, meets Souta, a young man looking for a door. Following Souta, Suzume finds an old door in the mountains and reaches out her hands towards the door as if pulled by something. This opened door will bring disaster; thus, Souta must travel round to lock the door to avoid disaster. But then, a mysterious kitten turns Souta into a broken wooden chair. To catch the kitten, Suzume and Souta follow it and travel from Kyushu to Tokyo. "Doors of disaster" begin to appear across Japan simultaneously, and Suzume needs to close and lock the doors one by one to stop the disasters. Unexpectedly, a forgotten truth is waiting for her.