courtesy of on.cc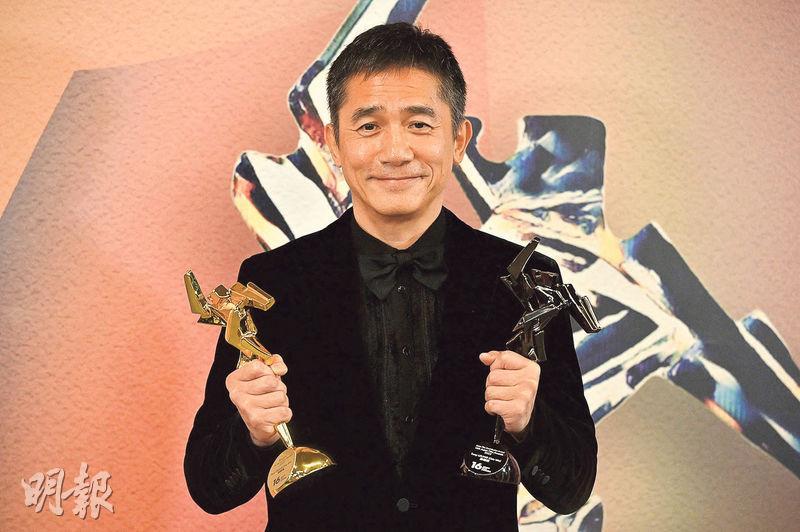 Tony Leung Chiu Wai has won countless awards. The latest would be the Venice International Film Festival's Lifetime Achievement Award
courtesy of mingpao.com
The 8th Venice International Film Festival would take place from August 30th to September 9th. The event announced today that Italian director Liliana Cavani and Hong Kong actor Tony Leung Chiu Wai would receive the Golden Lions for Lifetime Achievement at the 80th International Film Festival of the Biennale di Venezia. The decision was made by the Board of Directors of La Biennale, upon recommendation of the Director of the Festival, Alberto Barbera. Leung Chiu Wai could not feel more honored after hearing the news and hope to celebrate with all the filmmakers he has worked with!
Tony Leung Chiu Wai has starred in three movies which have won the Golden Lion at the Venice International Film Festival, including Hou Hsiao-hsien's A CITY OF SADNESS (1989), Tran Anh Hung's CYCLO (1995), and Ang Lee's LUST, CAUTION (2007). Wai Jai's excellent acting has made him a frequent guest at award shows and won countless awards. Wai Jai has won the Hong Kong Film Awards Best Actor 5 times and the Golden Horse Awards Best Actor 3 times, the most honored actor at both events. He has often been invited to attend film festivals around the world. Internationally renowned, many famous directors, producers and actors would like to work with him. He has also won the Asian Film Awards Best Actor and the Cannes Film Festival Best Actor. This year, Wai Jai with WHERE THE WIND BLOWS (FUNG JOI SI HEI) won the 16th Asian Film Awards Best Actor and the Asian Film Contribution Award.
In accepting the offer, Leung Chiu Wai declared: "I am overwhelmed and honored with the news from the Biennale di Venezia. I hope to celebrate this award with all the filmmakers I have worked with. This award is a tribute to all of them as well." Hong Kong director John Woo (Ng Yu Sum) in 2010 became the first Chinese director to receive the Golden Lion for Lifetime Achievement at the Venice International Film Festival. Ann Hui On Wa in 2020 became the first female director to receive the honor. Leung Chiu Wai would be the first Asian actor to receive the honor.
Film Festival Director Alberto Barbera declared, "Tony Leung is a charismatic performer in the course of an exceptional transnational career which has evolved paralleling the expansion of global film circulation. Not only have Tony Leung's roles spanned a great variety of genres, but also have bridged television, popular culture, and art-cinema at different latitudes...Recognized as one of the major actors of his generation, while maintaining the incredible versatility that first turned him into a film and pop star in Hong Kong in the 1980s, he has achieved a unique profile as a pan-Asian and global star confirming his presence within ever shifting screen cultures, deconstructing the traditional idea of male stardom and bringing compelling sensitivity to all his roles."