Aaron Kwok accepts the award in person
courtesy of on.cc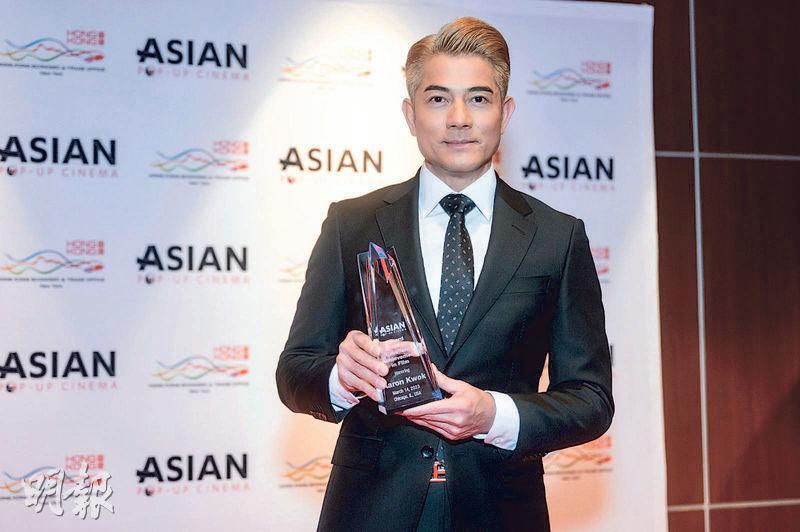 Aaron Kwok says that the award would motivate him more to give his all to and never stop in his performance career
courtesy of mingpao.com
Chicago's Asian Pop-Up Cinema every year would present the highest honor to an excellent film worker in the industry. This year it has even been elevated to the Award for Excellent Achievement, and the first filmmaker to receive this award would be the Hong Kong Best Actor Aaron Kwok Fu Sing.
In coordination of Sing Sing's attendance, the event earlier held an advanced opening ceremony at Chicago AMC. The film festival would originally open on the 18th, but its founder Sophia Wong in order to be able to present the highest honor to Sing Sing arranged for an advanced award presentation and even the North American premiere of WHERE THE WIND BLOWS (FUNG JOI HEI SI).
Coincidentally the second stop of Sing Sing's world tour was near Chicago, thus he was able to make time to attend. Fans and media filled the venue. Sing Sing received the honor from the Chicago Film Office Deputy Commissioner Jonah Zeiger and said, "I am very happy to receive this encouragement and recognition, which would motivate me to find good roles, good scripts and work harder. My performance career would be my lifelong profession! As an all purpose artist, on any performance stage I would give my all and never stop. Thank you everyone for your support and encouragement!"
WHERE THE WIND BLOWS would make its North American premiere as this film festival's "Sophia's Choice", which has also been sold out. The film festival also selected Sing Sing's award winning film PORT OF CALL (DAP HUET CHUM MUI). Viewers said that they looked forward to Sing Sing's movie very much. Many Sing Sing fans on hand also screamed, "See you at the concert!"