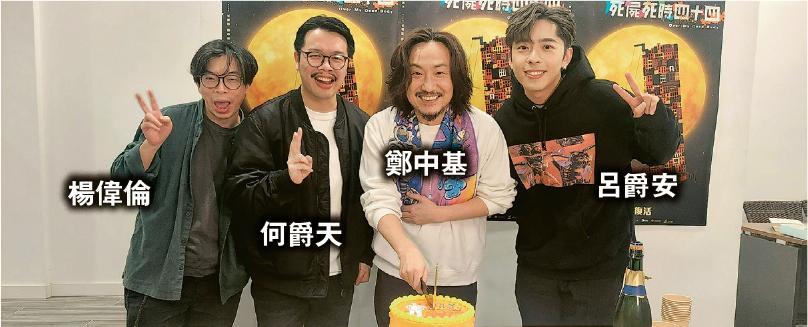 Yeung Wai Lun, director Ho Cheuk Tin, Ronald Cheng, Edan Lui
courtesy of mingpao.com
Teresa Mo Shun Kwan, Ronald Cheng Chung Kei, Edan Lui Cheuk On and others starred dark comedy film OVER MY DEAD BODY (SEI SI SEI SI SEI SUP SEI) yesterday released both its trailer and poster. The trailer only had Jan Lamb Hoi Fung's guest voice appearance, but also Sister Mo and Jennifer Yu Heung Ying in palace costumes, Cheng Chung Kei avoiding the corpse, Edan's dominating arrival, Jer Lau Ying Ting and Hanna Chan's romance, and Lau Kong's use of foul language out of fright, completely reflecting how Hong Kong people used their lifelong saving to buy a home. Because of a corpse, the home became haunted and led to a series of jokes about illegal handling of a corpse.
Yesterday was Cheng Chung Kei's 51st birthday. Earlier he began promoting the film. Director Ho Cheuk Tin, Edan, Yeung Wai Lun and others surprised the birthday boy. As Cheng Chung Kei completed his job and was about to leave the building, everyone suddenly appeared with a birthday cake and sang the birthday song. Cheng Chung Kei not only was surprised but his first response was also a long sigh. He explained that he originally wanted to forget that he was another year older. Edan and Cheng Chung Kei in the film lived a private estate's unit 14D. Edan presented the birthday cake with the words "14D Dad" and gave a hug to celebrate with "Papa". He even joked that Cheng gave a long sigh because he had to celebrate and was unable to return home early.