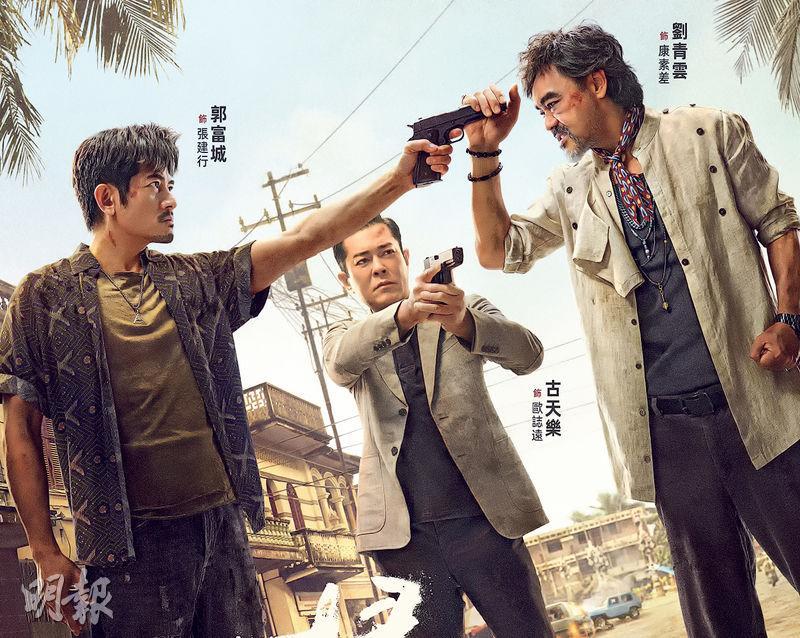 courtesy of mingpao.com
The film series THE WHITE STORM continued with the Herman Yau Lai To directed THE WHITE STORM 3 (SO DUK 3: YUN JOI TIN NGAI) today released its poster and officially announced its summer release. The film would be Yau Lai To directed, Sean Lau Ching Wan, Louis Koo Tin Lok, Aaron Kwok Fu Sing, Yang Caiyu starred, with a special performance from Gallen Lo (Law Ka Leung), Gardner Tse Kwan Ho, Alex Fong Chung Shun, Chan Kwok Bong, Timmy Hung Tin Ming, Wilfred Lau Ho Lung, Kumor So, Yau Jim Fai, Lam Suet and others starred. The film would be released in the summer this year.
The film THE WHITE STORM 3's story and characters had no direct connections to the two previous films. This time actors and the production were further elevated, inviting Best Actor heavyweight Kwok Fu Sing to join, THE WHITE STORM's Lau Ching Wan to make a strong comeback, Koo Tin Lok and THE WHITE STORM series' feature actors teamed up with the other two Best Actors to share the stage for the first time. Every aspect from production, story etc. have been fully elevated in order to ring the audience visual and audio feast that would exceed imagination and shock the senses.
THE WHITE STORM 3 story still revolved around the life and death duel between anti drug law enforcement officers, drug lords and their teams. Drug lord Hong So Chai has always brought his handling Cheung Kin Hang along on his drug deals. The new addition Au Chi Yuen due to an accident saved their lives and they became as close as brothers. When Hong So Chai's drug business in Hong Kong was under police investigation, he led his team and escaped to the Golden Triangle. By accident he discovered someone was undercover in his midst. This story mainly took place in the Golden Triangle, the famous intersection between Thailand, Myanmar and Laos, and would further focus on the human nature struggle in a crisis and examine the border between good and evil.
This time three heavyweight Best Actors Koo Tin Lok, Kwok Fu Sing and Lau Ching Wan shared the stage for the first time. The audience would look forward to how the trio would contribute to the exciting "Best Actor class scene". In the poster, the trio is on the streets of the Golden Triangle, where danger lurked around every corner. Kwok Fu Sing viciously pointed a gun at Lau Ching Wan's head, but Lau Ching Wan showed no fear, looked back in an angry stare and had his hand firmly on the barrel of the gun. Koo Tin Lok stood between them, staring intensely with his gun aimed at Lau Ching Wan.