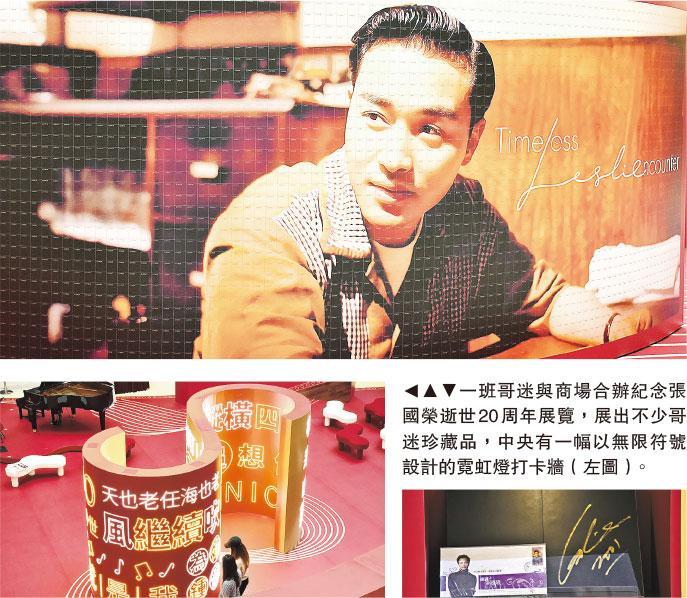 A group of Leslie Cheung fans and a shopping center organize an exhibit for the 20th anniversary of his passing.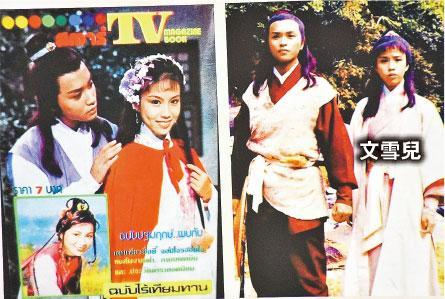 Man Suet Yee shares the story of how she and Leslie Cheung went from colleagues to friends. The exhibit displays her photos with him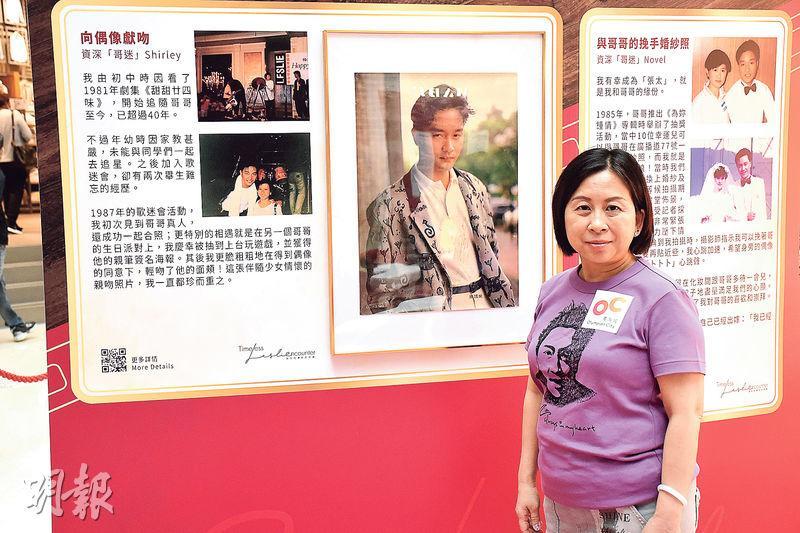 Experienced fan Shirley not only shares her collection but for the story of her encounter with Leslie Cheung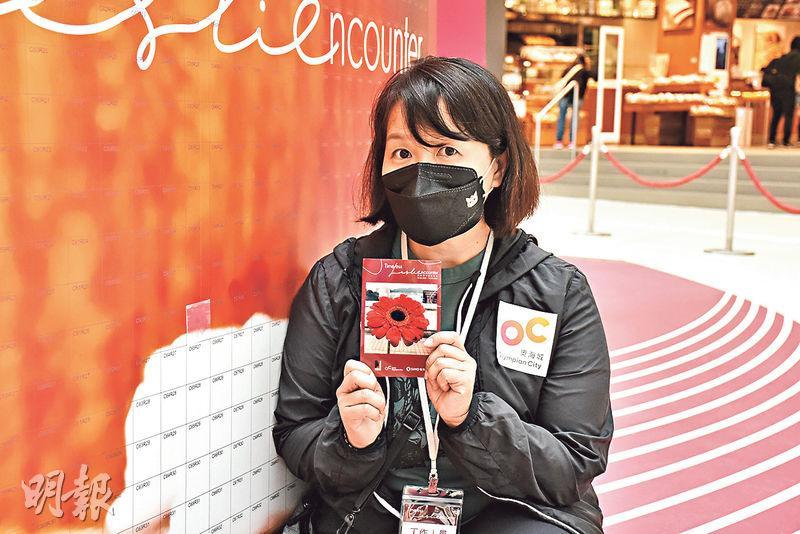 Docent Ling feels that Leslie Cheung never left us. His work never feels outdated at anytime
courtesy of mingpao.com
April 1st would be the 20th anniversary of the superstar of a generation "Gor Gor" Leslie Cheung Kwok Wing's passing. A group of Gor fans and the Olympic shopping center organized TIMELESS LESLIE ENCOUNTER through 20 stories of "encounters" introduced Gor Gor to everyone from multiple angles, including Candy Cheung (Man Suet Yee) sharing her experience from working on television series with him, Gor Fan Shirley's memorable kiss being gladly accepted by her idol. The memorial event would take place from today to April 2nd for 11 days. Many out of print publications and collections would be on display. For two weekends in a row free "docents" would be available. At the event on the 31st, Gor Gor's friends, colleagues, experienced fans and "late Wing fans" would share their experience. Mike Tsang Pei Tat would also be on hand to perform Gor Gor's classic songs.
The venue had a 430 inch big screen that played 20 of Cheung Kwok Wing's classic work videos and the giant montage of over 3,000 "encounter with Gor Gor" photos. At the center of the event was a wall with a neon light infinity symbol. It was filled with titles of Gor Gor's most representative work as voted by Gor fans around the world. They included classic songs THE WIND RISES AGAIN, MONICA, FALLEN FOR YOU, and movies DAYS OF BEING WILD (AH FEI JING JUEN), FAREWELL MY CONCUBINE (BA WONG BIT GEI), A BETTER TOMORROW (YING HUNG BOON SIK) and others.
Also on display was a self playing piano that played 8 of Gor Gor's classic songs in a loop. The event also invited talented musicians to play to salute Cheung Kwok Wing. Visitors would be able to make donations to participate in producing the giant montage Cheung Kwok Wing instant photo wall. The event created 4 Cheung Kwok Wing classic iron on designs for fans as well.
Man Suet Yee shared her story with Gor Gor and wrote about them turning from colleagues to good friends. She and Gor Gor worked together on RTV series and would always remember her days of working with Gor Gor. Their group of young people after work was unwilling to sleep, once they went to one of their homes for a pot luck party, almost forgot where they were from all the fun they had and still went to work as usual the next day. Young people were rebellious like this.
Having followed Gor Gor for over 40 years, experienced fan Shirley was one who provided items from her collection and shared her "encounter with Gor Gor". After 20 years, she still missed him. "Gor Gor was a superstar who beyond our reach, but he was very friendly and always had others in mind. It was like we grew up together, I really missed him. 20 years ago, on the day of his passing, I was very depressed until his funeral. I went to bid farewell and watched his hearse depart. I was so heartbroken that I lost it immediately and broke down in tears. After so many years, now I would miss Gor Gor normally, spread his love and the beauty of how serious he was about things and sincerely he was toward friends."
Shirley said since she was a teenager, she was attracted to Gor Gor's handsome looks. "I treated him like a boyfriend, I really admire how he treats work, people and things, he was very kind." She looked back at the 1980s when the technology was not as advanced and her family was very strict, chasing stars was very difficult. She could only join the fan club. She was fortunate to have participate in several of Gor Gor's birthday parties, two of which she would never forget. Shirley recalled, "Once at a Central hotel ballroom, I was picked to play a game on the stage and received an autograph poster from Gor Gor. At the time I gave him a kiss, Gor Gor didn't resist and even knelt down lightly to get close to me. He gladly accepted it. In my impression he was very tall, very handsome, smelled great. At another fan club event, near the end I ran to the stage and lined up to get a photo with him. Gor Gor was very friendly, he even put his arm around my shoulder. I was very nervous, but the scene was very hard to forget." Shirley said that she was very thrifty when she was young, relying on her allowance to buy Gor Gor's poster, work, photos and newspaper clippings. So far she has collected over 100 items. On Gor Gor's birthdays and passing anniversaries, she would take them out to reminisce.
Exhibit docent Ah Ling has fallen for Gor Gor since his 1980s record FALLEN FOR YOU. She praised her idol as the total package, his film ALL'S WELL ENDS WELL (GA YAU HEI SI) was very entertaining. She too said that in that era it was very hard to come in contact with stars. She could only occasionally try her luck at the radio stations or recording studios. "I only saw Gor Gor twice, once I waited for him for a picture outside Commercial Radio. I still have that photo today. I am envious that Shirley got to kiss Gor Gor." Although Gor Gor passed away years ago, Ah Ling felt that Gor Gor never left. "He would always appear around me because normally when I go to work I would constantly listen to his songs. Gor Gor had great taste, his image was very trendy. Even now as I look back at his work and photos, I wouldn't feel he was outdated."