Fish Liew and Jennifer Yu both say that although they do not have a lot of opportunities to see each other, their relationship has not deteriorated
courtesy of on.cc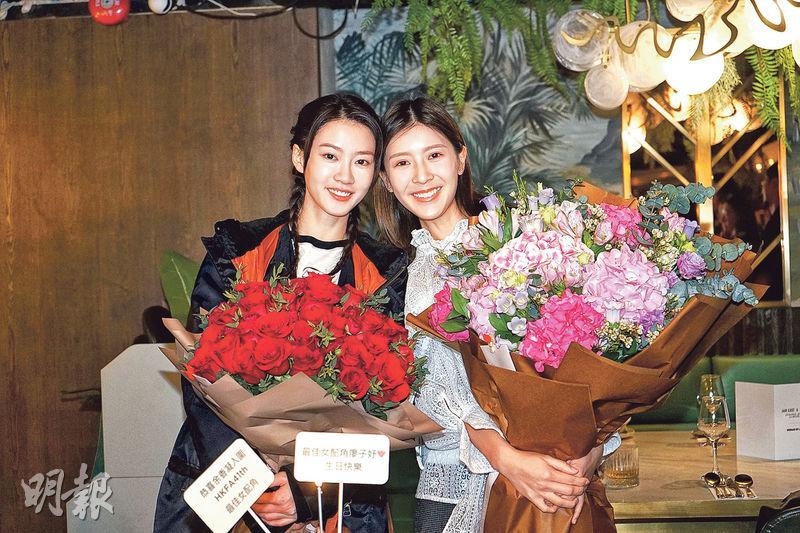 Fish Liew and Jennifer Yu want to witness each other getting farsightedness
courtesy of mingpao.com
Jennifer Yu Heung Ying, Fish Liew Chi Yu, Ng Ka Hei and others earlier attended their company banquet, during which they were presented with cake and roast pig. Aside from celebrating Yu Heung Ying's Hong Kong Film Award Best Supporting Actress nomination, they also celebrated Liew Chi Yu's birthday at the end of the month in advance. When asked about her Hong Kong Film Award confidence, Yu Heung Ying said, "In life you have to have confidence, but I have seen other nominees' performance. Everyone is great, I especially like (Ivana) Wong Yuen Chi. So no matter who would win she would truly deserve it."
Yu Heung Ying and Liew Chi Yu in the past year have been busy on their own. Although they had less time to see each, their relationship has not faded. Liew Chi Yu said, "I have known her since she was 18, we witnessed each other's different stages and felt very interesting. We hope to witness us getting farsightedness."
Just finishing a play, Liew Chi Yu hoped to be able to keep going. "Although rehearsing for the play was very exhausting, I learned a lot. In skills, emotions, and all aspects I seem to have rapidly grown, and this year I hope to get to sing a little."