Jennifer Yu and Wong Yau Nam would play a couple in their new film
courtesy of on.cc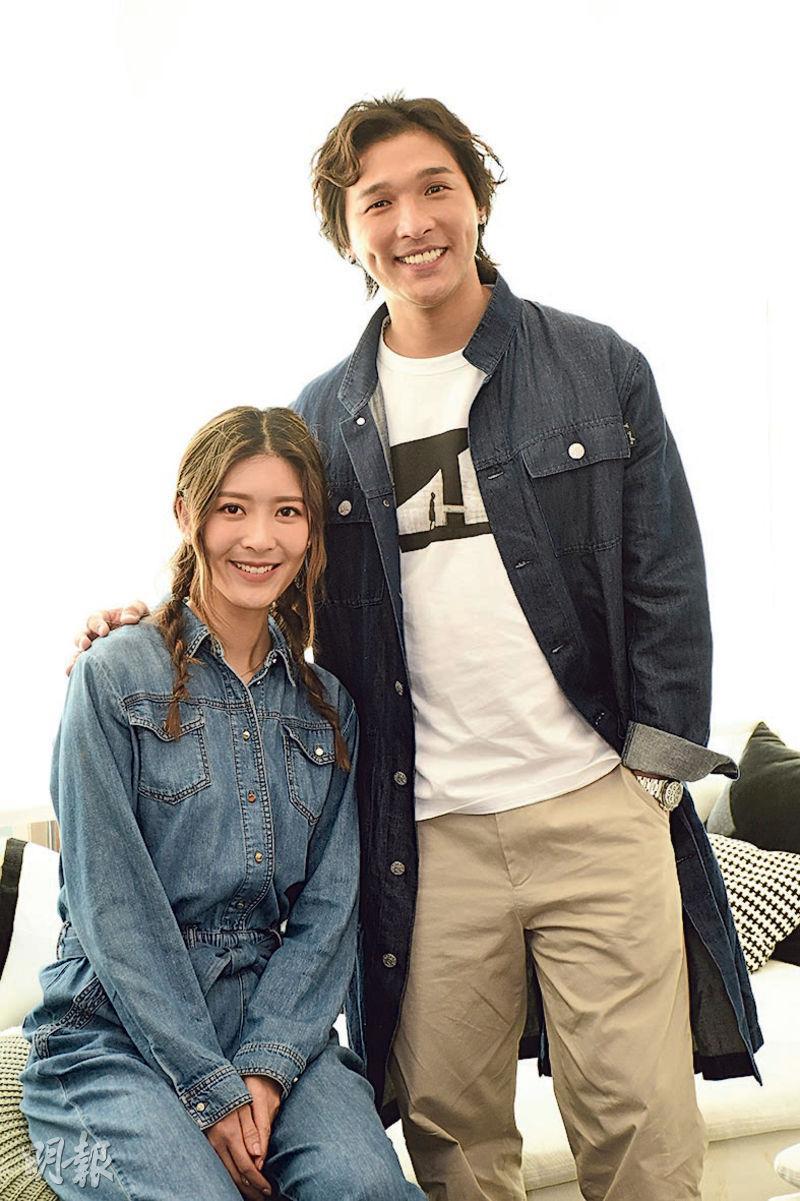 Jennifer Yu says that Wong Yau Nam is very talkative and long-winded
Jennifer Yu's flight attendant uniform seduction scene with Wong Yau Nam is more funny than dirty
courtesy of mingpao.com
Wong Yau Nam and Jennifer Yu Heung Ying in their new film OVER MY DEAD BODY (SEI SI SEI SI SEI SUP SEI) would play a couple, in their first collaboration they would already have bed scenes. Yu Heung Ying in the film played uniform seduction in a flight attendant uniform. She revealed that in childhood she has fantasized about being a flight attendant when she grew up. In the movie she was able to fulfill her wish, so she was very happy and took many photos. "This costume is the prettiest in the entire film, the other looks are very ferocious. I have to push the corpse very forcefully. This film took a long time to shoot, but the subject was very fun." However, the married Yu Heung Ying admitted, "Bed scenes aren't awkward, but are a little stressful. Because during the table read Sister Mo (Teresa Mo Shun Kwan) saw this scene was the opening of the entire film, she said, 'We all depend on you two, the entire comedy would rely on your start.' I was really afraid that I wouldn't perform well. Luckily this scene wasn't shot until like a dozen days into the shoot. Everyone was very familiar, and in that condition we could play very wildly. Thus this scene was pretty fun."
Yau Nam stated that he was afraid of sweating and felt awkward. "Because I am very sweaty and we had to shoot in the studio in the summer, I also had to move around under the blanket and make a lot of poses. My upper body was naked. I really was afraid that I would drop sweat onto Yu Heung Ying. Very luckily I didn't get her wet."
The 39 year old Yau Nam is single currently and revealed that he was in a hurry to get married and start a family. "When I was 25 or 26, I once imagined getting married before age 30 and having two children. My manager encouraged me a lot, but now I am almost 40. I still don't have a girlfriend. Meeting girls is very hard, it's about fate. When I made this movie I saw someone behind the scenes met their mate for 7 days and got married. I was very happy for them. I am more traditional, I feel I wouldn't get married in a flash. I have to get to know the other person clearly. Actually I am not too demanding, normal looking, the most important is being filial." Yu Heung Ying promised that if she would find someone suitable, she would introduce her to Yau Nam.
Yu Heung Ying revealed that Yau Nam was very talkative and joked that he was long-winded. "Once we were waiting to take our marks on the set. Yau Nam and I talked continuously for over a hour. I like listening to people talk though." Yau Nam praised the child star who played their daughter as very well behaved, and revealed that he was envious of Yu Heung Ying having a daughter after getting married. He learned from her the state of mind of a parent.
In the film every home owner was afraid of a reduction in property value. Yau Nam revealed that he was terrible in investing. Once he and his family chipped in to buy off-plan property but ended up bruised and battered, leaving him traumatized. "I have no lucky with buying properties. Once I bought a home with my family, originally I planned for my sister to move into it after getting married, but at the time the property market was terrible. After paying for a year we decided to list the property. When it was sold we lost HK$ 200,000. If we waited for half a year, we could have made HK$ 4 million. I really was punching myself."
Yau Nam also complained about how expensive Hong Kong home prices are. He once thought that the dream of home ownership grew farther and farther away, but under the pandemic the property market was on a down trend. He again thought about "getting on". "However I have talked with my manager, feeling the market have uncertain factors. Now having cash on hand is safer." The 29 year Yu Heung Ying wanted to buy a home for her mother before age 35. "I wish Mama could live a little closer to me, so she would be able to play with her granddaughter more. If by age 35 I wouldn't be successful, I would push the plan to age 40. Buying a home in Hong Kong is truly too hard."