Emperor launches multiple projects with star power and buzz worthy subjects
Jackie Chan has not made a Hong Kong film in a long time. This time he would reunite with Nicholas Tse
Albert Yeung, Bauhinia Cultural Group chair Mao Chaofeng, China Film Group chair Fu Ruoqing, Bona CEO Yu Dong
CUSTOMS FRONTLINE cast jokes about becoming addicted to all the action
Numerous Best Actors hold down the fort at Emperor
Charlene Choi is caught in the cross fire between Tony Leung Chiu Wai and Andy Lau in Felix Chong's THE GOLDFINGER
Andy Lau and Tony Leung Chiu Wai in a confrontation between good and evil
Andy Lau would produce the RAGING FIRE spin off with Nicholas Tse
Dante Lam creates OPERATION RED SEA and even tailors a role for William Chan
BURSTING POINT has assembled a good cast and is one of the major features
Aaron Kwok sends a video from his overseas concert tour
UNDER CURRENT's Alex Fong Chung Shun, Francis Ng, director Alan Mak and Simon Yam share their production experience
Anson Lo, director Steve Yuen, Edan Lui and Keung To are shooting their film in Japan
Emperor encourages a group of new blood 's creativity
courtesy of on.cc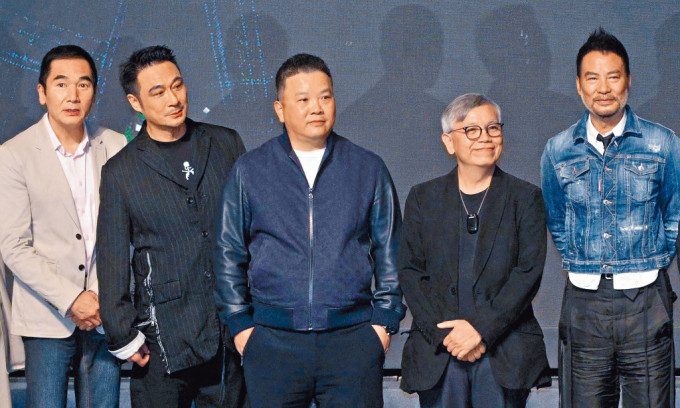 Alex Fong Chung Shun, Francis Ng, Director Alan Mak, Producer Tin Kai Man, Simon Yam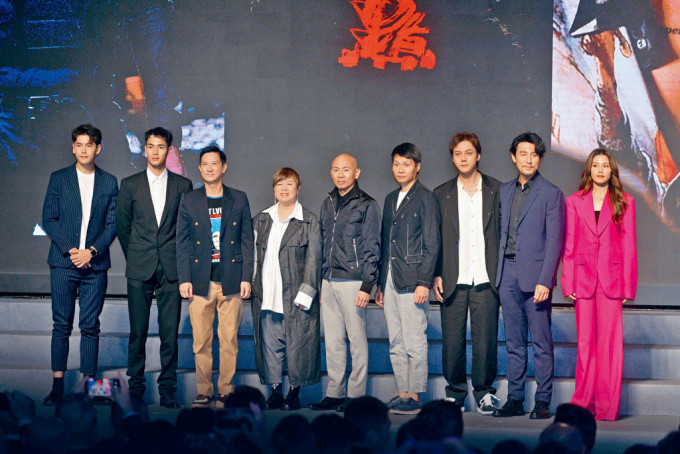 THE BURSTING POINT team includes Dante Lam, William Chan, Shaun Tam and Chrissie Chau
courtesy of singtao.com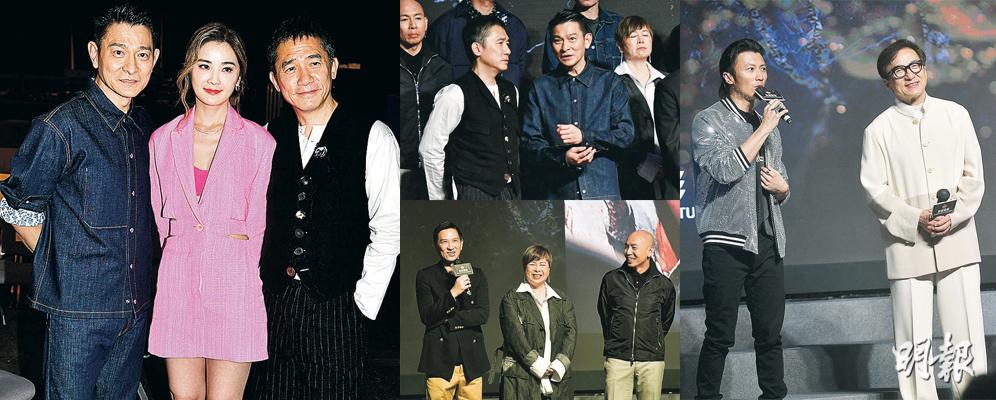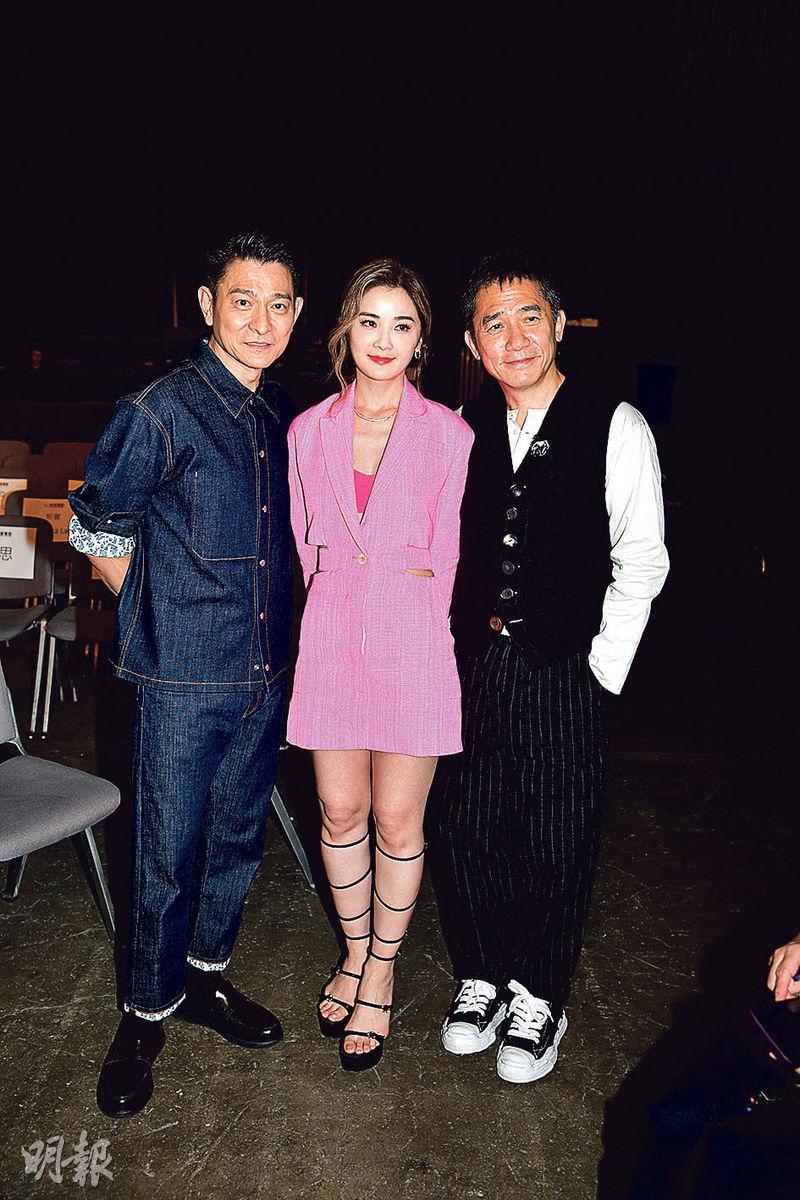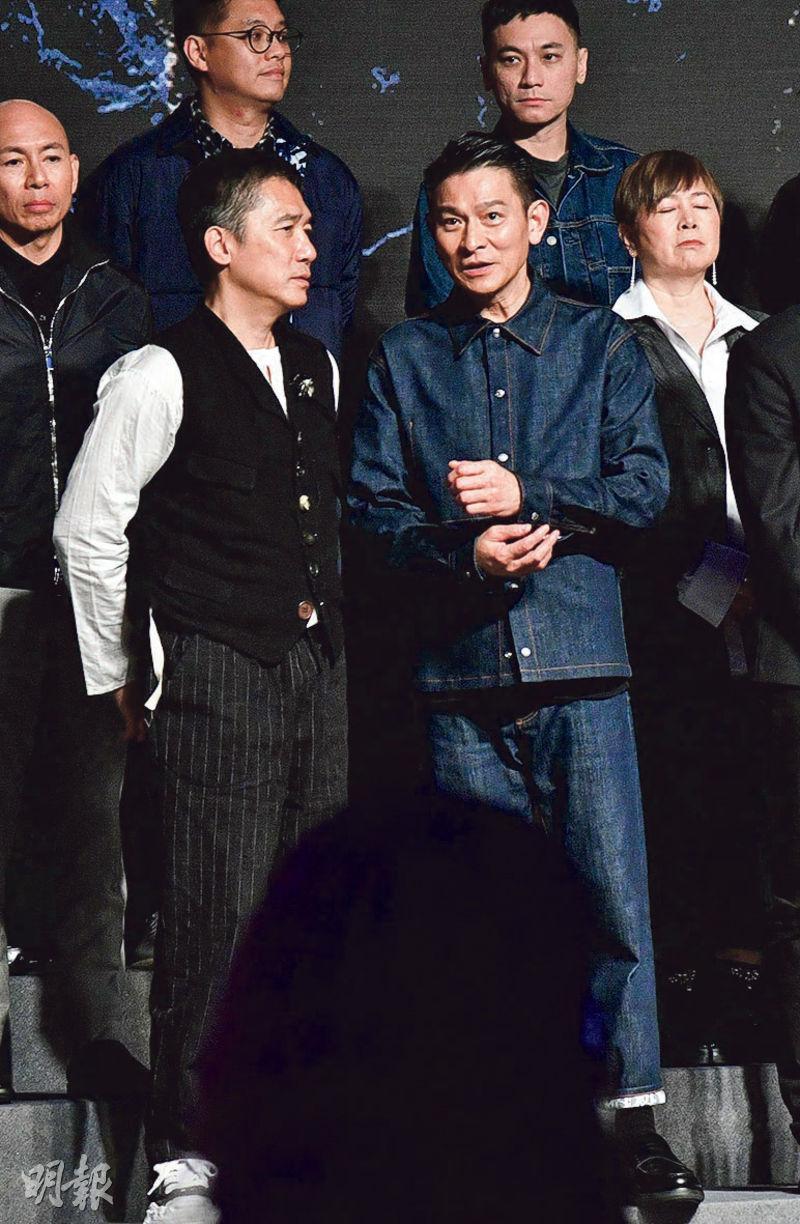 Tony Leung Chiu Wai says that he and Andy Lau rarely contact each other in private, so they have a lot to talk about when they run into each other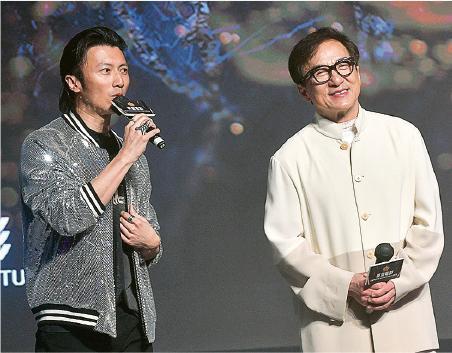 Nicholas Tse reveals that Jackie Chan "arranged" for him to direct NEW POLICE STORY 2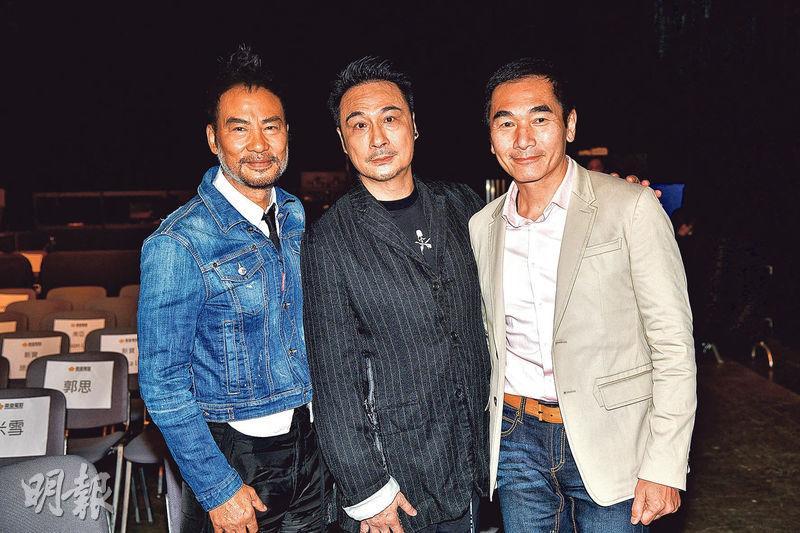 Simon Yam, Francis Ng and Alex Fong Chung Shun says that UNDER CURRENT has a lot of dangerous scenes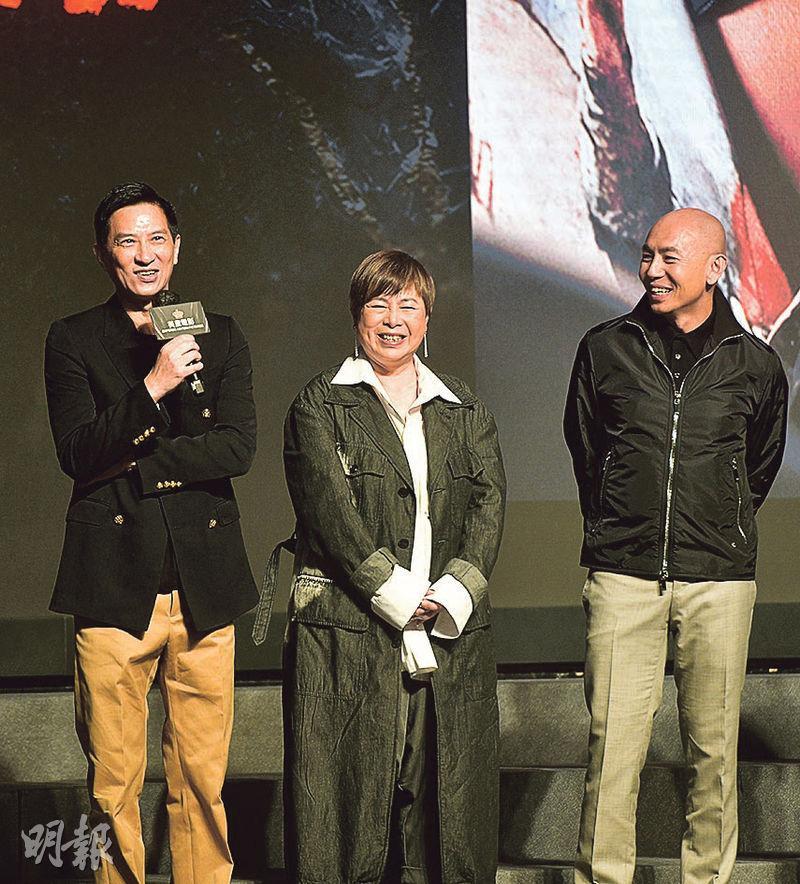 Nick Cheung jokes that working with Dante Lam again, he feels lucky to get away with just a sprain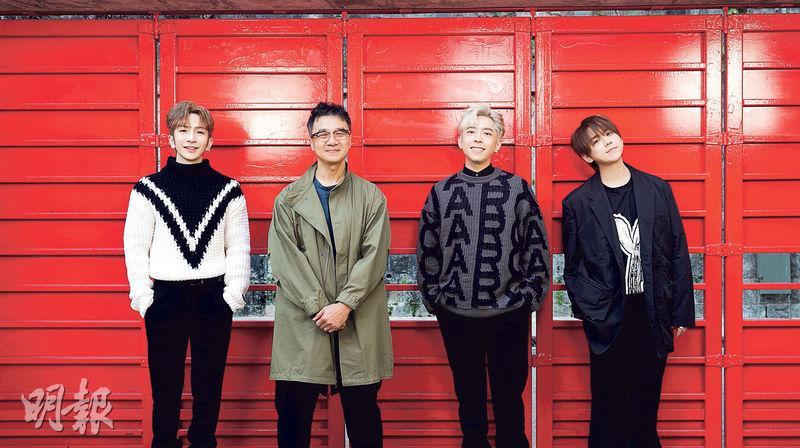 Anson Lo, director Steve Yuen, Edan Lui and Keung To
courtesy of mingpao.com


Emperor Motion Pictures yesterday held a new film showcase at this year's Hong Kong International Film and Television Market (FILMART) with many Best Actors and stars. Nicholas Tse Ting Fung would have 4 new films waiting in the wings and even making his directing debut, in a salute to his mentor Benny Chan Muk Sing.
Emperor Motion Pictures announced its 2023 slate yesterday, inviting Hong Kong film and television company bosses and executives Louis Koo Tin Lok, Hui Tao, Eric Tsang Chi Wai, Elaine Lok Yi Ling, Raymond Wong Pak Ming, Daneil Lam Siu Ming, Bill Kong Chi Keung, directors and producers Dante Lam Chiu Yin, Felix Chong Man Keung, Alan Mak Siu Fai, Tin Kai Man, Herman Yau Lai To, Best Actors Tony Leung Chiu Wai, Andy Lau Tak Wa, Jacky Cheung Hok Yau, Nick Cheung Ka Fai, Simon Yam Tat Wa, Nicholas Tse Ting Fung, and stars Jackie Chan, William Chan Wai Ting Wai, Francis Ng Chun Yu, Simon Yam Tat Wa, Alex Fong Chung Shun, Carlos Chan Ka Lok, Charlene Choi Cheuk Yin, Cya Liu, Gladys Li Ching Kwan, Chrissie Chau Sau Na, Shaun Tam Chun Yin, Kenny Kwan Chi Bun and Angus Yeung Tin Yue to attend. Jackie Chan who has not been seen in Hong Kong in a long time also made a surprise appearance. Reportedly Emperor boss Albert Yeung Sau Sing since investing in his first film in 1980, the Danny Chan Pak Keung, Leslie Cheung Kwok Wing and Paul Chung Bo Law starred NOMAD (HOK CHOI) has spared no effort in promotion film productions. In 2000 he founded the Emperor Motion Pictures and his original intention has never changed over the years, with the primary goals being making good movies and entertaining the general public. In 2023 the company even slated to release several major productions, including THE GOLDFINGER (GUM SAU JI), CUSTOMS FRONTLINE (HOI GUAN JIN SIN), UNDER CURRENT (NOI MOK) and BURSTING POINT (BAU LIT DIM).
At the same time, Emperor would cultivate new film industry forces. Many new directors including Steve Yuen Kim Wai, Anselm Chan Mau Yin, Law Yiu Fai, Ng Ka Wai, Benny Lau Wai Hang and Leung Kwok Fai would start new productions. Yuen Kim Fai would work with MIRROR members Anson Lo Hon Ting, Edan Lui Cheuk Yin and Keung To on the film DOH YUET JEH (THE MOON THIEVES), which currently has started production in Japan. Other movies would include READY O/R ROT (BUT YUT SING FUN 2), ONCE IN A BLUE MOON (MONG YUET), WE ARE FAMILY (CHOOK JO GA YUN), TRIAD 2 (JAT JIK 2), TRIAD 3, ULTIMATE REVENGE (CHUNG FUNG), YUM INVESTIGATION (YUM MUK JING SHUN) and INEXTERNAL (LUI YING OI HUP). Several productions would being with major star power, which would get the attention of film companies around the world. They included Nicholas Tse Ting Fung's directing debut, as he would team up with Jackie Chan and Choi Cheuk Yin on NEW POLICE STORY 2. The Derek Kwok Chi Kin directed, Andy Lau Tak Wa produced and starred film with Ting Fung, NO FOR MAN YIN (RAGING FIRE SPREADS), and Dante Lam Chiu Yin after breaking the Mainland Chinese box office record with LAKE CHANGJIN would direct the new film MO HAN YUM MO (OPERATION INFINITY) with Ting Fung and William Chan Wai Ting.
Ting Fung yesterday with Jacky Cheung Hok Yau, Carlos Chan Ka Lok, Karena Lam Ka Yan and Cya Liu promoted their film CUSTOMS FRONTLINE (HOI GUAN JIN SIN). The firs trailer was unveiled. Agile in the film, Hok Yau joked, "What you see is what you get, how can I compete with Ting Fung and them!" Ting Fung while talking about directing and starring in NEW POLICE STORY 2 sentimentally said, "Each time I would decline this spot (director). On a rare occasion our entire team and actors, including Ng Yin Cho (Daniel Wu) and Choi Cheuk Yin are all here. However Director (Benny) Chan Muk Sing is already gone. I had a very long talk with Jackie Chan, he told me to make it. There is no reason not to. (Would you get all of the actor to return?) Of course, but it would also have new actors. Actually I wrote the story too. (Would you shoot it in Hong Kong?) Yes, other movies would also be shot in Hong Kong. (Would you move back?) I would fly back and forth. (Would girlfriend Faye Wong return to Hong Kong with you?) Let's talk about the movies. (Would Faye Wong fly back and forth with you to make movies?) No. (Would you make a movie with Faye Wong?) Definitely not."
Ting Fung was the action director in CUSTOMS and praised each actor for their hard work. Has he become addicted to directing? He said, "Actually I have worked on action films for so many years, I would come up with stunts for myself. This time I just helped the other actors too. It wouldn't be too different." Lam Ka Yan revealed before CUSTOMS began production, she went for shooting training. "I fired 100 shots in a row, actually you could get addicted to it. (Your husband Yuen Kim Wai went to Japan to make DOH YUET JEH), would you visit the set?) No, being independent is a little better."
Best Actor Tony Leung Chiu Wai and Andy Lau Tak Wa worked together again after 20 years in the Emperor Motion Picture THE GOLDFINGER (GUM SAU JI). They attended the Emperor Motion Pictures 2023 showcase yesterday. Wa Jai joked, "This time Wai Jai would be very different. You have to evaluate him anew. He has an extra air of evil. Everyone have matured!" In the trailer the corner of Wai Jai's eye was bleeding from being beaten. His character's "eyes would open when he saw money".
They and Ah Sa spoke with the press. Wai Jai described working with Wa Jai again was "very pleasant and well matched". Speaking of the most memorable part, he said, "Each time we have worked together something would be different. This time we flipped good and evil. My character would go from an ordinary people with higher education to a conman and crime lord who makes money from the loopholes in the system." Reporters suggested that next time they could be on the same side. They both responded, "That's good too!" Ah Sa was asked about working with the two hunks. Was she dizzy from being under their spell? She said, "I try not to think about that. We are really very professional. From them I have learned a lot." What did she learn from them? Wai Jai joked, "She has learned to be late, cheat and talk back to the director." Ah Sa would take part in the Ting Fung directed NEW POLICE STORY 2. "One day I got Ting Fung's call, I told him to count me in. However I don't know about any detail."
Actually Wai Jai and Wa Jai rarely had any contact privately, but Wai Jai revealed, "Wa Jai would take me to dinner and give red wine to me." Wa Jai said, "I have to congratulate him on another award, I would give red wine to him again." Ah Sa said, "Then I would give white wine!" As for friend Michelle Yeoh (Yeung Chi King)'s Best Actress Oscar victory, Wai Jai said, "I sent a text to congratulate her, actually every time she won she would let me know. Once when she made a video call I was still in bed. She was with a whole group of people. I had to immediately comb my hair."
Wai Jai said that he would leave the Oscar race to its natural course. "I feel making movies really depends on fate. I wouldn't deliberately plan what I want to do next. Anything that would happen would naturally happen. I only hope to be able to work with different teams and set off spark." When asked about a television series again, Wai Jai said, "Originally I would have to work, but I suddenly wanted more time off. I want to take another year off."
Wa Jai later would produce and star in the new film NO FOR MAN YIN (RAGING FIRE SPREADS). Would Wai Jai follow suit and produce? Wai Jai said, "I really enjoy being an actor, I haven't thought about anything else." The film would extend the late director Benny Chan Muk Sing's spirit. Producer Wa Jai said, "This would be another way to work with Chan Muk Sing. After an era or so I would work with him once. I would work together with Ting Fung again after NEW SHAOLIN TEMPLE."
Wong Tak Bun said that he was very surprised to share the stage with the two Best Actors. Fong Chung Shun even said that with so many Best Actors in the film, he would make the money for free!
The Dante Lam Chiu Yin produced and directed film BURSTING POINT (BAU LIT DIM) became one of the major features. Actors Nick Cheung Ka Fai, William Chan Wai Ting, Shaun Tam Chun Yin and Chrissie Chau Sau Na made appearance. However Isabella Leong Lok Si was absent due to illness. Ka Fai said that since UNBEATABLE (GIK JIN) he and Lam Chiu Yin have not worked together for 10 years. He said "Lam Chiu Yin works even harder than when he was young, which would be tougher for me. After making UNBEATABLE, whenever I was mining (cleaning his nose) at home I would think of him. Because back then my fingers couldn't be used for mining from all the fighting. This time I only had a sprain, which I counted as lucky for me!"
Speaking of the team's location shoot in Malaysia, it was not only tough but also ran into a flood. Producer and chief director Lam Chiu Yin said that every place would have different difficulties. The location in Malaysia was remote, everyday they had to take over a thousand steps of stairs. Shaun Tam Chun Yin said that in the film he had to hit people and take hits. He even had to jump off a building and torture William, which broke his heart. He too had some minor injuries from the stunt scenes. Chan Wai Ting was rather professional as he personally performed every shot. While shooting in the cavern flooding suddenly began. The water mark in a ten minutes went from Tam's ankle to his waist. Luckily the production team was strong, immediately packed up and retreated. Chan Wai Ting said that he already wrapped up his production before the scene and returned to Hong Kong. When he heard the news he was surprised and immediately called the team. Chrissie Chau Sau Na said that with the two actors in front of her, she would not feel right to complain.
Lam Chiu Yin revealed aside from BURSTING, he would tailor a role for William in another film MO HAN YUM MO (OPERATION INFINITY). "Of course it would be more than fighting, fighting alone wouldn't be enough."
Chan Wai Ting shared the share with his old flame Ah Sa. He admitted that he and Ah Sa have not have a chance to chat, but running into each other would not be awkward for them. If they would work together on a movie how would he feel? He said, "It would depend on the boss' wishes. (What about you?) I would still depend on the boss' wishes, but I guess that the boss might not make such an arrangement." As for rumors that he and model girlfriend He Sui have broken up, he said that he had no comment and asked the reporter to call him privately.
Simon Yam Tat Yu, Francis Ng Chun Yu and Alex Fong Chung Shun worked together in the Alan Mak Siu Fai directed new film UNDER CURRENT (NOI MOK). They all appeared at the event. Although star Aaron Kwok Fu Sing was unable to attend due to his North American concert tour, he sent a video to show his support. Chun Yu on the stage said that working with Sing Sing again after 22 years, it felt like a lifetime has gone by. He joked that he realized Aaron grew. "I am talking about his acting."
During the interview, Yam Tat Wa revealed that suicide by hanging scene was very tough. "Because I really hung myself, after the shoot 20 some people immediately rushed up to release me." Fong Chung Fung joked, "You are not young anymore!' Chun Yu in the film had to jump from the 6th floor to 5th floor of the building across. He even had to jump 2 or three times. Personally performing he joked that he completely forgot he had stunt doubles. He joked, "For the job, I didn't care how high. Go Go Go!" He also said that because he saw the stunt team pulling his wire behind him were all people he was familiar with. No one was chatting and they were very reliable. As for Fong Chung Shun he joked that his character was very bad and not likable. Yam Tat Wa joked, "His language violence was very horrible, just like himself." Fong Chung Shun asked everyone not to discriminate against him, because he still wanted to work a few more years to raise his daughter. In addition, Chun Yu's son has become an internet star in recent years. He often interacted with people online. Chun Yu revealed that his 15 year old son now is already 1.82 meter tall and weighs 90 kilograms. "He doesn't exercise, he just likes to eat. I don't dare to say anything to him at home, since I am afraid of him taking revenge in the future." Yam Tat Wa immediately suggested to him to train his son into a wrestler. However when asked whether he would like his daughter join show business, Yam Tat Wa said, "Today I have no personal secret to reveal!"
Emperor Motion Pictures aside from several major productions at the same time has worked with many new directors on a variety of exciting films, including Anselm Chan Mau Yin's READY O/R ROT (BUT YUT SING FUN 2), Law Yiu Fai's MONG YUET, Benny Lau Wai Hang's WE ARE FAMILY (CHOOK JO GA YUN), Ng Ka Wai's TRIAD 2 (JAT JIK 2), TRIAD 3, and ULTIMATE REVENGE (CHUNG FUNG), Leung Kwok Fai's YUM INVESTIGATION (YUM MUK JING SHUN) and Steve Yuen Kim Fi's INEXTERNAL (LUI YING OI HUP).
One of the most catching has to be the Steve Yuen Kim Wai directed, popular guy group MIRROR's three major gods Anson Lo, Edan Lui and Keung To starred film DOH YUET JEH (THE MOON THIEVES). Although they have already left to shoot on location in Japan and was unable to attend the event, they shot a video to show their support. The trio in front of the director behaved mischievously. When Keung To said to count him in, Edan questioned, "You? Do you have the time?" Keung To pouted and said, "Then I would shoot a little less!"
In the film a second hand watch expert was threatened by his colleague to go to Tokyo and steal a watch that Picasso has worn before, with an experienced thief, an explosive expert and young lock pick. Each with their own agenda, they began a journey with dangers at every turn without any trust at all.