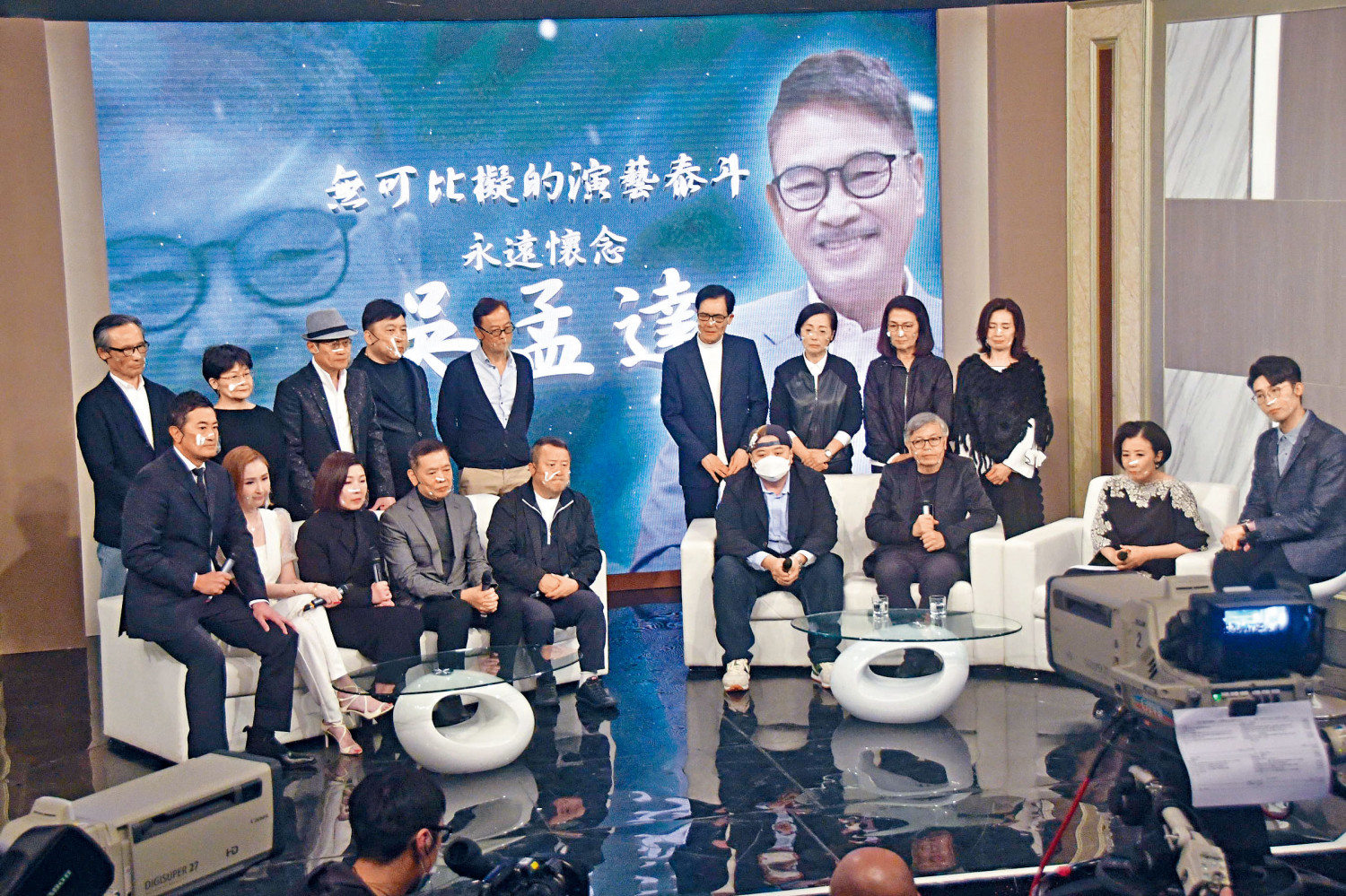 Friends and former colleagues remember Ng Man Tat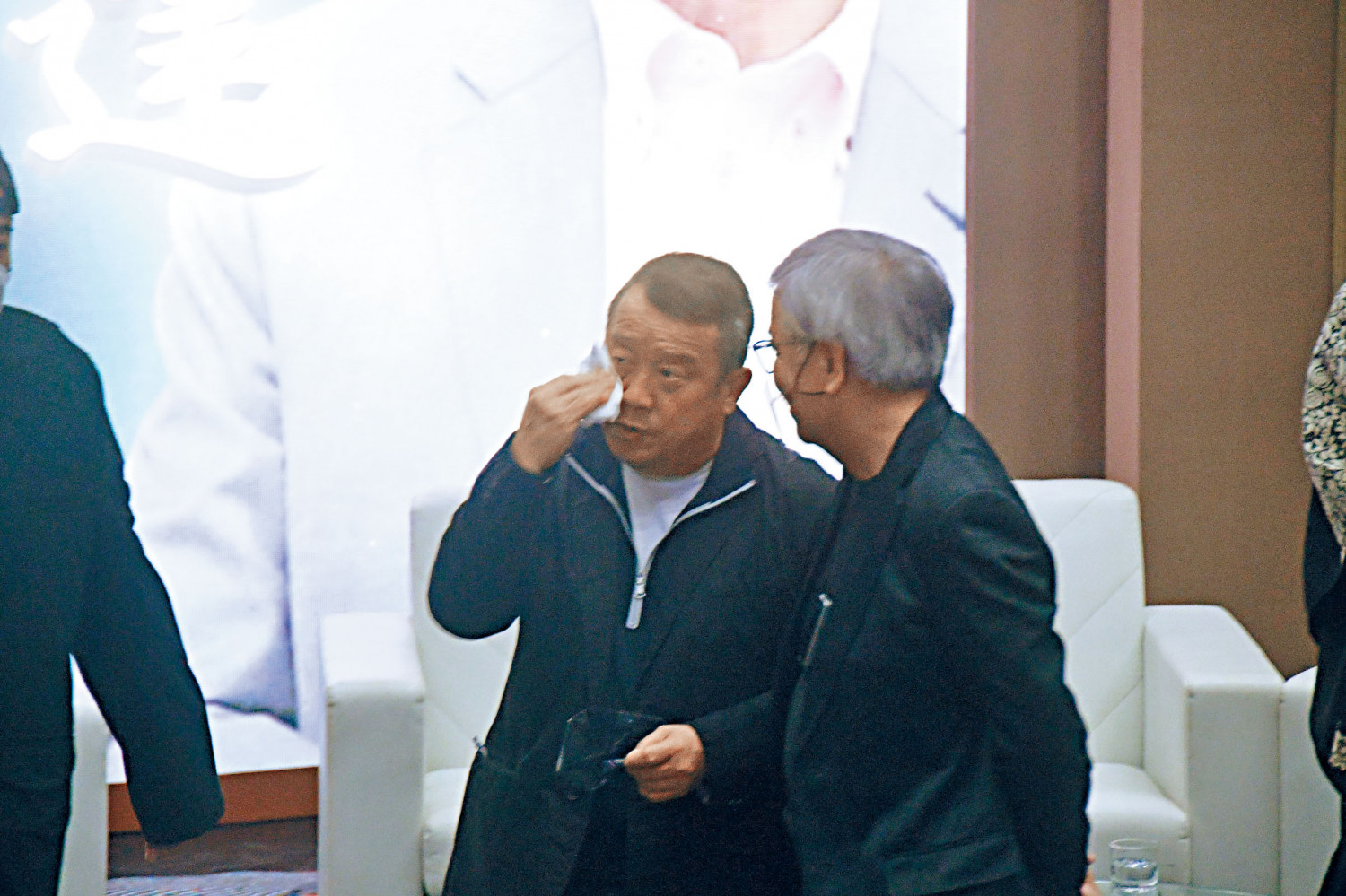 Eric Tsang sheds tears for Ng Man Tat
courtesy of singtao.com
Lam Tsz Chung, Tin Kai Man
courtesy of on.cc
After hearing the news of Ng Man Tat's passing, Eric Tsang scrambles for a TVB special. He invites friends to share their memories and gets choked up and teary eyed during his turn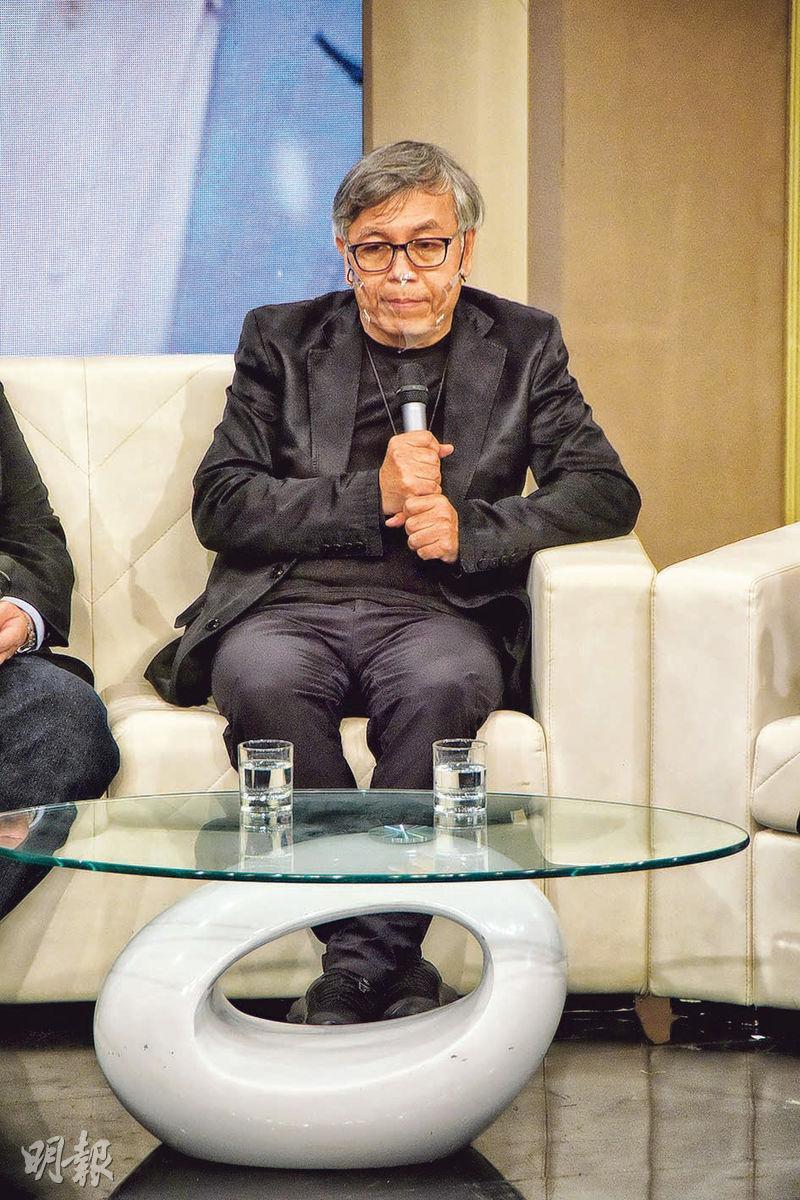 Tin Kai Man has permission from Ng Man Tat's family to handle the funeral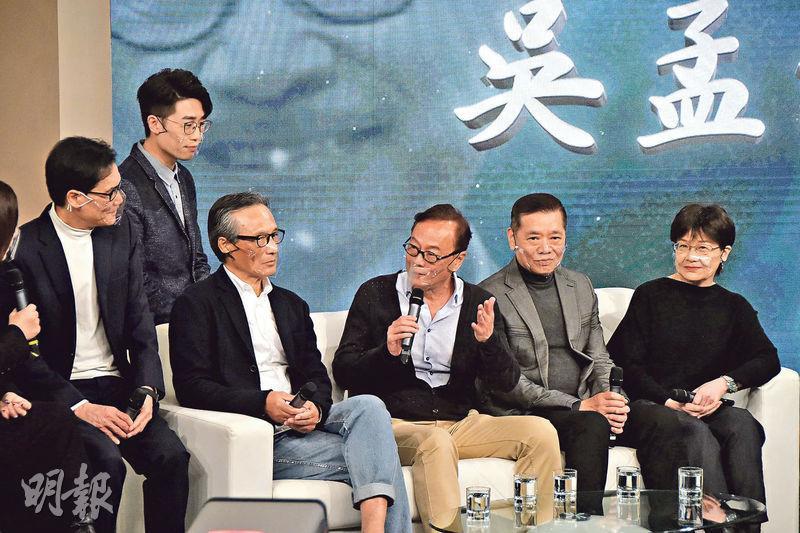 Brother Tat's training class classmates shared their experience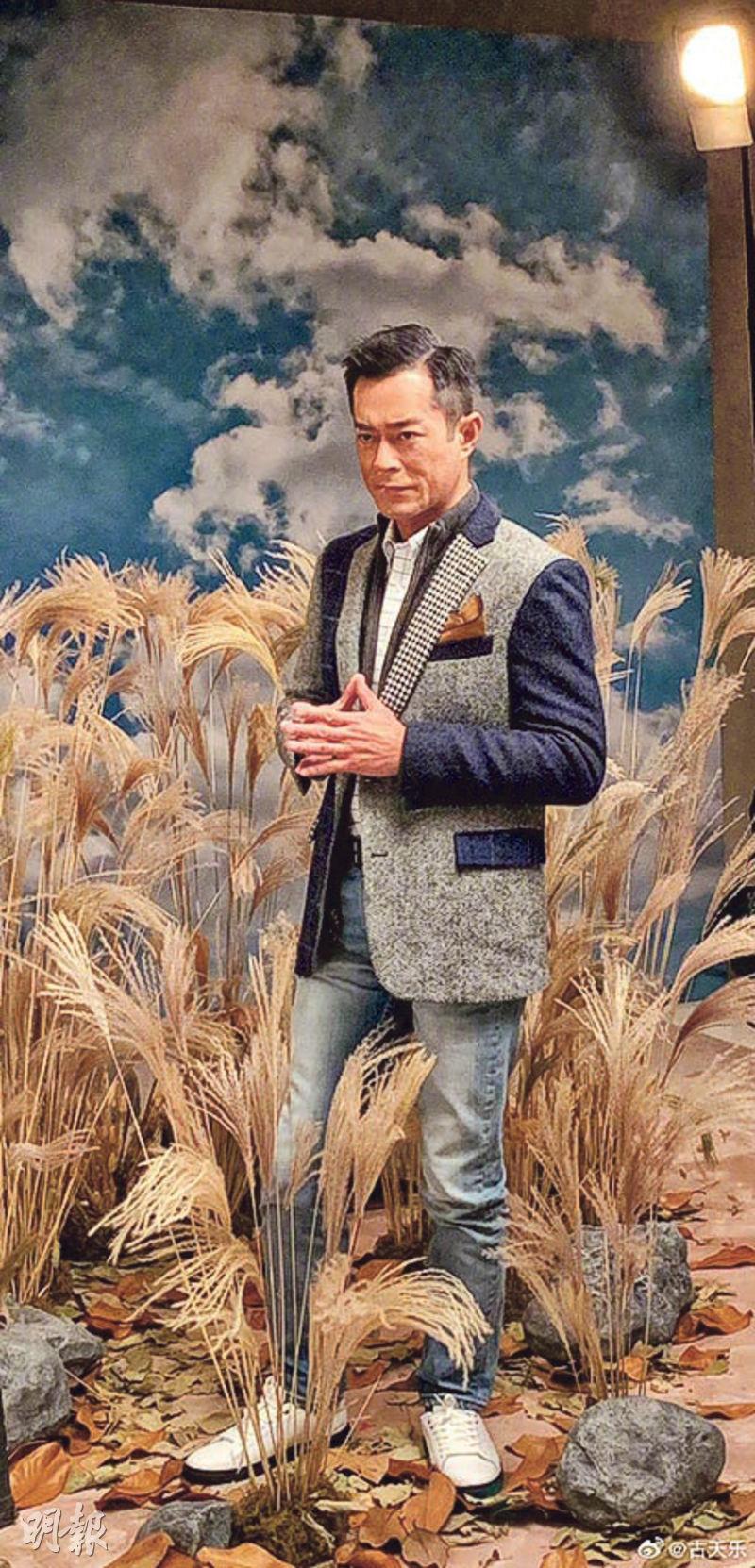 Louis Koo
courtesy of mingpao.com
Eric Tsang Chi Wai, Wong Jing, Eddie Kwan Lai Kit, Alex To Tak Wai, Tin Kai man and others two nights ago participated in the special program INCOMPARABLE ACTOR: REMEMBERING NG MAN TAT, shared their experience with Brother Tat. The program also aired many of Brother Tat's exciting and classic television and film performance.
Earlier witnessing Brother Tat's passing at the hospital, Tin Kai Man regretted that he did not visit Brother Tat when he was still conscious. When he saw Brother Tat he could not respond. He kept his eyes closed until the moment he passed when he opened his eyes. Perhaps he wanted to give everyone a reaction, then he passed. Tin Kai Man said that they have not begun planning for Brother Tat's affairs because Brother Tat's family was rather heartbroken. They should properly rest first. "Actually the family originally didn't want any memorial, but I said that in this industry we have to. Finally I have the family's permission for me to do it." Tin Kai Man also revealed that Brother Tat's mother was already in her 90s. She did not know he was ill until Brother Tat passed away because Brother Tat did not want to worry his mother. Brother Tat's mother was very heartbroken. They very quickly took here away from the hospital as they did not want to upset her any further.
Brother Tat had three relationships, his 3 companions Mak Lei Lei, Lo Siu Chi and Hou Shan gave him 5 children. The outside impression was that Brother Tat in order to raise three families put his life on the line to make movies, television and commercials and overexhausted his body. Tin Kai Man wished for no more further negative reports outside. He even said that the Ng children inheritance dispute rumor was fake news. He said that Brother Tat after a serious illness in 2014 already made his will. Financially he was fine and his children are not fighting over the inheritance.
Lam Tsz Chung regretted that he was unable to see Brother Tat one last time. Originally he planned to work with Brother Tat on the next film, regrettably he would no longer have the chance to. In addition he would have to go to work in the Mainland next week. He might not be able to attend Brother Tat's memorial.
Eric Tsang Chi Wai appeared near the end of the program and shared his experience with Brother Tat. Brother Tat in his youth was lost once, loving to drink and gamble. Finally he owed debts everywhere and had to borrow money from everyone around him. Colleagues and friends did not dare to ask him to work, because they were afraid that they would have lend him money. Although a friend kept helping him, later even this friend would no longer help him. Brother Tat felt that life has come to an end and thought about stepping into the Shing Mun Reservoir in hopes of living anew and being a good actor in the next life. However he thought that in the next life he might not be human in the next life. Since he was a human now, he might as well live anew. Finally Brother Tat went home and slept all day and all night. He then went back to TVB and pleaded with screenwriters, producers to give him a chance. They would see a different Ng Man tat. Since then he no longer needed to bring a script with him because he already memorized his lines. He even memorized other characters' lines. Chi Wai got choked up and said, "Brother Tat went from someone everyone was afraid to see, to become an actor everyone respected. Everyone respected him as a person and for his acting."
Director Wong Jing worked with Brother Tat as early as the ENJOY YOURSELF TONIGHT era. In the 90s they also worked on a dozen or so films. He described NG as friendly but stubborn. He was the most outstanding "support" actor. "Any lead actors would get more points when they run into Brother tat. He would 100% make the lead the most entertaining, but he himself would also perform very well."
Brother Tat's training class classmate Law Koon Lan remembered when he helped her at a Christmas party. "I accidentally dropped me on my clothes, Brother Tat was quite a gentleman as he handed me a clean handkerchief. I thought he was very friendly. After cleaning up he took the dirty handkerchief and put it back into his pant pocket. I was very moved." Law Koon Lan said that over a decade ago she and Brother Tat played a couple. They talked about acting concepts and she thought Brother Tat's experience became his discipline. He gave people a very gentle and kind presence. Ng Lai Chu and Brother Tat started to work together on ENJOY YOURSELF TONIGHT. He was also her training class elder. She remembered that Brother Tat often played drinking games with Ha Yu, Tam Bing Man, Yu Tsz Ming and others in the "Wooden Men Alley". He taught her that the game required a presence. "I admired that the most that despite playing, in studio he would never mess up. People used to say that new comers would be bullied, but I was very lucky. Brother Tat even taught me a lot and would take the initiative to go over the script with me."
Eddie Kwan Lai Kit said that the first time he worked with Brother Tat was on the classic series POLICE CADET. Whether in reality or in show business, Brother Tat watched him grow up. "The Brother Tat played instructor became the standard. Later many people followed this style of his. At the time (Sean Lau) Ching Wan, Wai Jai (Tony Leung Chiu Wai), Lui Fong and I were very mischievous. He would yell at us but he would teach us as well. In acting exchanges he was very serious, which made everyone get into character very easily. I learned a lot from him." Kwai Lai Kit also said that Brother Tat taught him how to shed tears while acting. When he left the academy in POLICE CADET, Brother Tat completely moved him to tears. It was the first time he shed tears on screen.
In addition, Louis Koo Tin Lok worked with Brother Tat on the films ABERDEEN (HEUNG GONG JAI) and OVERHEARD 3 (SIT TING FUNG WON 3). Yesterday he remembered Brother Tat on social media and said that he would always remember Brother Tat's exciting performance.
Director Lee Lik Chi who worked with Brother Tat for many years wrote on social media that Brother Tat must know that the people have never left him!
According to Oriental Daily, Christian services will begin for Ng Man Tat on March 7th at the Universal Funeral Parlor in Hung Hom. The funeral will take place next day and cremation will take place at the Cape Collinson Crematorium. His friend Tin Kai Man revealed that the funeral details were just decided and the memorial will be cancelled.