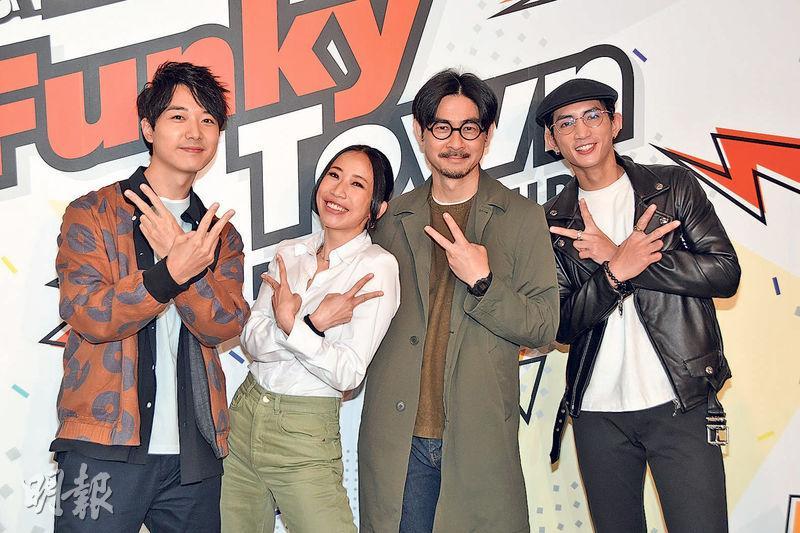 Babyjohn Choi (left), Adam Wong (second right) and Lokman Yeung (right) congratulate Lydia Lau (second left) on her dance school opening.
courtesy of mingpao.com
The Adam Wong Sau Ping directed, BabyJohn Choi Hon Yik, Lokman Yeung, Lydia Lau King Man starred film THE WAY WE KEEP DANCING (KONG MO PAI 3) as of two days ago was in release for 16 days and made over HK$ 6.5 million in an ideal performance. Wong Sau Ping rose to fame in 2013 with THE WAY WE DANCE, which made HK$ 15 million. He did not make too many movies, 8 years later THE WAY WE KEEP DANCING became his fifth. Recently on a radio interview, he said that after making THE WAY WE DANCE, many big productions invited him to direct but he turned them all down. He explained that his condition or subject for making a movie was to have the feeling, the excitement and enough time to get to know it. Once someone said to him, "A subject is very right for you, next week it can start production and shoot on location in Europe." He said that he did not ask about the salary or the cast, because the entire matter did not make sense. How could he make a good movie with such a mentality? He said that maybe some would feel he had no ambition, but he needed to be responsible for his own creation. Some money could not be made.
Lau King Man in THE WAY WE KEEP DANCING played a dance school boss. In real life she too opened a dance school. Yesterday at the opening ceremony Wong Sau Ping, Choi Hon Yik, Lokman and others came to congratulate her. She revealed that she invested 6 figures to be the boss lady, and she would also be the headmaster and the janitor. Starting a business during the pandemic, she saved what she could save and did all the renovation of herself. She said that in the film she did it in advance and got the courage. She realized that children not being able to dance to release their energy had a very tough time, so she decided to give it a try. Wong Sau Ping was happy that he saw someone promoting something good. The energy would return to the city, which made him want to keep making THE WAY WE DANCE movies.
Choi Hon Yik funded his own creative company and hoped to be able to provide an one stop service from creating film screenplay to finding investors. Lokman and his teammates would release their own fashion label business. He wanted to open a physical store after the first bucket of gold. They revealed that Wong Sau Ping was interesting in making THE WAY WE DANCE movies and joked that he should not wait for another 8 years. Choi Hon Yik said, "Waiting for 8 years is pretty good. We all work in different areas, when we get back together again the feeing would be even deeper."