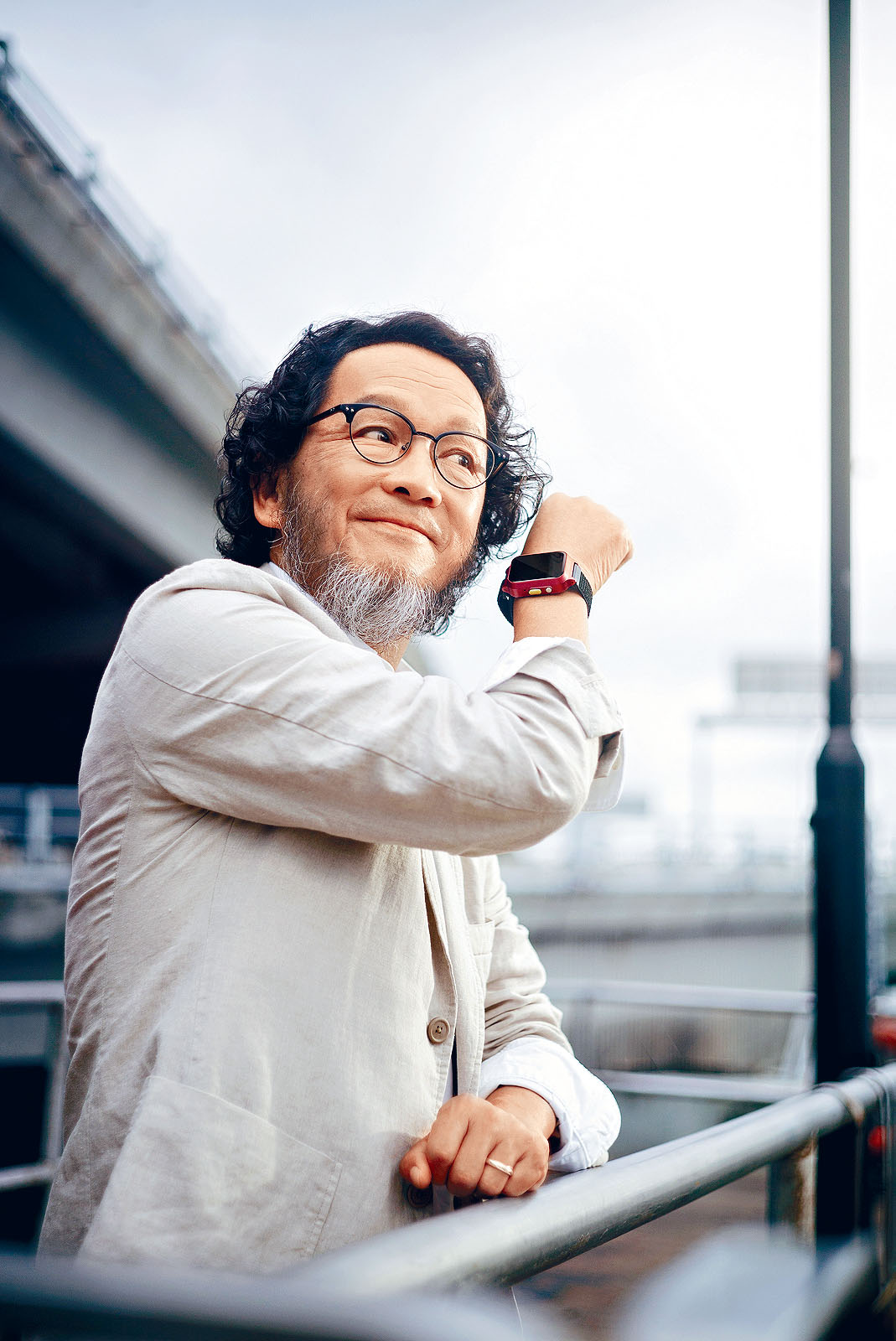 Liu Kai Chi worked on a smart watch ad for Senior Citizen Home Safety Association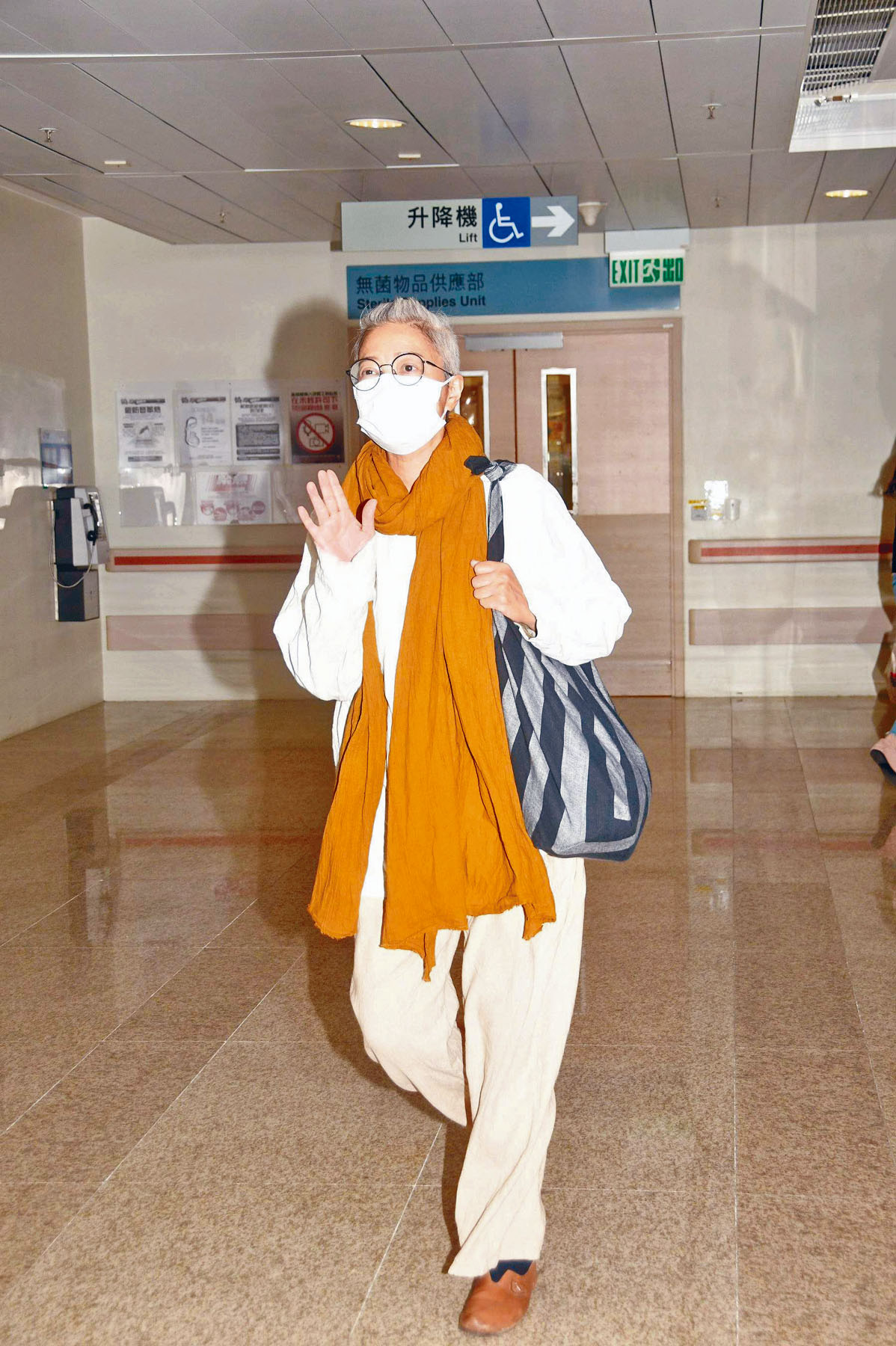 Chan Man Yi greets the media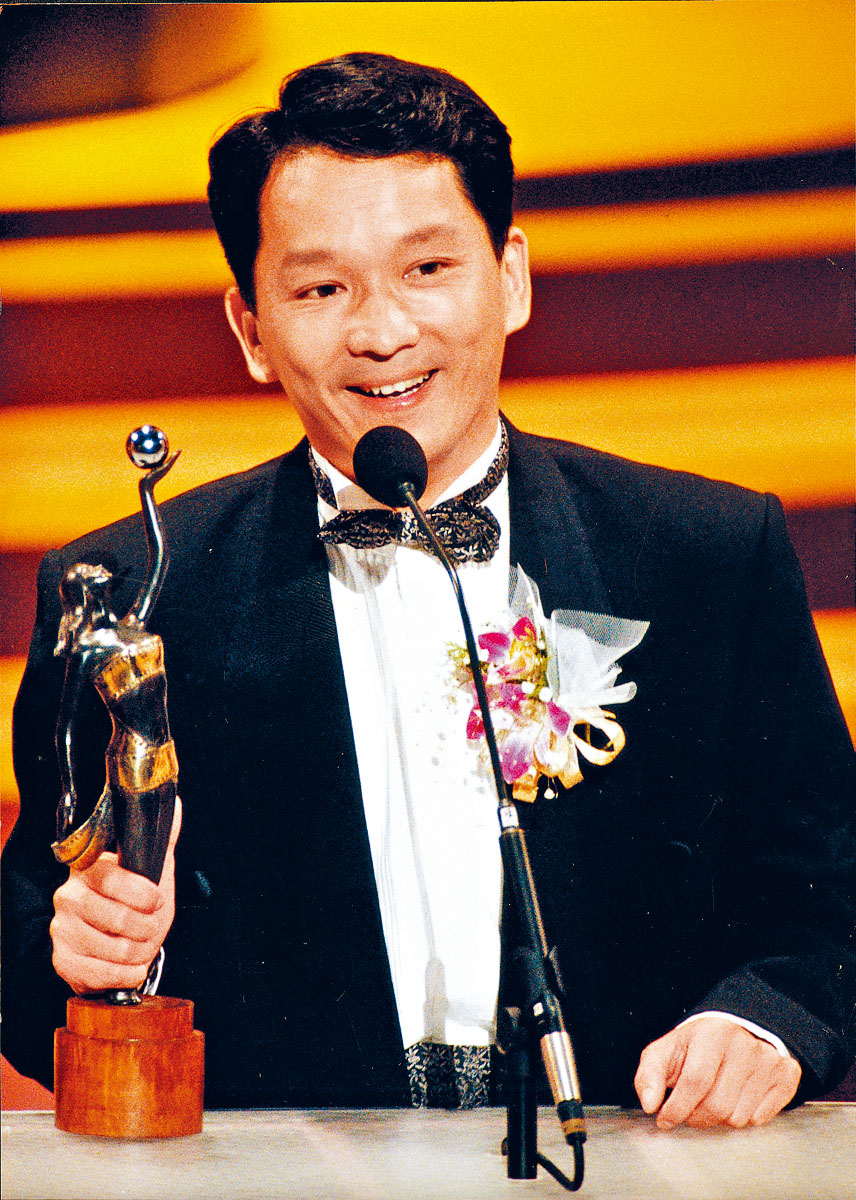 Liu Kai Chi in 1993 won the Hong Kong Film Award Best Supporting Actor with CAGEMAN
courtesy of singtao.com
Chan Man Yi says that Liu Kai Chi is OK, only a little tired
courtesy of on.cc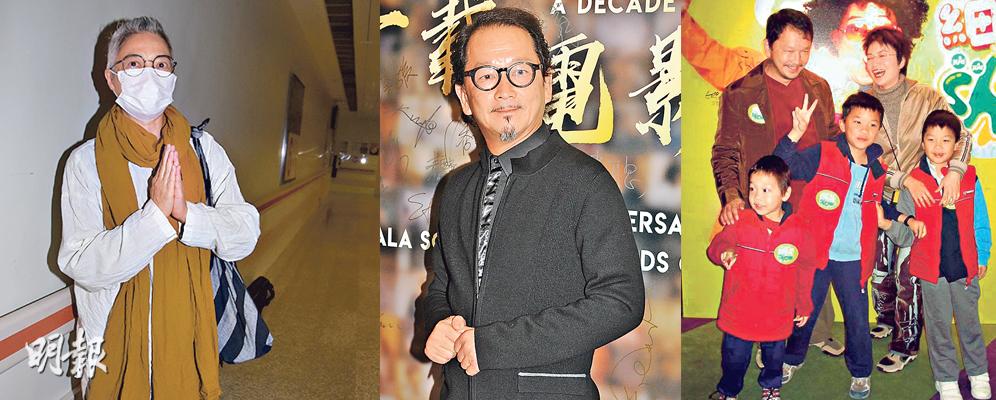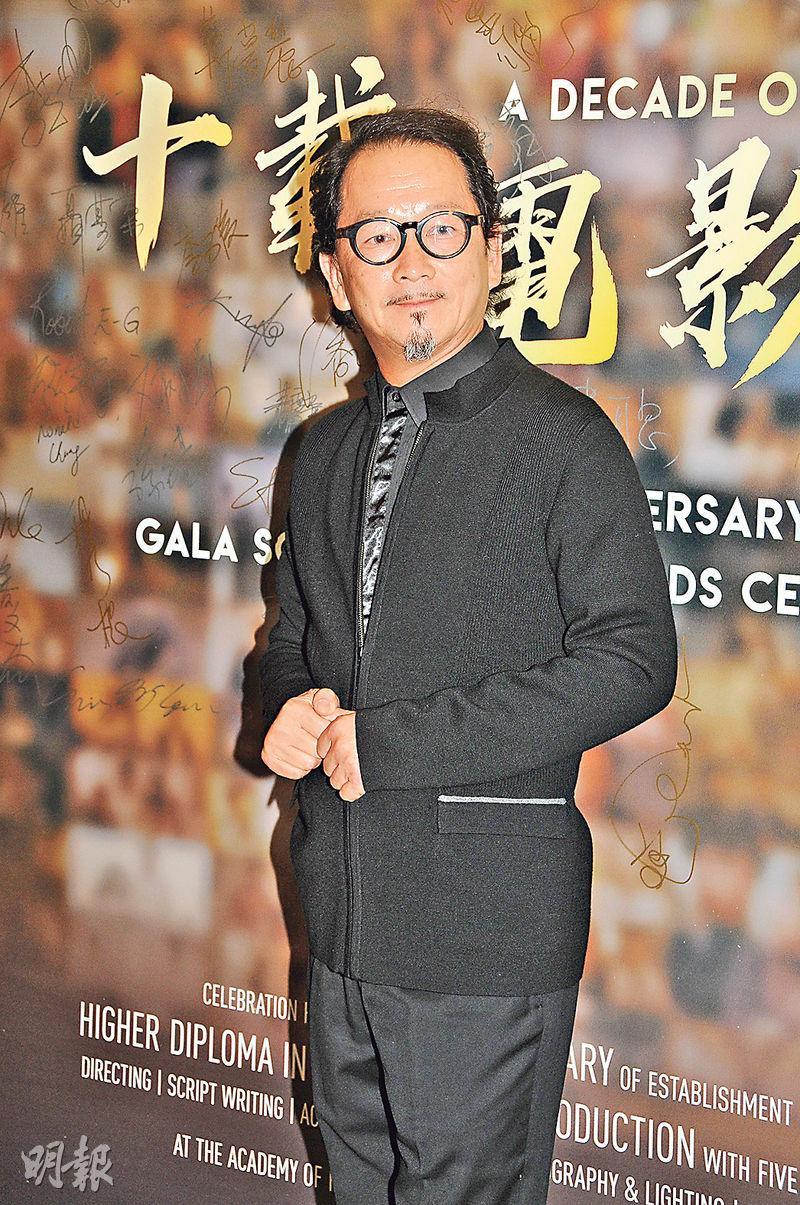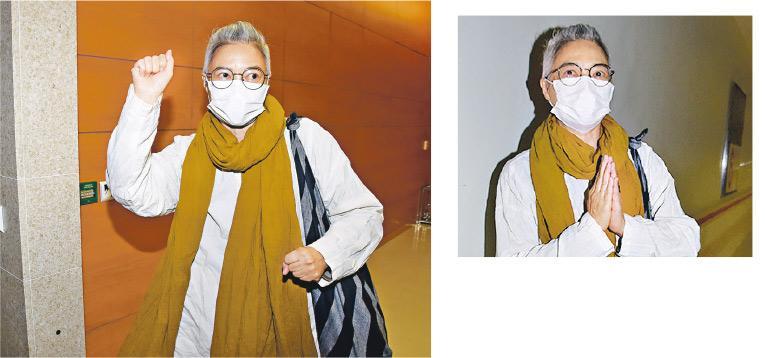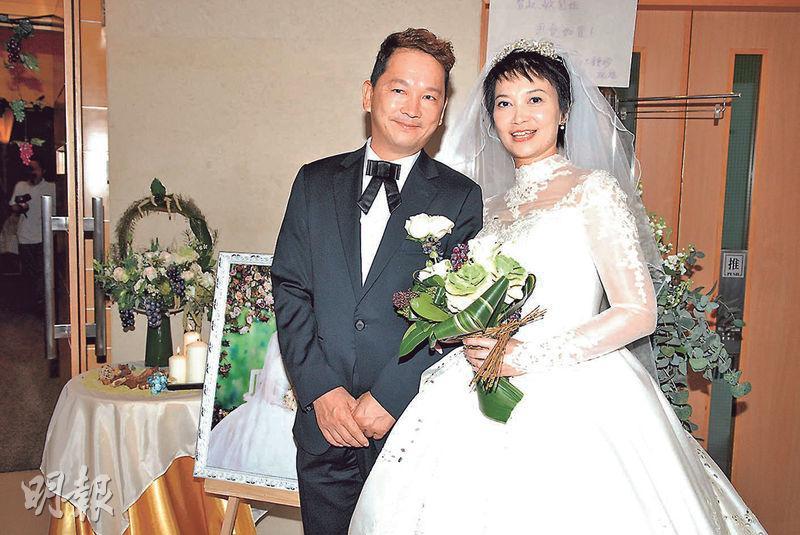 Liu Kai Chi and Chan Man Yi were training class classmates. For their 20th wedding anniversary they shot wedding photos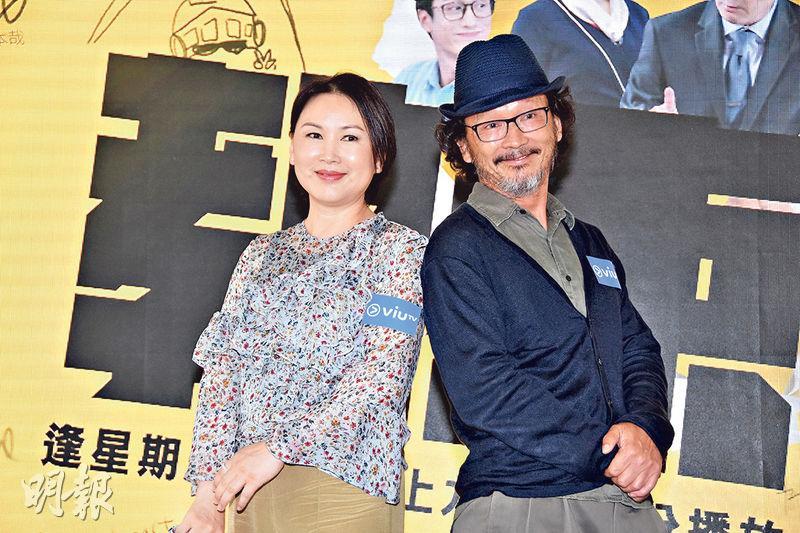 Liu Kai Chi after leaving TVB focused on film, but would occasionally work on a series. Two years ago he worked on a ViuTV series with Amy Chan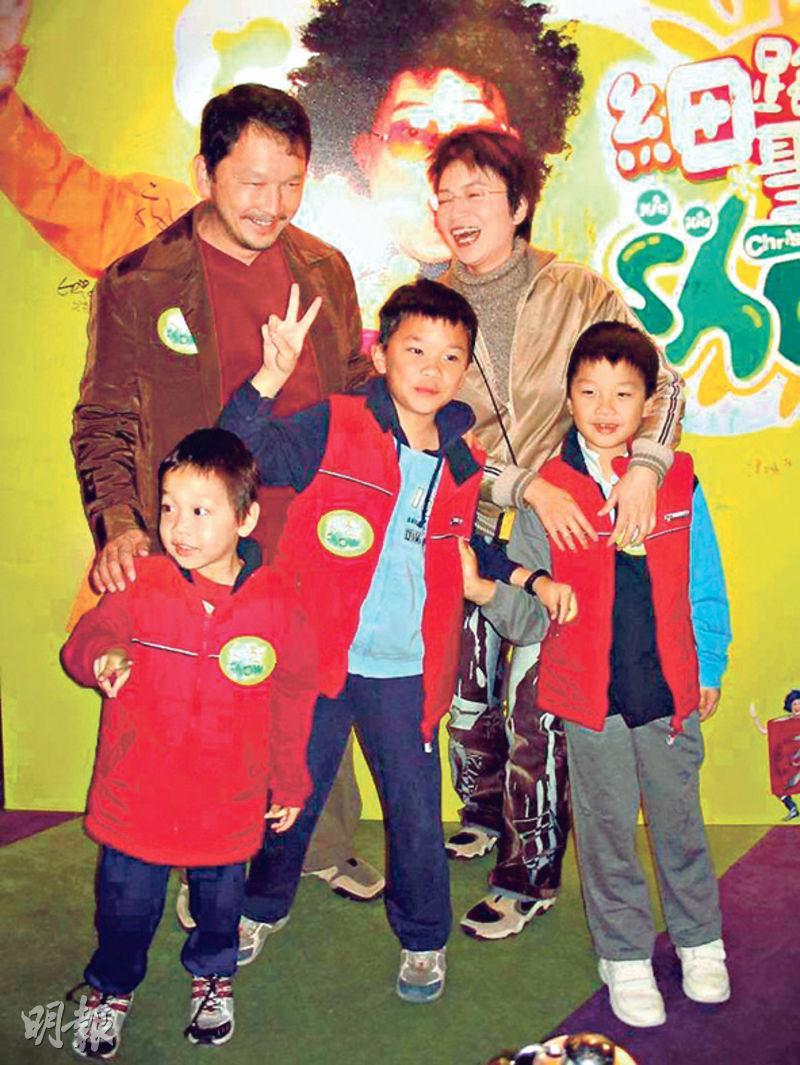 Liu Kai Chi and Chan Man Yi had 3 sons, the youngest Man Yeuk (front left) succumbed to cancer in 2006
The 66 year old "Uncle Chi", veteran actor Liu Kai Chi was diagnosed with stomach cancer last year. Currently he is accepting treatment at the hospital and has stopped working completely. However Uncle Chi wanted to remain low key, when he went to the hospital he did not notify his friends. Once in serious condition, he under his wife Chan Man Yi's attentive care recently has returned to stable condition. Chan Man Yi revealed that Uncle Chi has been very cooperative with the doctor's treatment and was praised as an A+ patient.
Chan Man Yi around 1 PM went to the hospital alone to visit her husband Uncle Chi. She put her hands together toward the media and revealed that how Uncle Chi found out about his stomach cancer. "Due to the pandemic he worked less, he ran everyday and was in great shape and health. Then in the middle of December last year, he started to feel bloated after eating and went for a test. The report confirmed that he had stomach cancer!" The couple was grateful for the good doctor Uncle Chi ran into. Chan Man Yi said, "The doctor paired well with Uncle Chi. Everyday they would cheer on each other in the room, and the doctor praised him as an A+ patient. What the doctor asked him to do he would fully cooperate, only that he could not eat due to stomach discomfort. The doctor said that he had to eat, fighting a war required nutrition. Thus he worked very hard on finishing his three meals everyday." Chan Man Yi praised her husband for not only being a professional actor but also a just as professional patient. One day he said that he was having congee, silky fowl and abalone congee. She thought it was strange for the hospital to have such good food. Actually he was only fantasizing that he was eating well. "He wanted to make himself happy even when having plain congee. He knew to relax to help himself overcoming the challenge and the hardship. I really admire him deeply. The doctor said as his family, our two sons and I are all 'A+ family' because we were calm, cooperative with the doctor and fulfilling the patient's needs."
Chan Man Yi hoped that everyone would give Uncle Chi some space to recover. She pointed out that Uncle Chi for the past few days has been more tired. Many people called him, which distracted him as he replied to friends. "I quote Uncle Chi, 'Thank you everyone for your concern, but too many concerns and well wishes may be a burden on me and my family. I have already received everyone's concern. For anyone who love Uncle Chi, it's OK for you to wish him well from afar!' She said that she and Uncle Chi would not take any more calls. The doctors agreed as they worried about affecting his recovery. "I hope everyone would cooperate, thank you everyone. I have to go in, he misses me, needs my support." As for treatments, Chan Man Yi said that the doctors have a lot of ideas. Uncle Chi also was very positive.
Chan Man Yi around 2:30 PM left the hospital, when asked which stage was Uncle Chi's cancer she said that she asked not to ask questions like those. Uncle Chi was OK in the past few days, only a little tired. Due to the pandemic, only private hospitals have visiting hours. However they were restricted as well to only around 1 hour and 1 person a day. She said that when her sons had time they would visit Papa, but they had to work.
Friends in the industry learned about Uncle Chi's illness. His hiking team teammate Sister Bau Nina Paw Hee Ching shot a video to cheer him on and wish him well. Chow Yun Fat led the team to run the hills. In recent years they always exercised together, but at the end of last year Uncle Chi became ill and stopped following the team. Fat Gor yesterday sent well wishes to Uncle Chi. "I wish Uncle Chi an early recovery!" Years ago Uncle Chi's youngest son passed away from leukemia, which was a tremendous setback for the couple. Chan Man Yi even suffered from depression. Uncle Chi also missed his son excessively and lost his will. Luckily Fat Gor encouraged him and invited Uncle Chi to hike with him for exercise, which revived him again. Since then Uncle Chi everyday would hike and was very healthy, unfortunately he was diagnosed with stomach cancer.
Uncle Chi performed on the TVB program ENJOY YOURSELF TONIGHT for a long time and earlier would occasionally catch up with the EYT gang. However under the pandemic they met up less. 2 or 3 months ago Ng Lai Chu, Uncle Chi and his wife Man Yi, Lo Hoi Pang and Mak King Ting met for a vegetarian meal. Chu Nui said, "At the time Uncle Chi didn't look any different, he was OK. Everyone chatted and laughed, the occasion was very happy. Someone in my family also has cancer. As long as Uncle Chi needs help I would try to help. I wish him an early recovery."
Uncle Chi in 1978 enrolled in the TVB artist training class and joined the business, performed in over 100 film and television series. With his outstanding acting he won the Hong Kong Film Award Best Supporting Actor twice with CAGEMAN and BEAST STALKER. Uncle Chi in recent years also served an university educational consultant.