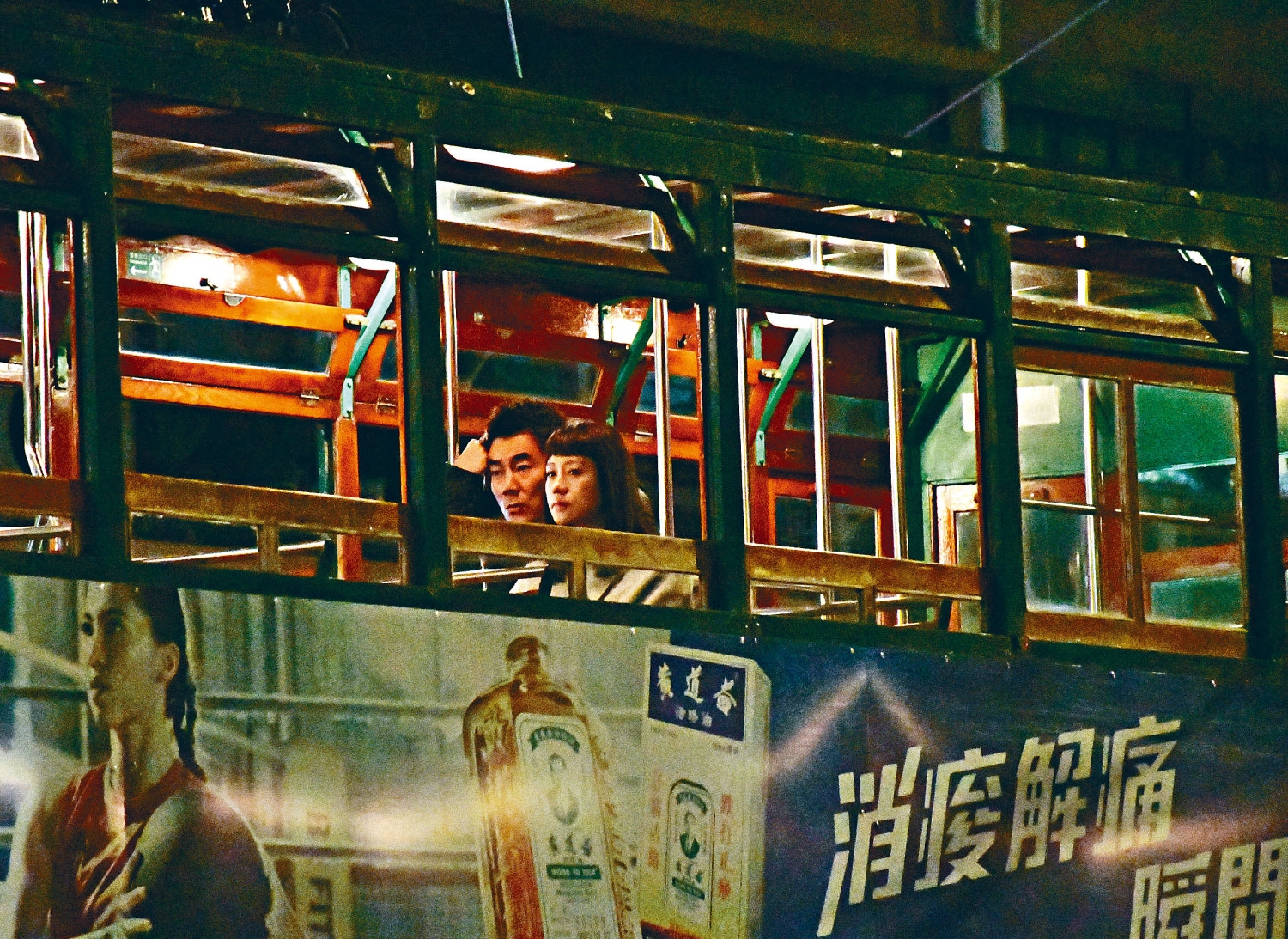 Richie Jen and Karena Lam take a tram ride
courtesy of singtao.com
The Richie Jen (Yam Yin Chai) and Simon Yam Tat Wa starred new film BIN YUEN HUNG JEH (EDGE WALKER) had an all male cast during its production start press conference earlier this month. The film company kept its lead actress choice confidential. As Sing Tao Daily learned, the mystery actress was actually Best Actress Karena Lam Ka Yun. Earlier she even worked with Siu Chai at Sai Wan, sitting in a tram for the shoot.
Yam Yin Chai, Yam Tat Wa, Sammo Hung Kam Bo, Alex Fong Chung Shun and Ron Ng Cheuk Hei starred in the new film BIN YUEN HUNG JEH after its production start press conference earlier in the month has been shooting nonstop. At the press conference the film company did not reveal the lead actress choice, but actually the lead actress was Best Actress Lam Ka Yun. Sing Tao Daily earlier exclusively witnessed her at work with lead actor Siu Chai.
Earlier Siu Chai and Ka Yun appeared at the West Point's Whitty Street Depot. Around 5 PM Siu Chai arrived at the temporary outdoors make up room outside the depot to prepare for the shot. The temporary room not only had two tables with mirrors but also a disinfectant fog machine to provide an even safer work environment for the actors under the pandemic. Then Ka Yun arrived and entered the depot with Siu Chai. After the crew installed many cameras on the tram, they boarded the oldest tram currently in Hong Kong, number 120. After dark the tram left the depot to officially begin the shoot.
Shooting from Sai Wan to Causeway Bay, Siu Chai and Ka Yun mainly shot some staring and chatting scenes on the tram. On the way no one noticed that they were shooting a movie on the tram, even when it passed the busy streets of Wan Chai and Causeway Bay. Thus their production progress was not affected at all. When the tram reached the Causeway Bay station, they waited on the tram for awhile and finally left with the team. They moved next to the station to wait for their station scene set up.
When Siu Chai and Ka Yun shot the tram station scene, the team not only put up advertising boards but also chose a station that had roads on both sides. With over 20 extras as station pedestrians, people would not easily notice Siu Chai and Ka Yun and the shoot went rather smoothly. In according to the current outdoors mask rule, Ka Yun and Siu Chai put on their masks before chatting during their breaks as they tried to protect their and others' health.