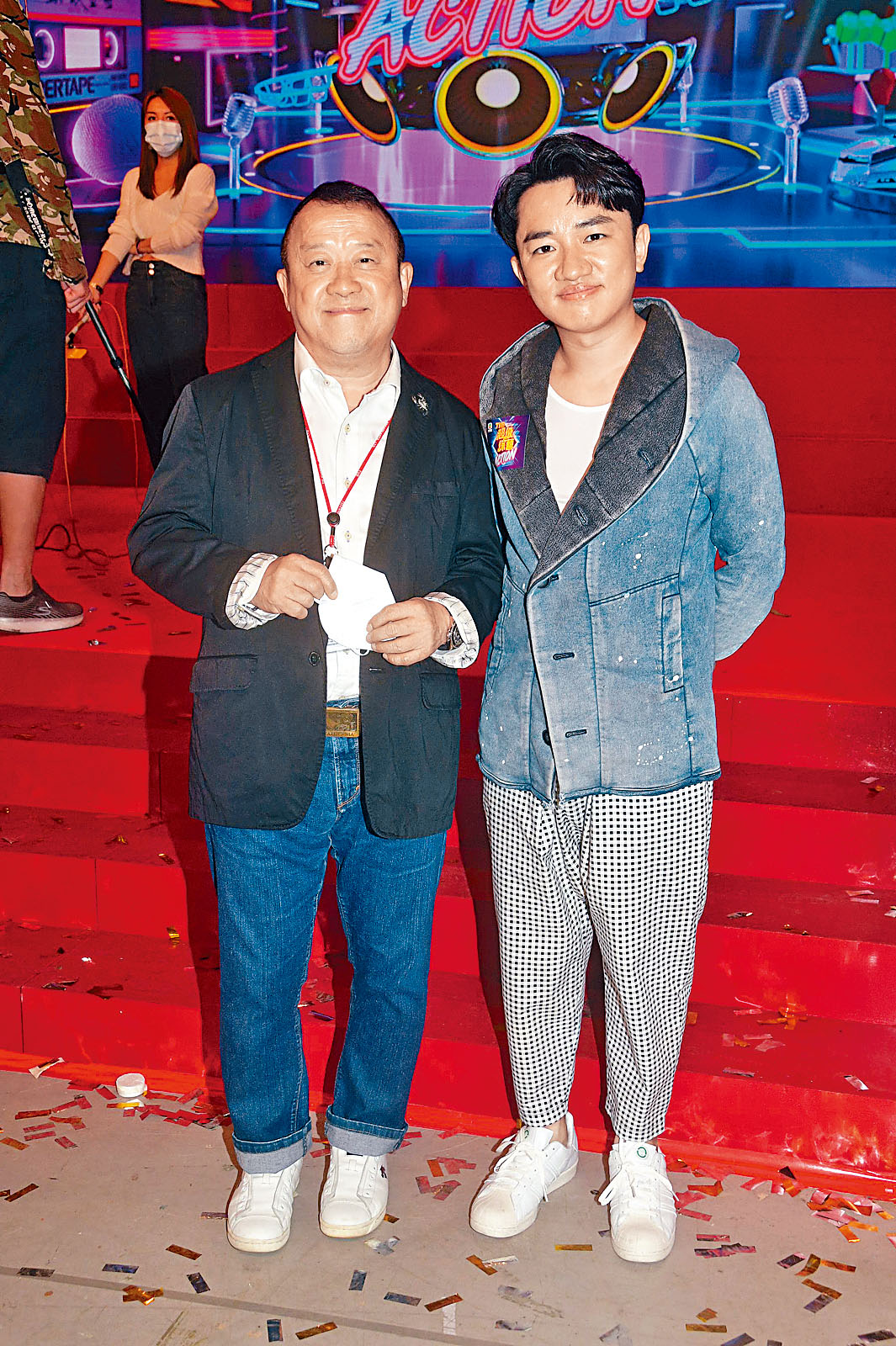 Eric Tsang and Wong Cho Nam appear as executives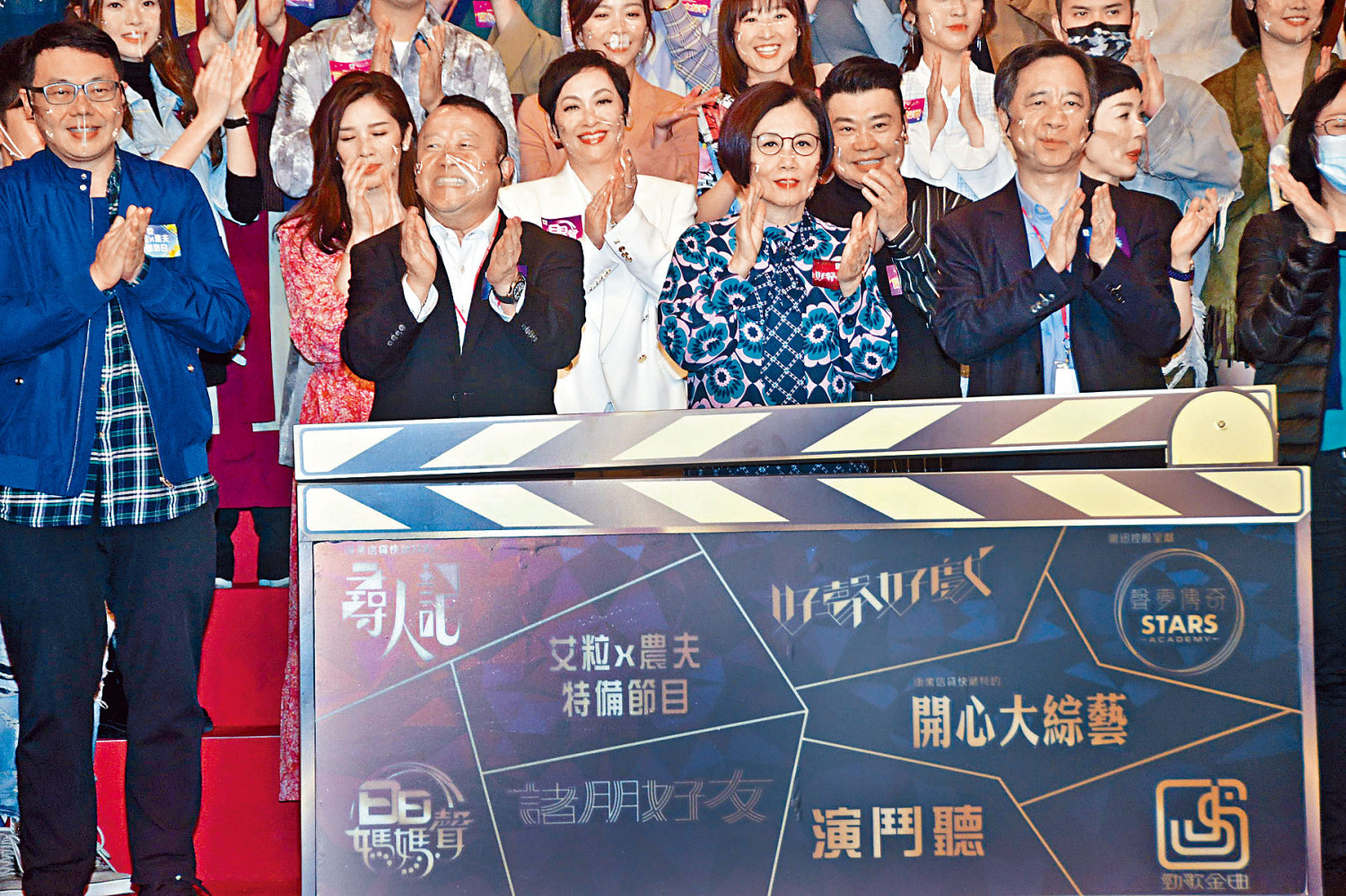 Currently 9 variety programs are slated to air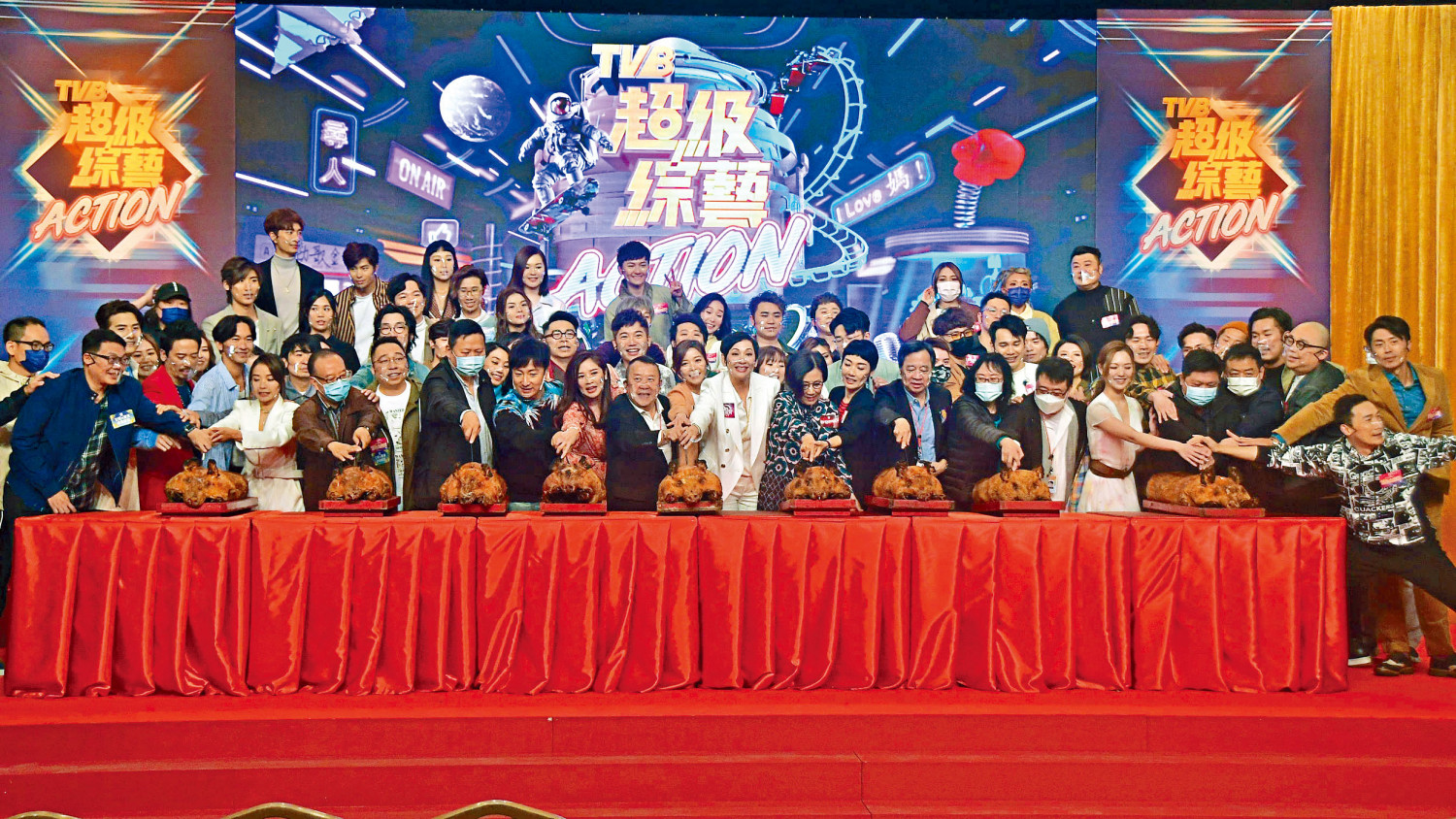 "Nine Pearls in a Row" roast pig cutting ceremony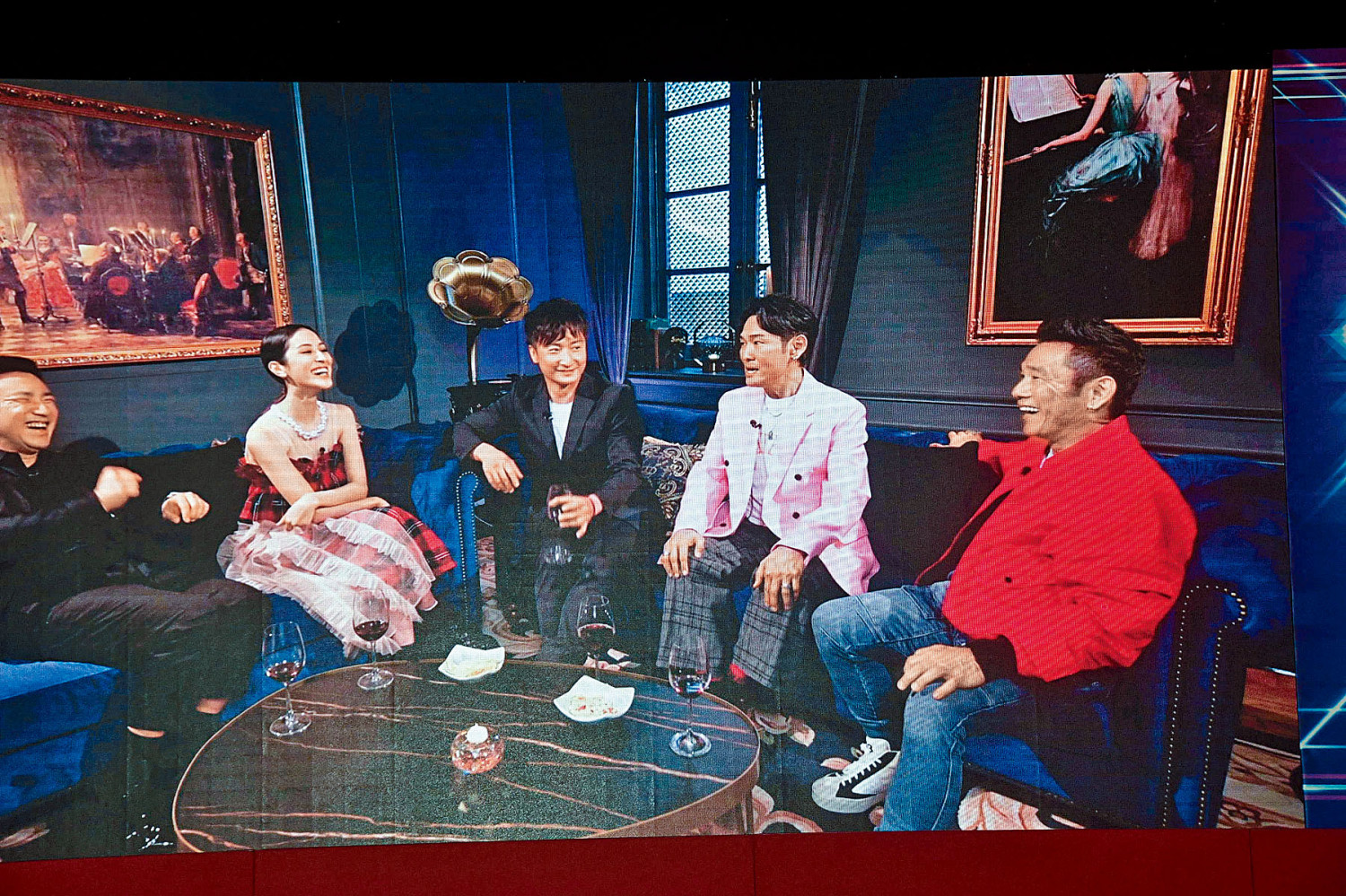 Grace Chan will join the new season of BONG BONG AMIGO as host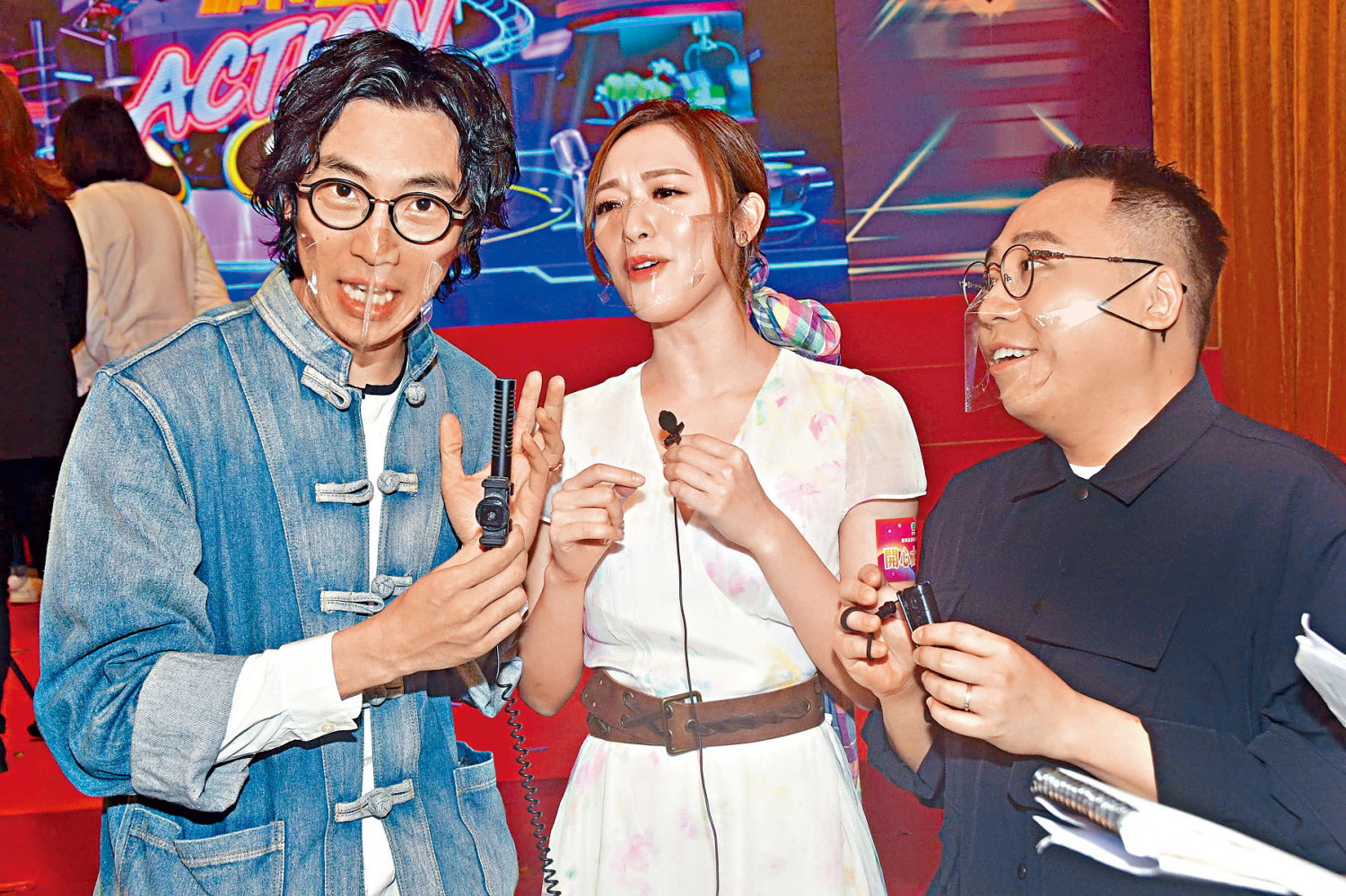 Fama says that Crystal Fung has quick wit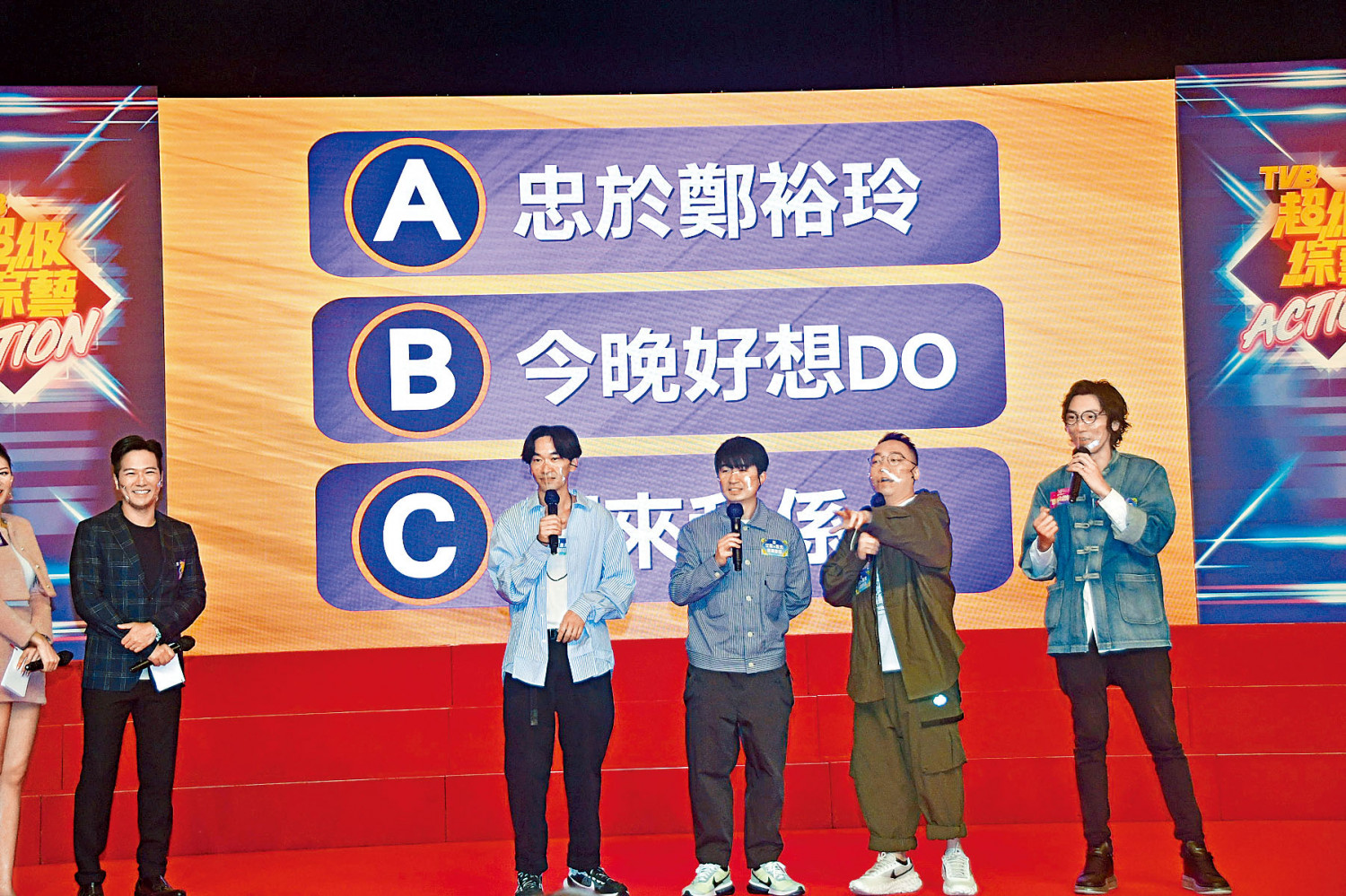 I Luv U Boyz and Fama would host a program together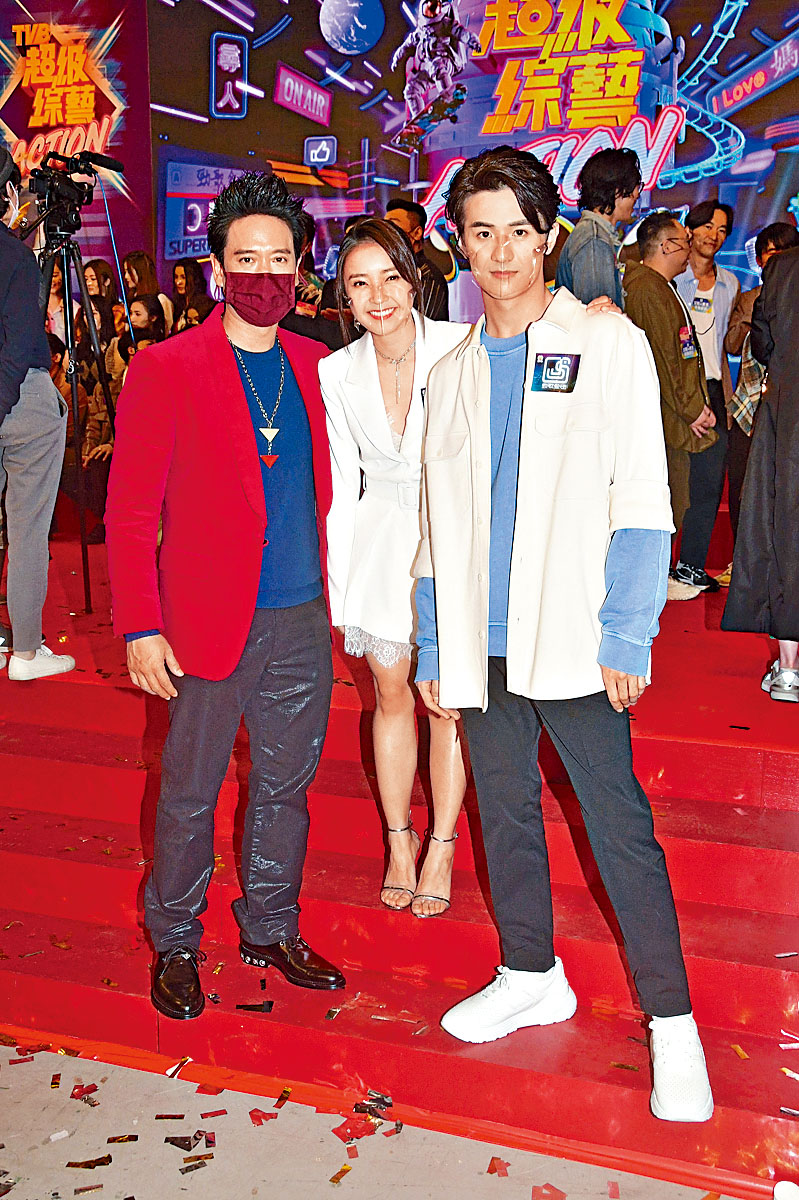 Two Universal singers Eric Kwok and Oscar Tao (right) would host JADE SOLID GOLD with Kandy Wong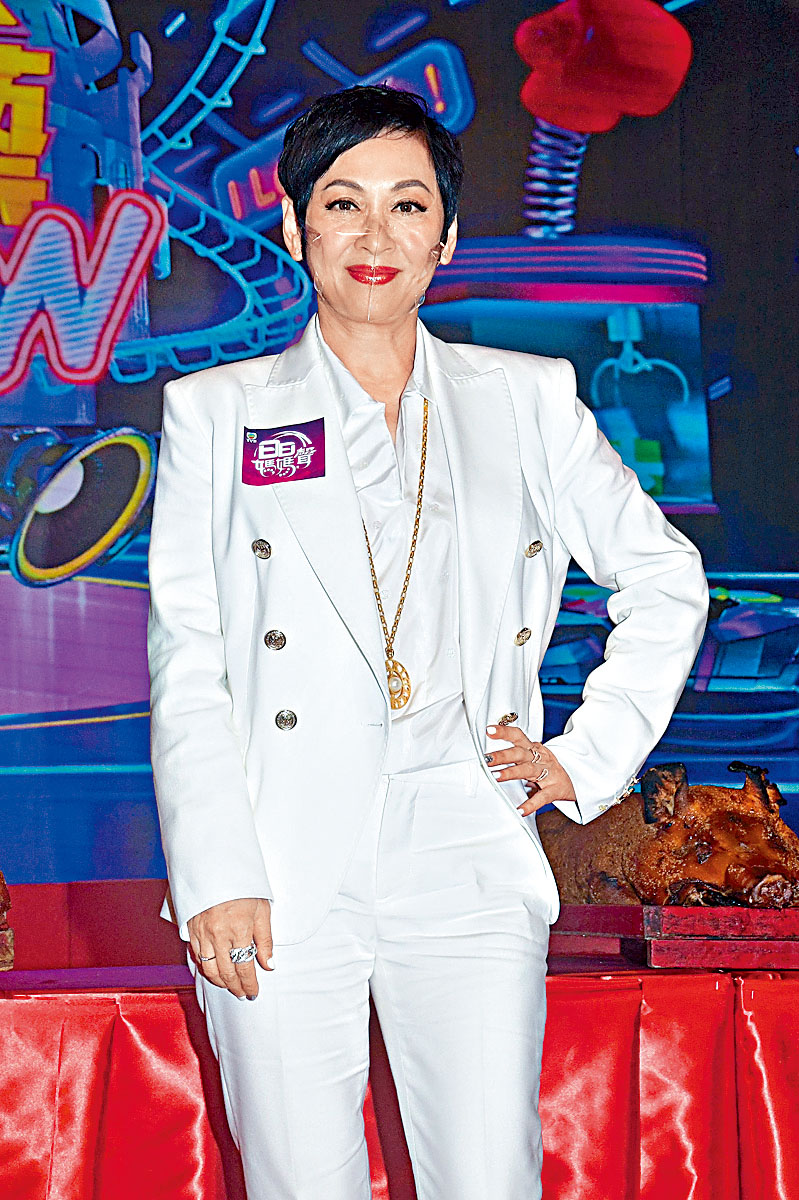 Candy Yu would share motherhood advice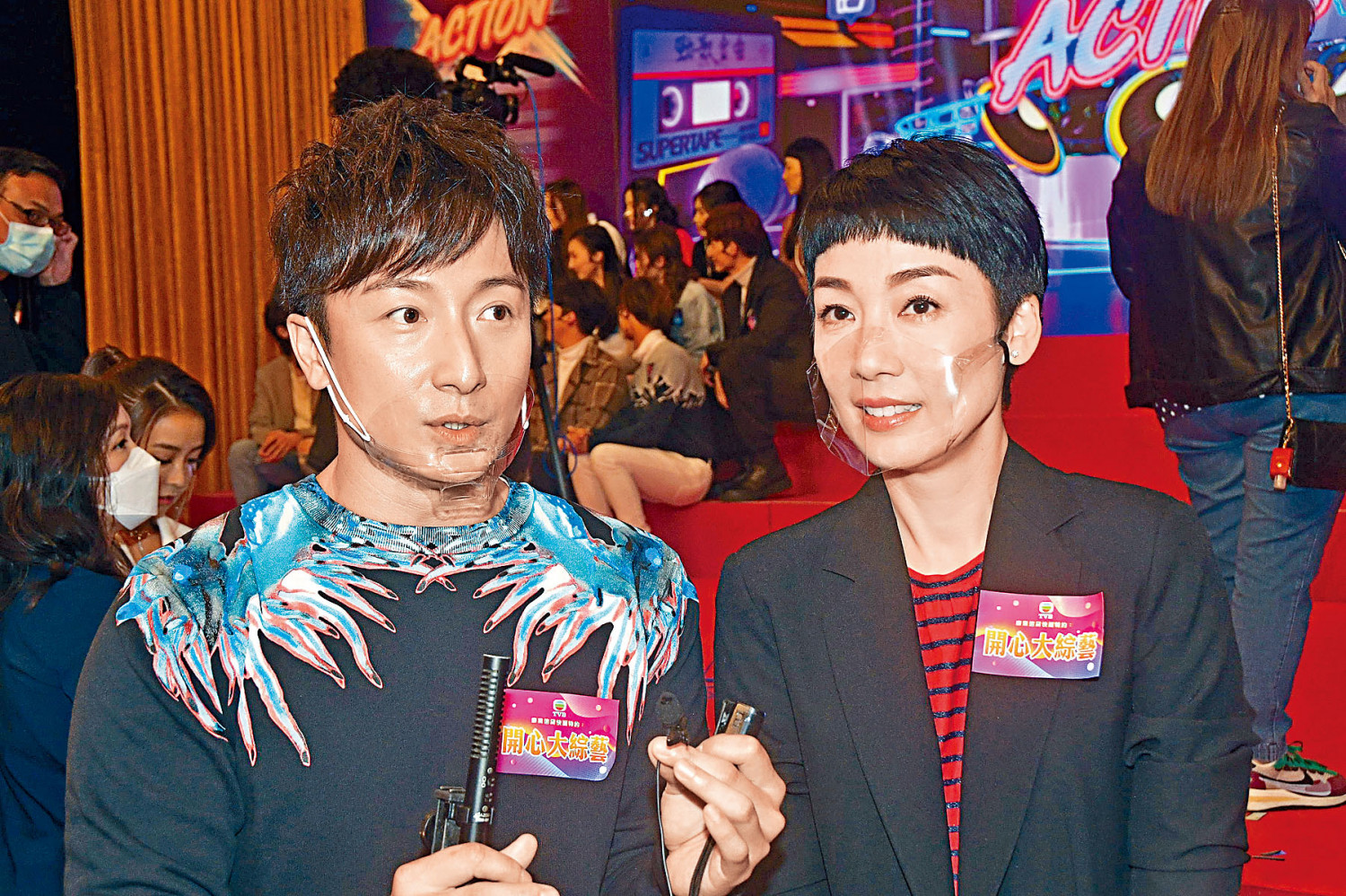 Alex Fong Lik Sun and Elena Kong will participate in the large scale variety program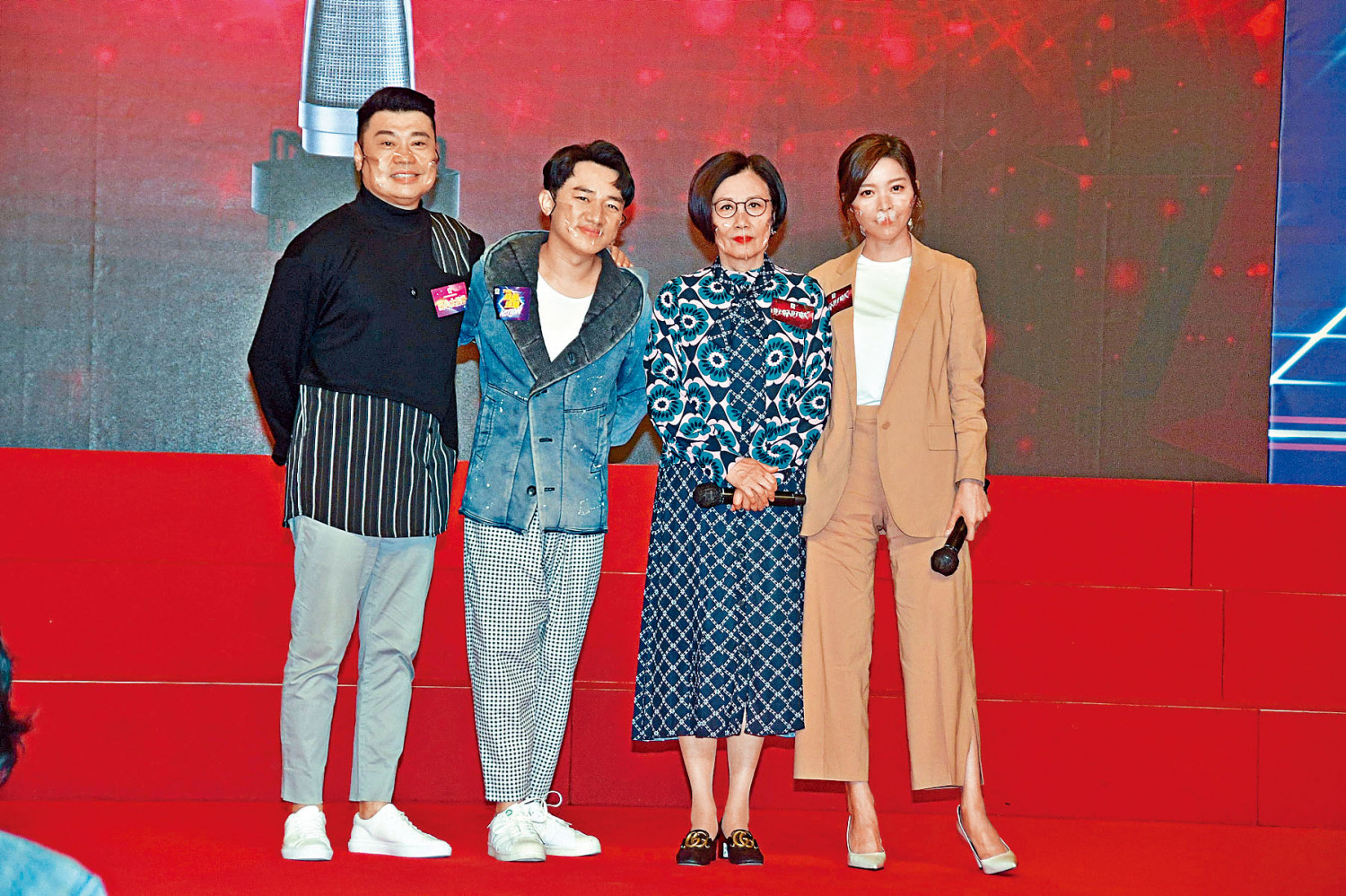 Wong Cho Nam jokes that Liza Wang would scare him into stuttering at meetings
courtesy of singtao.com
Alex Fong Lik Sun was revealed to have give Crystal Fung a ride
The hosts are nervous about the return to a large scale variety entertainment live program after over a decade
courtesy of on.cc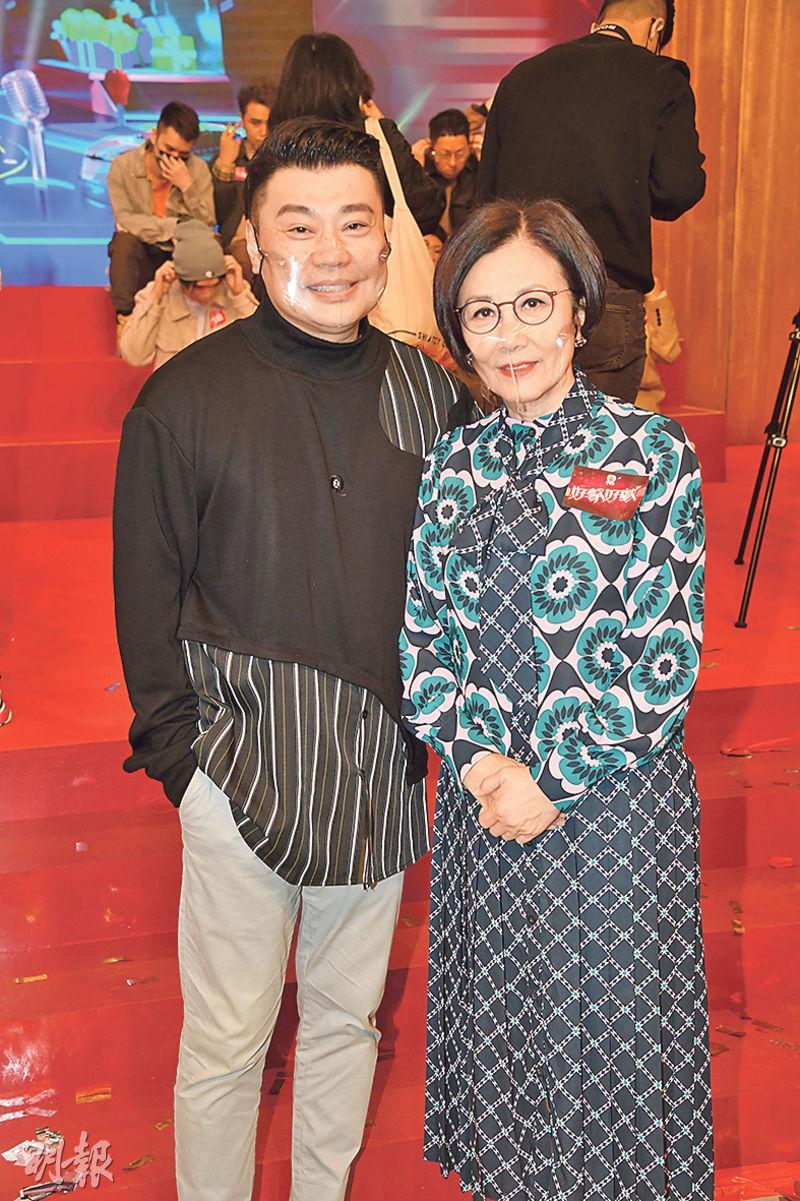 Louis Yuen and Liza Wang will judge a voice acting competition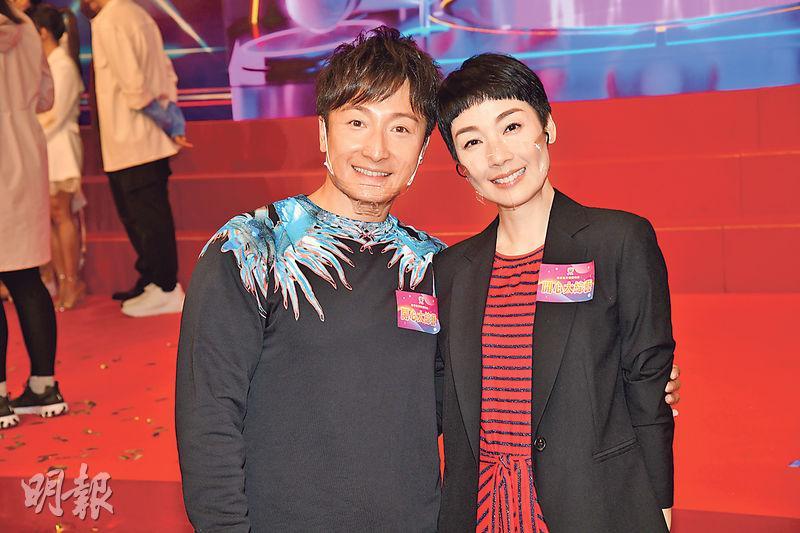 courtesy of mingpao.com
TVB yesterday announced a large overhaul of variety programs. Many artists including Liza Wang Ming Chuen, Candy Yu On On, Fama, Alex Fong Lik Sun, Crystal Fung Ying Ying, Jonathan Wong Chee Hynn, Kandy Wong all dressed up for the occasion. Deputy general manager Eric Tsang Chi Wai, the Voice's CEO Ho Lai Chuen and Wang Ming Chuen host the lighting ceremony for the SUPER SHOW event and introduced a series of new and old programs.
Tsang Chi Wai said that yesterday did not feature all the new programs, instead he wanted to train a new generation of hosts through variety program change. Thus before deciding on a program, the entire station from top to bottom had to vote for three programs and hosts that they would like to work with. After receiving a wide range of opinions these recommended programs would be released. He said, "The most important is I want Studio 1 to have more live programming. In the past TVB was the best at live broadcast in all Southeast Asia. Thus every Sunday night a large scale live program would take place, to let the audience know what happened during the week. We would also have a platform for series and movies to promote, games and singing are all secondary."
Seeing many hosts and guests were Chi Wai's friends, did he call in all the favors? Chi Wai said that friends everywhere has been concerned about the company. As long as they are needed they would definitely help. Next month would be Chi Wai's birth month, would the variety program change be his biggest birthday gift? He said, "I don't even remember my own birthday, the most important would be that the audience is happy. TVB is like my home. Returning this time feels like taking care of the business for my family. Maybe we can hold a large scale birthday party, instead now it's impossible to invite so many friends (due to the gathering restriction order). I would only be able to for a big show."
Chi Wai stressed that he did not dare to say the return to live programming would be the best done, but he must take the first step. He said, "Now we lack personnel and experience. For example for Ng Man Tat's special program last time, we saw a lot of holes. Thus the Tong Yik Chung (Gary)'s memorial program had to be switched back to taping. I hope after the variety program starts, every week a different producer would be responsible. It would be training as well as a type of a positive competition."
The first Creative Officer Wong Cho Nam was often made fun of for only returning to TVB to be an officer. He denied that he was the first officer. Adam Cheng Siu Chau was the first. Would he appear in any program? Cho Nam said that he would be playing defense in the back, Chi Wai already said that he would force him onto programs for impersonations. "Because we have to train the new generation, we have to have a classic impersonator like Cho Nam. The best would be a battle between the old and the new generations." Cho Nam admitted that he was not used to be the Creative Officer, as he finally understood how to discuss salary and show money with artists. He joked, "Chi Wai made me the order to understand each department's operation. Everyday would start at 9AM without any end time. If I knew it would be like this, I wouldn't have come back." Cho Nam also said that due to work he had to resign from a new costume series. He believed that Chow Ka Lok would be even more outstanding in his place.
Soon to be a grandmother, Candy Yu On On accepted Chi Wai's invitation to return and host a program that would share advice of being a mother, a mix of traditions and new knowledge for new mothers. On On said that despite rarely hosting she had no pressure, because she would have two great partners Grace Chan Hoi Lam and Bonnie Law Man Chong. For the first episode they invited heavyweight guest Anita Yuen Wing Yi to share her motherhood experience. She also looked forward to the program taping.
The voice dubbing competition program judge Wang Ming Chuen believed that artists in competition would be rather interesting. In addition some veteran voice actors would participate as well. Sister Wang also agreed with Chi Wai that more live programming was needed as they would be very important to artist training. She said, "Because they would be able to improvise. Back then ENJOY YOURSELF TONIGHT cultivated new comers in all areas and had an atmosphere of unity. Everyone helped each other and improved. I hope more viewers would pay attention and give suggestions. We also have to fight for ratings and advertisers."
Alex Fong Lik sun and Elena Kong Mei Yi would participate in a variety show. Siu Fong joked that he would have to be fully prepared mentally, because at the meeting he already knew that other colleagues would be well rounded. Live programming would require faster response. He was already sweating bullets before the official start. Siu Fong brought up the "war of words" with Michelle Ye (Yip Suen) during the Olympics live broadcast was the result of rehearsal. Because they did not know it was live it was aired, and led to years of misunderstanding outside. Kong Mei Yi also said that she has never done a live program in her career. She would have to do a lot of homework in advance to prepare for it. She even joked that Su Fong was popular with female colleagues as they fought for a ride with him out of Television City. As for whether they as hosts would have to invite guests, they said that the producer gave them the full responsibility. Siu Fong revealed that he wanted to invite Ivana Wong Yuen Chi, while Kong Mei Yi wanted to reach and invite Louis Koo Tin Lok.
Eric Kwok Wai Leung and Kandy Wong will host the all new JADE SOLID GOLD. Kwok Wai Leung said that singers on the program would not just sing and leave. They would have to accept positive or negative reviews from the audience. The result was also greatly influence the Jade Solid Gold chart. Kandy Wong said that now many new music styles have appeared. The program would also invite professionals to explain how to appreciation a song. She said, "Actually both positive and negative reviews are good, singers or creators on the program shouldn't be afraid of criticism. I am just afraid that they refuse to come."
The Fama host new program has not been officially named. Because they have worked with Carol Cheng Yui Ling before, this time they finally would be able to host a program on their own. They joked that the program would have to be named LOYAL TO CAROL CHENG, TONIGHT REALLY WANT TO DO or ACTUALLY I AM HUMAN for everyone to vote on. Fama also recommended Crystal Fung Ying Ying to be Sister Do's successor, because they started with acting then hosting. Ying Ying said that she was not qualified to take over for Sister Do, she could only help out. Speaking of Siu Fong being popular with female colleagues, Ying Ying directly admitted that she would accept a ride. "Because that day I didn't drive, Siu Fong drove me to the MTR station. Other female colleagues were in the car too."