courtesy of on.cc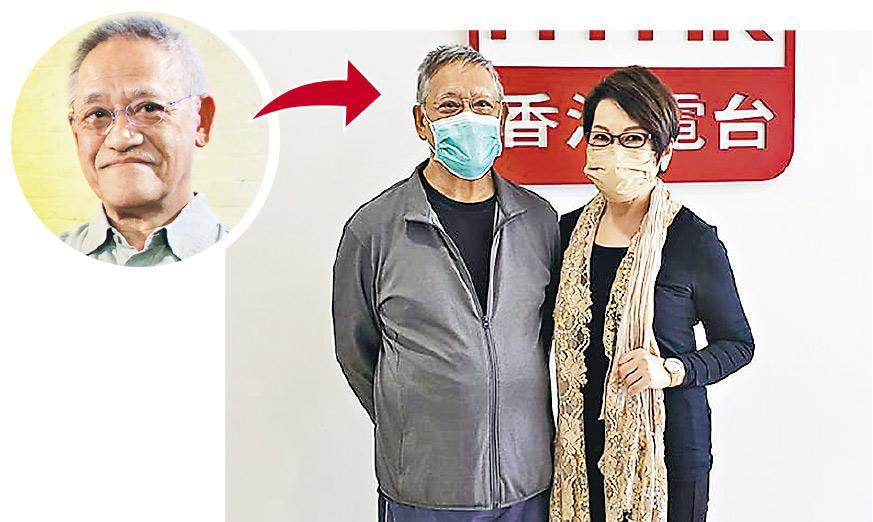 Che Suk Mui interviewed Richard Ng earlier and revealed that someone suggested to postpone its airing, but she disagreed and felt that his story was full of positive energy. Thus the interview aired as scheduled yesterday
courtesy of mingpao.com
Veteran artist Richard Ng Yiu Hon's two daughters due to involvement in an alleged drug case were arrested by the Customs. Before that Ng Yiu Hon spoke with radio host Che Suk Mui. He revealed that in recent years aside from his liver disease troubles, 10 years ago he had two bypass operations. Even so his arteries remained clogged, leading to deterioration in his respiration. Thus 2 months ago he accepted his third heart operation. "Before the operation, I don't even have the strength to walk." The cardiology doctor asked him to be hospitalized and quickly take care of the other two arteries with problems. "I stayed one day at the hospital, during the follow up visit the doctor said the problem has not resolved. I would be fine for awhile."
"Rich kid" Ng Yiu Hon recalled an unhappy childhood. His father had 4 wives and he had 16 siblings. "I have 4 Mommies. My Mama was the second. When I was 8 she went bye bye. You can imagine having 3 mothers and their own children, how that kind of conflict would escalate. My Papa was a very smart person. Aside from being successful in business, he also lived in the same house as 3 women. He wanted everyone to be happy and had to resolve their problems. Many women wouldn't know how painful being a man actually would be."
Ng Yiu Hon said that he grew up without motherly love and lived a life without discipline. At age 8 he started at a boarding school, where he started his happy childhood.
In addition, he revealed that his father dealt in shady business and had bad habits. "Back in that era it was very common, as everyone know." Papa Ng's Hillwood Road mansion often had star visitors. Ng Yiu Hon recalled visiting stars included Cheung Ying, Leung Sing Bo, Sun Ma Jai (Sun Ma Si Tsang). Even Bruce Lee had to step aside. Speaking of Bruce Lee, he said, "Siu Lung's mother was my sister's god mother, so he was my god brother." He also said that his father and Bruce Lee's father "shared a common interest". "Back then Bruce's dad and my old man were close. They both had this 'interest'."
He said that after he started boarding school, his room became is father's opium den. He said that to this day he still did not understand why his father had an opium habit but still was able to handle his busy job.
Ng Yiu Hon at age 15 went to study in England. His father at the time arranged for 4 of his sons to study medicine. Finally two brothers completed the medical degree. He studied dentistry for a year and realized that he did not enjoy it, so he switched to study drama. Upon graduation, the 21 year old Yiu Hon wed his girlfriend at the time but faced his father's objection as his father threatened to disown him; he insisted on working and raising his family, which disappointed his father very much. At the time he worked at a Chinese restaurant, later when his father passed he did not return to Hong Kong to bid farewell. He said, "3 mothers never mentioned that they would buy the plane ticket for me to return to Hong Kong. I didn't ask either, I never asked anyone for anything in my life." Unfortunately that marriage only lasted for half a year.
In addition, yesterday the reporter contacted him and asked whether he looked for lawyers for his daughters. He said, "No comment, it's not my problem. I won't have any more to say." He then quickly hung up.