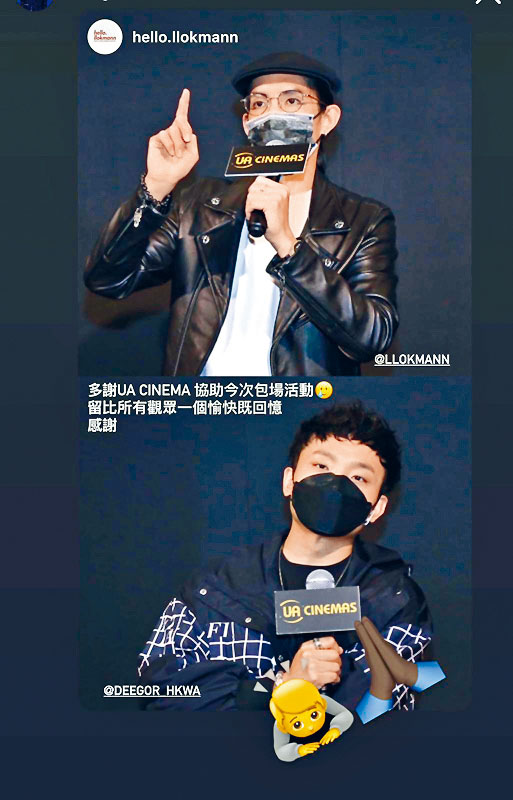 Dee Ho shares photos of his audience appreciation appearance with Lokman Yeung
courtesy of singtao.com
ERROR member Dee Ho Kai Wa earlier participated in the film THE WAY WE KEEP DANCING (KONG MO PAI 3). Three days ago he and MIRROR captain Lokman Yeung went to an UA cinema for audience appreciation. Two nights ago Dee felt inspired to share a photo from that day and lamented that actually he was his final time at an UA cinema. "As an actor, the news would inevitably be regrettable. Ultimately the relationship between cinema and film is very close, once the news broke morale would inevitably be a little lower. Survival of the fittest is the distinguishing quality of nature, but nature also would learn to restore itself and find a way for a new balance; I believe the film industry would be the same way. The times and the memories spent together, with friends, lovers......together in a dark room and enjoy the beauty of the light and shadow world." He even thanked the venue for hosting the film THE WAY WE KEEP DANCING audience appreciation event, so he was able to catch the last train and pay one last visit.
In addition, Bob Lam Sing Bun on social media posted his UA cinema tickets. Once upon a time at the Admiralty and Times Square UA cinemas holding hands with, hugging and kissing girls he has done it all. He would properly save these tickets.