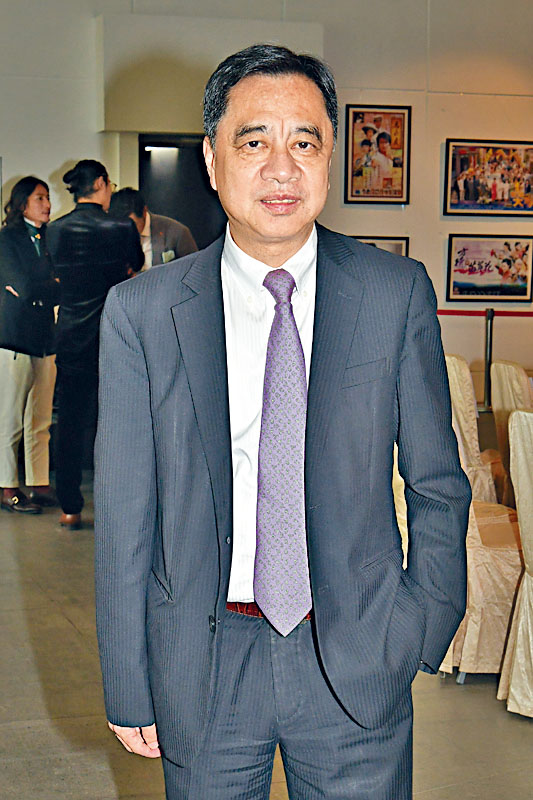 Ho Lai Chuen is officially the CEO of the Voice Entertainment
courtesy of singtao.com
This year Eric Tsang Chi was named the TVB assistant general manager and administrative council special consultant. After taking over the TVB music business, he called veteran Ho Lai Chuen to return and deal with the "big three" record companies Universal, Warner and Sony Music. The 11 year stalemate over royalty and internet use rights was resolved, TVB and the "Big three" broke the ice and settled and he returned home with success. Already rumored earlier, Ho Lai Chuen would join the Voice Entertainment. Yesterday TVB made the internal announcement to its employees, Ho Lai Chuen would officially become the "Voice Entertainment Group" CEO in place of the already departed Herman Ho Jit To.
At the "Music Must Go On" press conference last month, Chi Wai introduced Ho Lai Chuen as a "music new comer". Returning to TVB, Ho Lai Chuen joked that the feeling was like going back to past award shows with the support of many singers. He stressed that his first mission was to bring all music back!
Ho Lai Chuen is an experienced television personnel. In 1976 he joined TVB and started as entry level screenwriter. In 1994 he already rose to production director, responsible for all variety and sports program production. The Hong Kong Hand Over ceremony, Beijing Olympics live broadcast and other large scale programs were all Ho Lai Chuen led program productions. He was the gold label for quality production guarantee in the industry. In 2011, after Ho Lai Chuen left TVB, he worked at Now broadband television and ATV digital media.
Although Ho Lai Chuen did not start in music, he had great connections in the music scene -- one of the reasons that caught Tsang Chi Wai's eyes. While at TVB, Ho Lai Chuen was in charge of music programs like JADE SOLID GOLD and THE VOICE. In 2015, Ho Lai Chuen founded the production company CL Showbiz Limited and prepared concerts for superstars like Jacky Cheung Hok Yau and Jay Chou (Chow Kit Lun). Ho Lai Chuens' production company took part in recent years in the planning of many Hong Kong singers' Mainland tours, at the same time he also hoped to bring some Mainland substance singers to the Hong Kong Coliseum stage and promote the entertainment cultural exchange between the two places. Last year, Ho Lai Chuen was the Hong Kong Live Performance and Production Industry Association chief and even invited Eason Chan Yik Shun to perform an online concert for free.