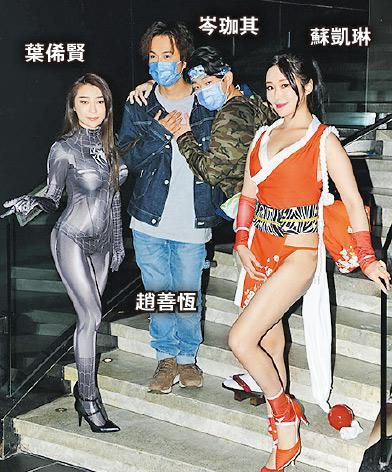 Amber Yip, Chiu Sin Hang, Kaki Sham and Erena So work on #PTGF
courtesy of mingpao.com
Chiu Sin Hang and Kaki Sham two nights ago shot their new film #PTGF (#PTGF CHOOK JO NUI YAU) with a group of cosplay actors in Lan Kwai Fong, Central. Erena So Hoi Lam as "Mai Shiranui" was the sexiest; the busty Amber Yip Hei Yin was no push over either, appearing in a tight Spider suit to show off her figure.
Chiu Sin Hang and Kaki Sham were lucky enough to check out girls on an official capacity. Kaki Sham joked, "Just Chiu Sin Hang, my character mainly watches Chiu Sin Hang's growth by the sideline. If I was asked to play his role I probably couldn't do it. The old lady would definitely yell (at me). I already reported this job to the old lady." Just becoming a father, Kaki Sham said that everyday at work he wanted to get off work sooner to see his son. Now his son is over a month only and very cute. When he got home he would first fully disinfect, take a shower then hold his son.
Chiu Sin Hang was asked whether he would have any close, physical, passionate scenes with the cosplay actors? He said no, the scene two nights ago was already the largest in the film. In it they went to a party together. "The most passionate was the argument with Kaki Sham".
However Kaki Sham revealed that Chiu Sin Hang in the film would like a girl and might have to disrobe in a scene. "If I have any bodily contact scenes, I really would have to ask the old lady first. I would only make it if I have approval." Chiu Sin Hang joked that he already had his girlfriend Hana Tam Hung Nam's approval.